Sandra Achums in secret wedding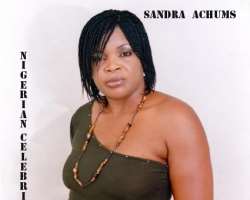 If you are wondering where, Imo state born actresss Sandra Achums has disapeared to, then welcome to the club. Numerous fans of the fair skinned...
Nollywood actress are wondering why their favourite actress no longer features in movies. Not to worry though, http://www.nollywoodgists.com has gathered that Sandra Achums is about to stage a come back.
So what has Sandra been up to all the while? We have dug out fact that the pretty screen diva has finally been taken to the alter, but has refused to make it public. Her boyfriend of seven years, Tony, indeed proposed marriage to the actress, amidst friends and colleagues. This was followed not long after by, a hush hush wedding on the 11th of this month. However a big bash was held at their Marwa estate home in Lagos. Few friend were invited to the closed door ceremony.