CORRUPTION: THERE'LL BE NO SACRED COWS IN MDAS - JONATHAN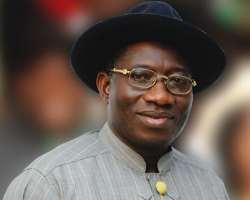 President Goodluck Jonathan
President Goodluck Jonathan, on Monday, said that there would be no sacred cows in his administration's fight against corruption, especially in the ministries, departments and agencies of the Federal Government.
He said in Abuja during the opening of the Fourth National Procurement Forum organised by the Bureau for Public Procurement to mark the 10th anniversary of the public procurement reform in Nigeria.
Jonathan, who was represented by the Secretary to the Government of the Federation, Senator Anyim Pius Anyim, said the Federal Government had received reports of collusion between civil servants and contractors, which had given rise to several abandoned projects across the country.
He, however, noted that the Federal Government was committed to strengthening the BPP as part of its renewed efforts to entrenching transparency in the award and execution of government contracts.
Jonathan said, 'As we work towards the transformation of the country, I strongly advise all public officers, whether elected or appointed, to study the Public Procurement Act and understand its provisions in the conduct of government business. There will be no sacred cows for any infractions, especially by those responsible for budget implementation. Of course, ignorance of the law will never be accepted as an excuse.
'The Federal Government has received reports of collusion between civil servants and contractors, and cases of contractors abandoning projects after receiving advance payments. There is also the problem of name-dropping in attempts to intimidate officials.'
The President added, 'My administration will continue to give every support that the BPP requires to sustain and improve on the achievements it has recorded thus far. The BPP should remain fair, firm and resolute, and resist any form of intimidation or inducement in its resolve to enthrone a procurement regime that is open, competitive, cost-efficient and delivers value for money without compromising faster budget implementation.
'The fight against corruption has now entered a critical stage and all public servants must take note that the old era has passed away. This is the era of transformation; the era of transparency and accountability, not just in words, but by action because the tools for public participation are now fully in place.'
Speaking on the occasion, former President Olusegun Obasanjo said there was the need for more severe punishment for contractors and civil servants who violated the provisions of the Public Procurement Act in the award and execution of government contracts.
While lamenting that corruption was the bane of economic growth and development in Nigeria, Obasanjo stressed that there was a need for the government to put severe sanctions in place to serve as a deterrent for corrupt public officials.
He said, 'No nation can grow on the altar of corruption and nepotism. Transparency, accountability and equal opportunity for all are what we need in Nigeria to drive growth and development. Democracy entails equity, fairness, justice, transparency and merit.
'A law is as good as it is observed by all. Those that breach the provisions of the Public Procurement Act by not following due process in the award of contracts should be made to face imprisonment or other severe legal provisions to serve as a deterrent to others. In order to instil the culture of transparency in governance, those who are supposed to implement the law should not be found to be the ones breaching the law.'