FG TO SPEND N881BN ON POWER SECTOR IN THREE YEARS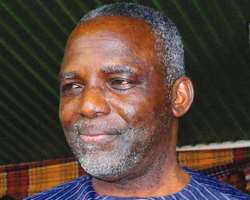 Minister of Power, Prof. Barth Nnaji
To address the poor power supply situation in the country, the Federal Government will spend about N881bn over the next three years. The huge capital outlay will cover areas such as generation, transmission and distribution, as well as exploitation of renewable energy sources, EMEKA EZEKIEL reports.
The Federal Government is planning to spend N880.97bn on the power sector from now till 2013 as part of renewed efforts to guarantee adequate electricity supply to domestic and industrial users.
This is contained in a document on the Federal Government's proposed investment in the power sector, a copy of which was obtained by our correspondent from the National Planning Commission in Abuja on Friday.
According to the report, the money is expected to be spent on power generation, transmission and distribution from regular sources and alternative energy sources.
A breakdown of the proposed expenditure indicates that N37.601bn will be spent on the overhaul and rehabilitation of seven existing power generation plants across the country; N314.180bn on the rehabilitation and expansion of transmission, distribution and infrastructure networks; N53.565bn on the construction of additional gas supply infrastructure and N27.688bn on the construction of coal-fired power plants in Enugu, Benue and Gombe states.
Similarly, N15.040bn will be spent on the construction of 215 megawatts Low Pour Fuel Oil powered generation plant in Kaduna; N786.22m on the construction of the 10MW Katsina Wind Project; N2.290bn on the Mambila Hydroelectric Power Project; while N51.275bn will be spent on the construction of the 700MW Zungeru Hydro Power Project.
Other projects that the government intends to invest substantial amount of money on in the next three years are the solar rural electrification projects in four communities in Cross River, Ogun, Bauchi and Katsina states (N16.681bn); the construction of a 230MW dual power plant using crude oil and gas in Badagry (N5.230bn); small and medium hydro power plants in various locations (N4.102bn); non-priority projects (N162.752bn) and unspecified projects (N189.783bn).
The document states, 'The total proposed investment in the sector between 2011 and 2013 is N880.97bn. This will cover investment in four major areas comprising power generation, transmission, distribution and alternative energy. Power is a critical infrastructure for sustainable economic growth and development. This is because most economic activities are dependent on affordable and adequate energy for effective operation.
'It is critical for reducing the cost of doing business, enhancing productivity and quality of life. The inadequate provision of power has a pervasive impact on socio-economic activities and consequently on the living standards of citizens in Nigeria.'
According to the country's Vision 2020 economic blueprint, Nigeria is expected to generate, transmit and distribute 35,000MW of electricity by the year 2020.
The strategic objective for the power sector, according to the blueprint, is to ensure that it is able to efficiently deliver adequate, qualitative, reliable and affordable power in a deregulated market, while optimising the on and off-grid energy mix.
In spite of the abundant energy resources and huge government investments in the sector over the last 10 years, electricity supply has remained a serious challenge to Nigeria's socio-economic development.
Statistics from the NPC show that only about 40 per cent of Nigeria's population has access to electricity supply owing to inadequate transmission and distribution networks.
Nigeria currently lags behind in terms of access, quality and availability of public electricity supply.
Most of the nation's infrastructure in the power sector were built in the 1970s and 1980s, but due to lack of maintenance and expansion of facilities, the country has suffered significantly from epileptic and limited availability of electricity supply.
Ageing infrastructure, weak and radial network configuration and over-loaded transformers also result in frequent system collapse, high transmission and distribution losses and poor voltage profile.
However, the report states that the government is determined to revamp the sector by investing massively in critical areas that will accelerate the provision of uninterrupted power supply for industrial development.
It states, 'The nation's transmission network is currently overloaded with a wheeling capacity of less than 4,000MW. It has a poor voltage profile, inadequate dispatch and control infrastructure, radial and fragile grid network, frequent system collapse and exceedingly high transmission losses, which is as high as 25 per cent compared with the three per cent in the United States of America, 0.5 per cent in Japan and 0.4 per cent in South Korea, due to low transmission grid voltages.
'Access to electricity supply is low with about 40 per cent of the national population - representing less than 60 million people -not having access to electricity. However, the Federal Government's broad vision for the power sector is to meet the demand for adequate and sustainable power in all the sectors of the Nigerian economy and in all parts of the country at affordable costs.'
It adds, 'The government will invest in direct electricity generation as well as providing an appropriate legal and regulatory environment for private sector participation. The overall target is to generate, transmit and distribute 16,000MW by 2013. Alternative energy technology will also be developed from coal and other renewable energy sources such as wind and biomass.
'However, government will continue regular maintenance of all power infrastructure, rehabilitate and complete all ongoing power projects, while putting in place incentives for private sector participation through the accelerated implementation of the Power Reform Act.'