FEARS FOR NGOZI OKONJO-IWEALA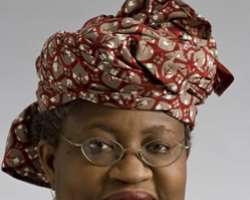 Of all the ministers recently appointed by President Goodluck Jonathan to help him with the task of transforming Nigeria, none excites my imagination on the potential to do something to put Nigeria on a sounder footing as Mrs. Ngozi Okonjo-Iweala, former Finance Minister in Olusegun Obasanjo's regime between 2003 and 2006.
Okonjo-Iweala, who resigned her appointment as Foreign Affairs minister in controversial circumstances shortly after she was deployed there, when she was removed as head of the regime's economic management team, returned to the World Bank in 2007. She is leaving that institution again to serve Nigeria as Finance Minister and Coordinating Minister for the Economy. She will finally hand over at the World Bank mid-August and report for duty in Nigeria.
Ordinarily, the agreement of Okonjo-Iweala to return to serve her fatherland as a minister is commendable. For someone with a good job, and the opportunity to live in a sane environment far from Nigeria where kidnapping, armed robbery and failed roads constitute veritable threats to life, her decision to come back to the country is an act of patriotism.
We need to praise this great daughter of Nigeria who has resolved to count on the right side of history for a country that so often humiliates its best, while worshipping those who spend their every minute designing schemes to loot the treasury and further push ordinary Nigerians down the poverty slope.
The antecedents of Okonjo-Iweala are too well known to need much repetition. She was, during her first term, instrumental to getting Nigeria out of the debt trap into which we are again rapidly sinking. She got Nigeria's $30 billion foreign debt reduced to $12 billion dollars and ensured it was paid. She also ensured publication of financial allocations to states and local governments, thereby promoting transparency and discouraging corruption. She stood firmly against corruption.
This lady's sterling qualities are well acknowledged internationally. The World Bank president, Robert Zoellick, who described Okonjo-Iweala's performance at the institution as 'stellar' said her desire to serve Nigeria is a 'truly big loss for the World Bank but a major gain for Nigeria as it works to craft its economic way forward.' He said she had worked very hard on programmes to assist poor people in developing countries around the globe, and demonstrated strong belief in Africa's promise.' Her wealth of experience is, therefore, expected to be of great benefit to Nigeria.
Already, during her screening at the Senate, she gave a good account of herself and her commitment to the country. She told the legislators that she is coming back to help promote the welfare of Nigerians and create jobs.
One of the first things she did at that screening was the telling of home truths to Nigerians. And, what better place to do it than before our legislators who are most guilty of getting the nation into expenses it can ill afford. Okonjo-Iweala told us that the nation is spending more money than she should. Nigeria is profligate, living well beyond her income.
The Harvard-trained economist, whose ministerial nomination by President Jonathan was confirmed by the Senate on July 6, left no one in doubt of policies she would pursue when she returns from her World Bank seat in Washington DC in August.
She will be introducing stiff fiscal controls, reduce wasteful expenditure, raise standards against public corruption and balance capital and recurrent expenditure in a way that will promote development of infrastructure. Under her watch, she said, we can also rest assured that the rate at which government borrows to finance budget deficits will reduce. Definitely, Nigeria, this time, will not again fall so easily into the debt trap from which she was instrumental to retrieving the country in 2005. She has promised that the country will 'live within its means.'
This, indeed, is good news for Nigerians, but the challenge is how Okonjo-Iweala will achieve this in an environment where both the executive and legislature are neck deep in profligacy.
Already, Okonjo-Iweala has been reported to be getting threat calls from corrupt politicians and businessmen warning her not to return to Nigeria for this assignment. She, however, in an interview, told Financial Times of London, that she could not give up on Nigeria.
Nigerians expect her return to help strengthen economic reforms and address economic and political interests that are opposed to change. She is also expected to reduce the 74 percent of budget currently committed to recurrent expenditure. There are fears that the lady might be isolated in a cabinet that may not be on the same wavelength with her on some of the sensible reforms she would likely introduce. In particular, she is likely to step on some big toes in her bid to try to reduce the high cost of government.
There are, however, many who strongly feel that her coming will be for Nigeria's good. Among them are the Nigerian Economic Summit Group, the National Chambers of Commerce, Industry, Mines and Agriculture (NACCIMA) and the National Association of Small Scale Industries (NASSI), who have all welcomed her appointment.
With the support of all right-thinking Nigerians, Okonjo-Iweala should come back confident that she has the goodwill of majority of her people.
Since she has determined to return, she should strive hard to make her impact felt in areas that she has promised such as job creation, because unemployment has reportedly shot over 20 per cent. She should give much needed support to labour-intensive sectors such as agriculture and manufacturing. As she said, she should work for privatisation of sectors that can create jobs. She should keep the budget in check, and reduce its expansionary trend.
Okonjo-Iweala is coming into office at a time that the nation's high external reserve of $62 in September 2008 has significantly dwindled, the national economy is based on a single product, power generation hardly surpasses the 3,000 megawatts mark, 20.1 billion excess crude account savings have reportedly been wiped out and legislators are paying to themselves huge salaries that the nation can ill afford, even with the recent reductions. All these call for the new finance minister to be strong and undaunted in her resolve to improve national fortunes.
The challenge before he, therefore, is to remain faithful in her resolve to pull Nigeria's economy out of the woods. She should be mindful of the thinking in some quarters that she will be an agent of the World Bank sent to push the bank's bitter pills down Nigerians' throats. There are fears she will promote structural adjustment, painful belt tightening and removal of fuel subsidy. She will have to find a way to create a balance by pursuing her policies targeted at boosting the economy with a human face.
The challenge for the president in all these is to allow the finance minister to do the job she has given her. Fears have been expressed in many quarters that the president, who appears weak against the Peoples Democratic Party (PDP) machinery may not be able to fully back Okonjo-Iweala's reforms. But, she should not get unduly worried before the work gets off the ground. Let her remain faithful to the policies that will lift the people out of poverty, bridge the serious infrastructure deficit and reposition the economy to serve the people better. If she does these, she will have the support of Nigerians and achieve the lofty goals she has set for herself.