R-Kelly is not familiar with Nigerian artistes —Tuface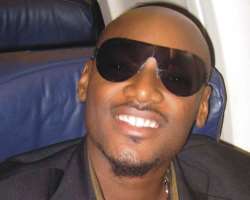 He is regarded as the artiste that broke the jinx that made Nigerian music to start winning international awards when he became the first Nigerian musician to grab the MTV Best African Act Award and later the Music of Black Origin (MOBO) Award. Last year saw all kinds of controversy trailing him but he still stood firm. In this chat with AHAOMA KANU, multiple award winner, Tuface Idibia, talks about how he overcame the storm, his plans for the year and reveals that sensational R&B star, R-Kelly who he featured in his new album, does not seem to be aware of the waves Nigerian artistes are making in this part of the world.
Where did you stage your Christmas performance?
I was in Calabar for the Cross River State Christmas Festival. It was nice and electrifying. It's crazy because Calabar is coming up strong in the aspect of entertainment hosting but Lagos is still on point.
How do you feel with the release of your third solo album?
I feel cool. I released the first single that had Enter the Place and later released the full album.
Your fans have been waiting so long for your duet with R Kelly and it's finally out, how did you go about singing with the R&B Sensation?
I had to make sure everything was kind of in order before I released that particular track. Now to the question of how got about doing a song with R Kelly, Mr. Toyin Subayo organised it for me and I am very grateful for that.
R Kelly is a one big celebrity that has a cult like fan base, tell me how it was working with him?
I must say that he is a cool guy; I met him where he was playing basketball and he was real nice. He is really a cool guy, that's the only way I can describe him.
How does he feel about Nigerian music and Nigerian acts?
He feels good about Nigerian music, he heard a couple of songs and he felt very good about the delivery and most importantly the lyrics.
Were there any Nigerian artiste(s) he was familiar with?
Hmmm, I don't know, I don't think so.
2008 is a year that so many controversies trailed you and you were able to stand strong. How did you achieve that?
My brother, I just live my life and allow God take control of any situation, that is what has been guiding me against all the hurdles I face in life.
This is a new year, what surprises do you have for your fans?
My fans should strap on their seat belt because I will be coming out with 20 different things, I can't list them out and don't ask me, let it be the surprise I have for my fans. My album is out and hopefully I will be promoting the album on an international level.
You parted ways with Kennis Music under a mutual arrangement, how has it been with your label, Hypertec Records?
You know Hypertec is still a baby company and we are trying to get our stuff right; we are gradually building it up and I believe Hypertec will grow in time.
Did leaving Kennis Music affect you in any way?
No, I don't think so.
Hypertec is into so many things, are you thinking along charity line?
Yes, definitely and it will be a general thing about service to humanity.
You won a big award in France, can you tell us about this award?
I was elated about the award; being the Best Selling Artiste in Africa. I felt good about the honour and we brought the laurel down to Nigeria, I thank God about that.
The MTV Africa Music Award (MAMA) was held and most of the awards were cleared by Nigerian artistes, do you think the industry will fare better in the New Year?
I think so because the industry is going really fast and there are a whole lot of fresh boys coming in and making things grow real fast.
What is your advice to upcoming artistes?
I will like them to stay focused, keep things real, respect God and respect People. And they should just know what they want and go after it.