A NATION IN SEARCH OF PROGRESSIVE PATH FOR LITERARY DEVELOPMENT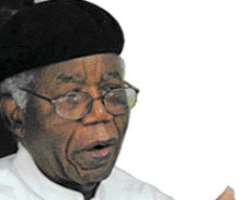 Three decades ago a group of gentlemen converged on the University of Nigeria, Nsukka, and gave birth to this fabled body, Association of Nigerian Authors (ANA) under the invitation of Chinua Achebe, who was also its pioneered president in 1981. It was set up with the main objective to promote literature in the country, and protect the rights and further the interest of its members.
The association, throughout the three decades of its existence, has experienced ups and downs, as it transited from one president and general secretary to another, from Achebe and Omotoso of those days to the current management with Jerry Agada and Hyacinth Obumseh, respectively. The pioneer executive achievements were legendry aside setting up of the body, comes the acquisition of a big land donated by the then Minister of Federal Capital Territory, who was also a member – a renowned soldier-poet and writer, Brigadier-Gen. Mamman Jiya Vatsa.
In 1990, the late Ken Saro-Wiwa was in-charge with Bode Sowande as its general secretary. In that era, coupled with Saro-wiwa's activism, ANA was all over the news for the right reasons. Abubakar Gimba became its arrow-head in 1997, and there were appreciable achievements recorded and Wale Okediran was then in-charge of the Secretariat.
ANA currently shows a dormant posture as a sleeping giant, despite some herculean tasks before it that has turned into national predicaments as mentioned thus: (a) Nigerians' low reading culture – the nation is desirous of an antidote to cure this intellectual derailing of its people. What has the literary body done to mitigate this problem?; (b) Empty shelves in our libraries, museums, schools; (c) the problem of publishers – no publisher is ready today to publish and promote the works of writers who collectively cannot sell their unpublished works to any of the traditional publisher and the self-publishing option did not help matters; (d) Writers are ignorant of their intellectual rights - such as subsidiary rights, branding or copyrights; (e) inadequate script writers to grow the movies/motion picture industry etc. (f) lack of strong collaboration between the writers and the government at all levels.
One important problem of ANA is its Abuja land, which currently pays visit to the soul of the donator, Mamman Jiya Vatsa at his mausoleum (Kiri-kiri) beckoning on it to come and develop it since the beneficiaries are clueless of the way to actualize the proposed 'Mamman Jiya Vatsa Writers' Village'. It is a doable act that ANA leadership was unable to do for over two decades. This negligence has allowed die-hard trespassers to encroach on it. I will love to say more on the land quandary, I learnt that the case is before the court and at the end justice should be allowed to prevail on the case. However, if it took a Nigerlite to donate the land it will probably take another Nigerlite to develop it.
The mono-programme tradition of the association of organizing summits, conferences and conventions is begging for reforms to, among others, explore other aspects that have for long become imperative. It is no longer a disputable fact that a writer is a thinker. So, let's take that power of thoughts and ideas to another level. The collective desire to innovate and change ANA has reached el-dorado. ANA's progress of recent can be likened to a moving boat revolving at a point while those on board thinking they are making progress.
A literary body like ANA should come up with other enduring programmes that will, in the long-run, better position it to achieve visions of its founding fathers as thus (a) it needs a strong voice in our society - this can be achieved through periodicals like pulsating journals, newsletters, magazines, etc. that will carry a unifying stand of writers on national issues for the overall benefit of the citizenry and the country; (b) it must ensure that government promote literature and writers in the country i.e. if developed countries like USA could have National Endowment for Arts strongly supported by US Government used in growing arts. Norway is another country that assists writers and grows literature through the Norwegian Cultural Council which provides State Purchasing Scheme for every book published in the country, as thousands of copies are bought by the Norwegian government and systematically distributed to bookshelf centeres throughout the nation to assist the authors and grow Literature and talent in the country since 1965. The government also provides stipends to young writers and translators of all categories, including fictional writers, non-fiction writers, dramatists and translators in an establishment phase. While Nigeria, a developing nation, has neglected the idea-generating body like ANA to fend for itself and its members.
Though President Goodluck Jonathan has shown a genial disposition towards books and has strong enthusiasm on book revival in the country as in December 2010, the President launched the presidential 'Bring Back the Book' initiative and a follow-up conference on the initiative was organized by one Committee for Relevant Art (CORA) on January 17, 2011 at Eko Hotels, Lagos. How can this pet initiative work without the only literary body in the country? How can books be revived in this country without ANA and weak policies? Where is the position of ANA in the whole of this? These questions are begging for answers.
Innovation is one essential thing ANA needs to embrace to create impact in our book-shy country. ANA needs a credible and innovative leadership to steer its affairs. It needs people who have what it takes to handle literary challenges thereby creating the desired impact in our literarily starved society. The emergence of the fourth force or order in the literary discourse is a manifestation of plausible change.
In October 2011 comes Abuja convention, which will be another opportunity for ANA members to right the wrongs bedeviling the leadership of the association. It will be a chance to sow seeds of a renewed ANA, whose fate is hinged on its members' choice at the annual get-together. It is an opportunity for members to elect new leaders of the body who will steer its affairs in its traditional bi-annual tenure.
The emergence of Remi/Dzukogi candidacy for President / General Secretary is a pointer towards an innovative ANA if given this deserving mandate. With them in charge, ANA will never be the same again. Remi Raji - a professor from the University of Ibadan in the English Department. One unique quality of leadership gunning for the professor is his simplicity and strong will to encourage writers to get published. In one out of his several literary expeditions was his visit to Niger State and therein edited several works for ANA Niger members from 2008 to date. In fact, we see him today as a rare literary gem quite different from those who concealed their ideas and refuse to share them with up-and-coming writers who are direly in need of such rewarding conduct.
The strong literary tradition in Northern Nigeria today was majorly influenced by the early writers like the late Abubakar Imam Kagara - indigenous language guru; the late Mamman Jiya Vatsa, then Abubakar Gimba, Zaynab Alikali, Yahaya Dangana, Yari labo, B.M. Dzukogi, E.E. Sule etc., with his influence as a former Senior Special Assistant, Executive Coordinator and now Head of Research and Documentation in Governor's Office, Niger State, Dzukogi and others got a Toyota Hiace Bus for ANA Niger branch, a plot of land for the writers' village in Minna from Niger State Government and successfully hosted two literary events: maiden edition of the Northern Writers Summit in 2008 and 2009 ANA National Convention.
Dzukogi was given a title as 'the oracle' ,because he identifies with the up-and-coming writers, as he attends regularly the weekly meeting of the state chapter. Though, not withstanding all these has a trend from his university days where he was an active member of the student body and pioneered the Faculty and departmental journals at Ahmadu Bello University, Zaria. The annual literary festival for post-primary schools in the state, popularly known as ASCAFS, was the brainchild of Dzukogi and others since mid 1990s to date. He also served as the National Treasurer (ANA) during the Wale Okediran presidency between 2005 and 2009.
A peep into Dzukogi's manifesto for ANA Secretary shows his commitment to literary development that will come at post election era in Abuja. These include: Commission two novels or story books on inter-religious harmony (one for primary and the other for secondary; getting a secretariat in Abuja; teen authorship scheme at state branches; Nigerian Writers Series; visitations by first generation writers to Nigerian Universities Creative Writers Clubs; Grand celebration of icons of Nigerian literature in Abuja; getting the Federal Government to give a grant for Nigerian Writers (Nigerian Authors Endowment Fund); getting new literary prizes; inauguration of branches in the rest of the states of the federation; launching of Neighbourhood Library Schemes by state branches of ANA in collaboration with state first ladies; introduction of Nigerian Annual Schools Carnival of Arts and Festival of Songs (NASCAFS) in Abuja; the Development of Mamman Vatsa Writers Village.
Conclusively, for ANA to be in tune with the reality, it must have innovative and courageous leadership that must be seen to be truly championing the literary crusade and revival in the country, and this is why the Abuja Convention in October 2011 will be right place to change the future of the body for the better in this challenging period.