My Romance With Toni Payne -W4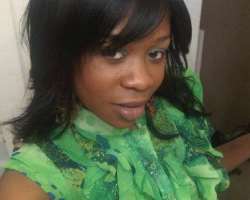 EntertainmentMy Romance With Toni Payne -W4Adewale Adepoju a.k.a W4, ventured into music scene in 2005 after he released his debut album "Temperature". It was everywhere. In this chat with us, he revealed his romance with Toni Payne's management years back.
Excerpts:
For those who don't know much about W4, let us into your background.
My name is Adewale Adepoju, I am from Osun State, from a family of four, I started appearing in the music scene in 2005 with my debut album "Temperature". In JSS 2, I indicated my love for music and in 2004, I took the bold step and I thank God today for my decision. The content and my sense of uniqueness in my debut album have taken me to the level I am today and I give a lot of respect to my fans because they are the ones that made me what I am today. I am trying to make 'Mr. Wonder', a more anticipated album so as to appreciate the love they have for me.
What really went wrong between W4 and Toni Payne?
Toni Payne came to the picture through one of 2face's wives, she introduced her to me and we started working. Toni Payne is like a friend and a sister, when we were working, there was no formal or written agreement between us, everything was based on friendship, she is very learned and mature. We were working with good understanding and there wasn't any problem. For the fact that we are no more working as an artiste and a manager does not end our friendship. We share ideas and she might still be my manager (laugh) but not anymore for now.
It was said that you refused to sign under 2face's record label, Hypertek Music, how true is that?
No, 'W4 and Hypertek' I will call it a family business, the CEO of Hypertek Music, 2face Idibia is more like a brother to me and we are very close and work harmoniously together. Even before the birth of Hypertek Music, we've always been together. Having a record label is a very good idea and he felt we could be working together. Similarly, Sound Sultan (Naija Ninja) has involved me in everything they are doing. Kennis Music has also involved me in what they do. Since I joined the industry, I have always had relationships with different producers. Hypertek is a family thing to me and we are still together till date.
Do you have any written agreement with 2face's Hypertek?
I don't have any agreement with any record label and I didn't sign under Hypertek. It is just the love and the likeness he has for me and the kind of music I do that prompted our relationship.
You've been doing a lot of great collaborations without releasing your own singles, how do you react to that?
It is okay, collaboration is part of hype, but what really disturbed me from releasing any single was the challenge I faced after releasing my debut album with the record label (Hypodrum Records). We had some issues which really took my time and that didn't give me enough time to concentrate on my album. I did some collaboration by helping lots of artistes and some artistes helped me too. On the other hand, I was working on re-packaging myself, changing from W4 to W4 (Mr. Wonder) and when you are talking about wonder, you talk about change in everything, because wonder is what everybody wishes and desires. I am really transforming myself to Mr. Wonder.
People assume that, you are so proud and this prompted your career to go solo, what is your comment?
Well, it might not be humble for me to say I am humble, but I am humble, I call myself a cool dude and I don't hate anybody, I do my things as it pleases me, if I am in a position to inconvenience myself for others to be convenient, I do that honorably. But it's normal, some people for the fact that they don't have the opportunity to move close to you would say a whole lot of false things about you. But you don't allow that to bother you.
What are we expecting from W4 now?
As I have said before, I am transforming myself from W4 to W4 Mr. Wonder, 'Mr. Wonder' is the title of my next album. I have now standardized myself, I am just trying to exhibit it in this new album (Mr. Wonder), my next album will be showing the unique part of me, replicating some cultures from Fela Anikulapo Kuti (The Great One); it's a different thing entirely, Mr. Wonder is made up of vocal, lyrics, rhymes, new messages and good music. In the album, I have J-Sleek, Filso production, Spanky, Jiggy Jag and a whole lot of young talented producers.
When should we be expecting MR WONDER?
Yes, the album would be released after my new video, Kontrol. I recently dropped new three singles- 'Kontrol',' Do Something' and 'Sexy Swagger', they are all great tracks, these tracks will be a preface for the album.
Tell us about your love life and how you're coping with your female fans?
We thank God (laugh), my fans made W4, so they are my lovers. My love life is about my fans and music.
Who has been your pillar in this industry?
Firstly, God Almighty, and also to my former label record (Hypodrum music); when I recorded my debut album, 'Temperature', they stood solidly behind me. My story will not be complete without Hypertek Music, Baron squad (Basket Mouth), Naija Ninja (Sound Sultan), OJB, My Tunes from Brooklyn, Kennis Music and most importantly, my fans. It's been wonderful having great people behind me.