Bayowa cheated me, stole my girlfriend – Father U-Turn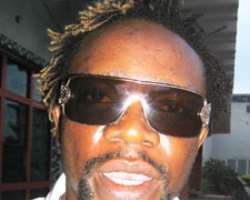 Femi Sylvester Mayomi, a.k.a. Father U-Turn, was once the rave of the moment as far as Galala, a brand of ghetto music, was concerned. But he has not been visible on the music scene for some time. In this interview with ADEOLA BALOGUN, he talks about his battles with his musical career and his plans to revive it. Before you dropped your latest album last week, when last did you release one?
My last album, Padlock your Mouth, featuring the hit track, Yetunde, was released in 1999.
And what has kept you out for so long?
Actually, what happened was that six months after the release of my previous album, my record label ran into a problem. That was why we could not even promote the album properly. The hit track, Yetunde, was fed on by pirates and it was everywhere. The song became very popular. Six months after it was released, the record label packed up, because the owner had a personal problem which affected his business. Unfortunately, I had a five-year contract with the record label. All the companies I approached to strike a deal told me that they didn't have any problem signing me on but that they feared that my record label could come out to cause trouble. After I had tried to find a way out but failed, I decided to go back to school in order not to waste the two and a half years that were left for my contract to expire. That was why I went to Olabisi Onabanjo University, Ago Iwoye for a diploma in Mass Communication.
So you quit music completely for that period?
No. Along the line, I did some jobs for Bayowa Records. I did Fuji Gyration for Bayowa when I was in school in 2002. Bayowa approached me and said he would like to release my work and I felt a bit relieved that I was free to work with anybody since my last contract had expired at that time. He asked for a five-year contract, but because of my experience in the previous contract, I refused to sign a contract with him. I told him that we should test the waters with Fuji Gyration. We then agreed on a particular amount, which he did not pay. When Fuji Gyration was ruling the airwaves together with a movie I did with Saheed Balogun, Omo Alhaja, I recorded Okiki and gave Bayowa the master tape so that he would release it after Fuji Gyration. Surprisingly, he didn't release it. He said I should give him more time. At another time, he invited me for another job when Tinubu wanted to go for a second term. He invited me to work with him on the record. I recorded two tracks and we also did a duet. But when the album came out, my name was not on the tape, no credit, it was his picture and that of Tinubu that was on the jacket whereas my tracks were there. When he did the video for my tracks, it showed Tinubu and himself. So when I went to him to complain, he gave me a thousand and one reasons. When I demanded payment for the job, he said Tinubu had not paid him. Till today, he has not paid me one kobo for the works I did for him.
Couldn't you take any legal action?
I was not thinking of suing him. I was trying to be patient so that I would not rush into things and regret later. Moreover, many people advised me to be patient, that Bayowa was a good promoter. Again, my experience with my last record label was haunting me and I became frustrated. He invited me again to do an appearance for Obesere in Okokoriko. I went there with my full band and he paid N50,000 to charter a bus to move our things down to O 'Jez. After we performed for about 30 minutes, I said it was okay since it was just for an appearance in a movie. But he said I should go on, that he would have enough materials to edit and all that. That was how we performed for about one hour. When the movie came out, our performance was not there. What I saw instead was a promo of Okiki Fire Dancer by Obesere and Father U-Turn. I was so shocked that I rushed down to his office where I was confronted by a poster in respect of the work. I said, 'Chairman, this is not what we agreed on. Why are you doing this?' He said he wanted to use the live performance to promote the album whose master tape I had given to him since. I told him to keep his explanation and talk about how much he wanted to pay. I even told him that I was prepared to sign a contract and he agreed. But before we could do that, he travelled to London. It was during his absence that the live performance video was released. I went to his office to make some noise but when he came back, he said the live performance was not selling as expected but I should arrange with my lawyer for a contract, which he kept postponing until I lost interest.
So you left everything like that?
I had to, when he started dating my girlfriend, Busola Oke, who sang the popular soundtrack, Eleyele. We were almost getting married before Bayowa came in. All the time Eleyele was ruling the airwaves, I was the one dating her. When she had a problem with her former record label, Wuraola Records, I was the one who settled it for them. Bayowa even cheated her, because Eleyele was meant to be the soundtrack of a movie. But Bayowa went ahead to release it, claiming that it was not an album when Wuraola kicked. She recorded more tracks but Bayowa kept some tracks like Asoro Ma Tase. And when she complained to Bayowa, he said she should not worry. But he went ahead to release Asoro Ma Tase, thus making two albums out of Eleyele. Though the lady is married now, I don't know what happened between them, because he was dating her along the line. I had to let things go since a supposed boss could go ahead to date my girlfriend. That was the time I realised that nothing good could come out of my relationship with Bayowa. I did so many jobs for you, you did not pay me. Now you started dating my girlfriend. That was how I called it quits with him and with the girl. Although they denied the relationship, I knew what was happening. That was about three years ago. I went to him to tell him to keep the money he made from the Okiki Fire Dancer he released and give me my master tape of the Okiki album. But he refused, saying he would not give it to me until I had refunded about N380,000 which he said he had spent to produce the job. I said that I was surprised to hear him talk like that because he had not paid me for a lot of jobs that I did for him. Busola Oke was present in his sitting room that day. I told him that he should remember that when I started coming to see him, I was coming in my car, but now the car was gone. That was how we parted ways. He refused to give me the master tape but since I was the one that recorded the work in the first place, I have reproduced the songs in the album I just released now, which I called Okiki
What brought you and Bisola Oke together?
It was the normal thing that brings a guy and a girl together. We met at Goldmyne Studio when we both came to work there. That was how we met and started dating. That was when she first came into the music industry. We went out for about three months before we parted ways because of Bayowa.
Why have you been having problems with your record labels?
I wouldn't know. That was the reason I made up my mind after my experience with Bayowa that I was not going to release any album for any record label again. And that was exactly what happened. I released my album on my own record label, Shakara Sounds.
How do you feel seeing younger artistes who came after you taking over the music scene?
I must say that as a human being, I feel bad. But let me tell you something: all the while that I was out of the scene, I was able to see the other side of life. I started reigning at the age of 19, but since I started to experience the myriad of problems years back, those that I thought were there for me have all disappeared. Even promoters who used to treat me like a prized star have all gone. Even friends and family deserted me. Then, I would put people in my car to have fun. I was paying a lot of bills. But I now know that it was God who wanted to teach me a lesson. If I had continued like that, I probably would be dead today, because I was leading a carefree life. The truth now is that I am happy that I am now matured. To be great, you must pass through so many trials. Again, I am happy the new guys are making waves. They have changed the face of music. We started it and they continued from where we stopped. Now I am coming back, and I believe I will make it.
What are the challenges of relaunching your career?
It has not been easy. And I knew it was not going to be easy. But I believe it is only a passing phase. For me to have waited for so long and still be able to come back, it is great. I was in Festac Town recently for a carnival. When I sang a particular track in the new album, the whole place went wild. The reception I have got at all the shows I have attended recently has been very encouraging.
All the while that you were off the scene, what were you living on?
At a time, I was into the sale of records. I also have a studio for demo, soundtrack. I have been into production. Like I told you, I produced one of my tracks by myself.
How did you come about the name Father U-Turn?
I lost my parents at the tender age of eight, so I was free to move around. I used to open the stage for Daniel Wilson. I used to move around with him then. I was in school in Osogbo, but anytime I was on holiday, I would hang around with him. He was living in a room and parlour on Gbagba Crescent. Felix Duke was playing konga for him, and he liked me then. My name then was Ras Femos Jay, because my name is Femi. He said the name was not good enough. I then changed to Sly Banton because my other name is Sylvester. The first artiste that featured me in his album was a ragae artiste called Best Agoha. May his soul rest in peace. While I was in secondary school in Osogbo, I used to present programmes on Radio Kwara in Ilorin. That was where I met Saheed Balogun. We have been friends since then. There was another friend who is now a marketer, Abiodun Oropo. Bola Fagbamigbe who used to be on AIT, we were all in Radio Kwara. So also is Babs Daramola who is now with LTV. When I finished school and came to Lagos finally in 1995, I started with Radio Nigeria 2, presenting a youth magazine with Rotimi Tego, who is now director of programmes in Eko FM. Because they didn't allow me to use my stage name due to the fact that it was a youth programme, I went to NTA 10 where I used to present a segment of a programme called Artiste Profile. My brother then said Sly Banton sounded like a foreign name, that I should try and change it to an African name. He then said why not U-Turn, making a u-turn from the western culture to African culture? But I still wanted something big, so I added Father. That was how I came about Father U-Turn.
You call yourself the king of Galala music, do you think the music is still popular?
Maybe because people like us have been off the scene. But now that I am back, I know it will bounce back, because I know my album will make an impact. Galala is another kind of reggae music. It originated in our society here. It is a blend of reggae and our tradition.
When one hears Galala, the name that easily comes to mind is Daddy Showkey…
Daddy Showkey did not start it. It started with Mighty Mouse. He was the first person to come out in 1993 with Repatriated Time featuring Daddy Fresh, on the label of Felin Record. After that album, the company took interest in Daddy Fresh and released him in 1994. Daddy Fresh then featured Daddy Showkey in his album, and by 1995, they released Daddy Showkey. In 1996, I had my master tape. By April, 1997, I released my album. But I believe I have done more to promote Galala music.
If you look at it, all the people you mentioned, including Daddy Showkey, Daddy Fresh, Baba Fryo, and even you have all gone out of the scene. How would you explain that?
Music is very spiritual. Maybe some people were going spiritual while we were there doing our stuff as normal guys. We know within ourselves what happened. Look at it, while I was battling with my own problem, Baba Fryo was facing his own. Daddy Fresh was sick. At a time, he was even deaf and dumb. I too was sick. I was poisoned and had to be taken to Ilorin where I remained for about three years. I almost died, but I thank God I survived.
Are you married now?
I am not married officially, but we have two kids. We have been with each other for a long time. Even when I was dating Busola Oke, she was aware of it. But in the new year, we are going to formalise everything.
I learnt you were from a well-to-do family…
Yes, it is true. But we lost our parents when we were very young. All our father's property were taken over by the family. It is now that they are calling us to come and renovate our father's house in the village; a house none of us lived in.
Where are you from?
I am from Kabba in Kogi State.