Our expectations from new Information minister, by artistes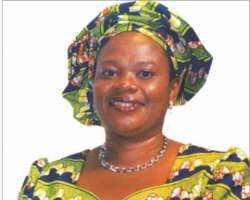 AS the newly appointed Information and Communications Minister, Prof. Dora Akunyili settles down for work, artistes and other stakeholders in the nation's arts and entertainment industry that fall directly under the ministry, are setting agenda for the new minister.
What some of them have said were for her to focus attention on the numerous problems plaguing the sector, especially the nation's film industry otherwise called Nollywood.
Earlier in the year, the National Film and Video Censors Board, NFVCB introduced the film distribution policy designed to sanitise the industry, but which most marketers misunderstood.
Specifically, major distributors at Idumota Market misconstrued the policy as an attempt to sideline them in a business they claimed they started without government assistance. The controversy degenerated into several actions and court actions, before normalcy was restored into the industry with large percentage of marketers embracing the new distribution policy.
Although, Mr. Emeka Mba, Director-General of the National Film and Video Censors Board has consistently pursued the realisation of the objectives of the new policy, there exists a pocket of film distributors who still claimed that the policy is anti-practitioners.
Already, some practitioners have been licensed National Distributors among whom are movie producer, Gab Okoye popularly called Igwe Gabosky, Chris Ekejimbe, Yinka Ogundaisi among others.
But feelers from the camp of the supporters of the policy indicate a different tune as some practitioners expressed displeasure about how the policy is being implemented.
For instance, Gabosky in a telephone interview with The Guardian was furious that the censors board 'reneged' its promise of not issuing licenses to prospective National Distributors who failed to meet the deadline for registration.
Gabosky had since vowed to hold a world press briefing to express this misgiving against the board.
However, Yinka Ogundaisi in another interview said "if there was any misunderstanding between the board and any licensed distributor (at the event), it is the board that can clarify that. The claim of some people that there would be competition, is unfounded because if a distributor is releasing two movies, it does not mean that the two movies would move equally. It depends on the subject of movie and the appeal and attraction of that movie to the public. There is no competition in the ordinary sense of the word as obtains in sales, it is a kind of specialised industry. Currently, the board censor about 2000 movies, if a distributor explores all means of getting money, it is not a month or two job. It will be very difficult for people to release the kind of releases we are having now.
"In other words, the concern and reservation that many more registered or licensed distributors will spoil the framework is not well founded. Nigeria is a very big country and as a distributor you focus on what you want to do," Ogundaisi submitted.
This distribution framework and other issues are what practitioners want Minister Akunyili to examine critically even as Mr. Ejike Asiegbu, president of the Actors Guild of Nigeria, AGN expressed delight that Prof. Akunyili would impact positively on the sector just as she did at NAFDAC.
"We are not surprised (on her appointment as minister) but I never knew she will be coming to the information ministry. She is a woman that has distinguished herself in all ways and succeeded. I believe her appointment will add value to the sector that she will use the same vigour, which she exerted at NAFDAC to improve and also take care of the ministry. As Information Minister, she will indeed succeed, but I must warn that being an Information Minister is an arduous task. We hope that she brings her experience to play in the entertainment sector because piracy, distribution of works and others that can retard the development of the industry should be eradicated.
"We want unified, dynamic, purpose driven industry, so for this, all hands must be on deck to privatize to the betterment of everybody who has been a stakeholder in the industry."
He called on the Minister to create an atmosphere where all concerned would come together. "There must be uniformity, bringing everybody together under one umbrella so that together all differences would be buried and the industry will move forward."
On the distribution framework, Asiegbu said: "Emeka Mba has done a lot to put the structure on ground. I hear that a lot of people have been newly licensed, and also some marketers have benefited maximally even though some parties may not be happy. For me, we should work together because the marketers need us and we need them. Also, no one should think he is bigger than others in the industry, there should be some balance."
He described his administration as a pacesetter in the industry. "So much has been happening positively, a lot of respect, accolades have been showered on this administration for their infrastructure and initiative and also for taking actors guild to the greatest height. However, we are looking to next year (2009) in order to move ahead. That is why we are calling on well-meaning Nigerians and corporate bodies not to support the Face of Nollywood initiative being pushed by some individuals because it is the property of AGN and because it is invalid. I did not wish to make a statement about that because as for me, we have played our parts, very shortly we will make a statement on that to the press because we own the trademark; we mean every statement. At the right time, Nigerians will know the truth, there seem to be conspiracy particularly by a group of people who claim to be stakeholders in the industry, who know what is right, but do not want to follow the procedures. They want to have their way by looking to take over as the presidents of the guild. The government should come and look critically, checkmate and deal severally with this group of people. These are some challenges Prof. Dora Akunyili should also look into, we cannot have individuals who work under a particular canopy to appropriate that which belongs to the general public."
Nollywood producer Lancelot Oduwa Imaseun on his part said it is too "premature to judge if the distribution framework is working or not but after one year, let us see whether it will bring any genuine change to Nollywood or is it another way by the government to generate income. There is a lot of cumbersome practice involve before a movie can be released under this framework of Emeka Mba, which is okay if we can see a genuine reformation that will catapult the industry to another level."
Imaseun is full of expectations for Nollywood in the New Year. "It is my year! From a personal perspective, in 2009, Nollywood will be re-branded, more tested practitioners will focus for great result and internationally, Nollywood will be seen. I have always advocated that 88 per cent of Nollywood consumption in London, America and Canada gets back to us, you will be surprised at what we are going to make out of Nollywood. We see a lot of things falling into place because after rain, sun will shine."