Nollywood's sexiest man : Iyke, Elliot or Ike?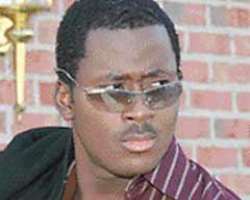 My, my, I thought I have seen the last of blood-curling, gritty, damn-the-devil hand-twisting, send-me-to-hell-and-back head to head battle since 'Braveheart' and 'Gladiators' but I never knew fans could do just as well, going for the jugular of one another just to express their love for their favourite stars. How it gets this way still beats me.
For peace to reign I shall excuse myself from the 'rofo-rofo fight' and implore voters to desist from threatening one another because of the choices they make. My God! This is a quest not the accursed civil war!
Wow! A whole 5,130 votes came in even though only 4,902 were treated as legitimate while 228 were discarded for the usual reason of multiplicity. Jim Iyke shot back to lead this week with 1,862 votes, followed closely by Desmond who raked in 1,714 votes and Emeka Ike toeing his usual place of third with 1,326 votes.
Intriguing enough, the week was Emeka's best since the beginning of this quest but it seems to have come at the wrongest of times when the battle has really got intense between Jim and Desmond. Two weeks ago, he would have led the week with such a score, but for Jim and Desmond's to-the-death battle stand.
Now, the stand remains Jim Iyke 1st with a total score of 10,990. Desmond 2nd with a gross total of 9, 845 and Emeka Ike with the sum of 7,633 votes at the 3rd place. Anyway, warm up for the final voting week before the next quest.
Jim Iyke
1. The truth is clear that Jim is the sexiest even from his outward appearance, the way he smiles and his sexy eyes make him the sexiest. He is every woman's dream, I wish I could see him one day at least to appreciate the work he has done in Nollywood.
Precious, Onitsha, 07033661067
2. Jim is too hot, Jim is too arranged, the guy is too set. He has set many ladies souls on fire with his sexy body. Can Desmond or Emeka beat that?
Candi, 08053273221, Warri.
3. Don't you guys have eyes? Jim Iyke still stands out as the best. Man, that guy dey hot, can kill to have him on my bed.
Lily, Edo state, 08053684018
4. Jim Iyke is Nollywood's sexiest not just because he's the master of acting made easy, he's brought life, professionalism, fun and loyalty to Nollywood.
Stanley, Nnewi, 07023126169
5. In my own time I won the crown and for your information I trained Jim and so he is my boy. So why shouldn't my boy win the crown? Give it to him.
Hardcore Peter, Ikotun, 07026708545
6. Jim Iyke is the sexiest Nollywood actor. He's a superstar with an infectious personality. He has the charisma and the way of delivery of lines is impeccable.
08037635063.
7. Handsome, cute and sexy are different. Desmond is naturally handsome, Jim has good dressing code but Emeka Ike is both handsome and sexy. Check his eyes, the way he talks and his smile. Have you ever watched him say; " please am sorry" to a lady? He's got style, Emeka wins the crown a million times over.
Jenny, Benin, 08070979996
8. Nollywood's sexiest man is Jim. Why? Because a man made by God, a man that God spent quality time creating, no other man can beat him, he's just too sexy.
Akintayo, Lagos, 08089419339
9. Jim Iyke na wtin I go do to make you understand say you don dey make me kolo? Nowadays, I can't think of nothing else than you. I vote till my heart stops.
Tash, UNIABUJA, 08051796908
10. A new computer was invented recently by a Chinese scientist which has the shape of a sexy guy and was later disclosed by the scientist that he has Jim Iyke in mind before creating the computer.
Moses, Asokoro, 08051796882
Desmond Elliot
1. The handwriting on the wall is very clear, read it so as to have a clear understanding. Desmond is a gift from God to humanity. He is the sexiest.
Mario, Jos, 08062259623.
2. The sexiest is Desmond Elliot, you can't give what belongs to Caesar to Julius simply because Julius is lousy. Is being lousy and rough what Nigerians call sexy?
Ehis, AAU, 08054333911
3. Desmond is a cool guy-loving, caring and honest. He is a guy everybody is dying to have and he is a decent guy and well dressed. Who are Emeka Ike and Jim Ike? Please crown my sweet guy for me before anybody.
Goodluck, 08051461300
4. Papa Jima is the sexy, adventurous, he's got charming, sexy and flat tummy. That's Desmond, please help me ask him if he has another.
Cindy, Republic of Benin, +22995755444
5. I'm voting Desmond Elliot as the sexiest man. He is tall, neat, humble and dresses well. I am crazy about his lips. I wish to see him one on one and I will love to have his number because he's my role model. I love how he pets women like eggs in his movies. Please crown him
Ngozi, Owerri, 08034808874
6. I choose Desmond as the sexiest not only that he is handsome he is also romantic and is every woman's dream. I am always carried away by his acting.
Doris, Lagos, 08023949800
7. How can one classify a man who threw a lady down from a window as sexiest? Desmond, never mind, in case they give you a replica of the recent Supreme Court verdict, know that it's better to deserve an award and not have it than have an award you don't deserve. Desmond is the sexiest, take it or leave it.
Statesman, Anambra, 0803472258696
8. Please let's do the right thing and crown Desmond. He's soft, gentle, firm, yet with stubborn aura that makes every woman crave him. Above all, he is tall, dark and handsome. In fact he's Mr. Sexy.
08064238696
9. If it comes to being handsome, I choose Desmond as the best. He has all what it takes to have the crown. If I can have an opportunity to meet him I will do anything possible to get him on my bed.
Adeola, Modakeke, Osun state, 08050509063
10. Desmond! Is it the looks or the height or the physique? As for me, I will choose him now and always as the sexiest man in Nollywood. Please crown him.
Bunmi, Kano, 08054221492
Emeka Ike
1. Whenever you look at his lips you will wish to be kissed. You can't look him straight in the eyes for fear of getting wet neither could you stand his speech because of the sound of his voice, he is just too cold to let go. Emeka will keep on being my idol.
Iphy, Enugu, 08024610789
2. Emeka Ike is no doubt embellished with all the trappings of the sexiest man in Nollywood. He's better spiced professionally than Elliot and Jim Iyke. So give it to him.
Ogwugwua, 08053045938
3. Emeka Ike is the sexiest man. He has no competitors. He sings love and appears sexy. He treats delicate things with infinite care. The crown is his.
Ndubueze, PHC, 08078862569
4. Simplicity, elegance and model make Emeka Ike the sexiest guy in the Nollywood. He's handsome with attractive eyes, charming smiles and kits lovingly.
Mazi, PHC, 08035525998
5. After examining the exhibits, the facts and witnesses, pleas and prayers I have to pass my judgement that I declare Emeka Ike the sexiest actor and award Jim Iyke one month imprisonment and Desmond two years jail term for challenging the 'winner', Emeka. Court rise.
Fidel, PHC, 08074352908
6. The sexiest actor of Nollywood is Emeka Ike. He deserves to be crowned because he has the qualities. I love his ability for selective listening. He's intelligent and straightforward. His eyes are inviting, no doubt Emeka Ike is a pretty piece of nature's work and the pride of patience. Emeka you have got style.
Precious, Edo state, 08073289881
7. Emeka Ike is very handsome, he is balanced, charming, loving and he has the spirit of endurance. Check out his height, he is calculative and a goal-getter. His skin is as smooth as butter. Emeka, you are cool as cotton. Keep the flag flying my guy.
Noye, Ogun state, 08074534200
8. Emeka Ike is the man. He's responsible, natural and respectful. He's naturally sexy. He is a replica of what God meant man to be.
Gozieh, Aba, 08054937373
9. Emeka Ike is the one, is like the lion in the jungle, the mouthpiece of the game. Abeg give the crown to him, make him carry go. For real, is my man like the BLUES.
Emma, Warri, 08067377964
10. Emeka Ike, he deserves the sexiest guy in Nollywood among the three. If we are to say in all things- action, dressing and voice, Emeka Ike is the best and he has been in the game for long since the time of 7 to 12 in the 90's. Emeka sure is the guy.
Adeck, UNAD, 08030706325