GENEVIEVE NNAJI DAZZLES IN GHANA.DENIES BEEN CONSIDERED FOR JAMES BOND NEW MOVIE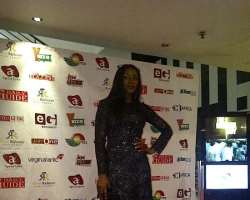 African Screen Goddess Genevieve Nnaji was in Accra, Ghana over the weekend for the premiere of Obi Emelonye's "The Mirror Boy".
During her visits, she tours media houses for interview.
In an exclusive interview with ETV'S J.O.T. Agyeman on 100 Degrees, she talks about some vital issues.
Excerpt from the interview;
What do you represent?
I represent every young woman or man out there who feels they are not privileged enough, not educated enough, not beautiful enough, not exposed enough."
An interview which sprung surprises and devoid the normal cliché questions asked on Talk Shows, Genevieve reiterates her philosophy that you can only delay destiny but you can't stop it when she spoke about Nigeria. A country where she admitted has several challenges which need attention. "Africans still have the colonial mentality" Genevieve said.
The continent is divided and there is discrimination. We are our own natural disaster".
Genevieve also revealed her dislike for those who take advantage of others and ride on their backs to become successful.
The Award winning actress denied of been considered for a role in the new James Bond movie but said she would jump at a good script which for her was more important than who her co actors are in a movie.