DANGOTE, ADENUGA, ELUMELU, AMONG 100 INFLUENTIAL AFRICANS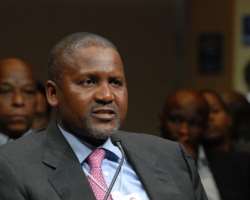 President, Dangote Group and Africa's richest man, Aliko Dangote, Chairman, Globacom, Dr. Mike Adenuga and Mr. Tony Elumelu, Chairman, Heirs Holdings and 93 others, have appeared on the list of Top 100 Africans released by London-based New African magazine, in its June edition.
Former CEO of the MTN Group, Mr. Phuthuma Nhleko, President, Africa Development Bank (AfDB), Mr. Donald Kaberuka and Egyptian billionaire, Naguib Sawris, also made the exclusive list from the business and finance category.
The listing, which was not in a particular order, featured 'top influencers, opinion-shapers, agitators, groundbreakers and myth busters, who are shaping the face of Africa' and it was divided into categories such as Business and Finance, Poets, Media, Music, Science and Technology and Authors.
President Goodluck Jonathan, Mr. Robert Mugabe of Zimbabwe and Dr. Nelson Mandela, are included in the list of political leaders that have influenced the course of history of the continent. Dangote, who made history in March this year, when he emerged the richest man in Africa in a ranking by Forbes magazine, is one of the continent's foremost industrialists. Currently, Dangote Group, which he founded over three decades ago, has operations in about 14 African countries including Ghana, Senegal and South Africa.
Dangote Cement Plc, one of the four subsidiaries of Dangote Group that are listed on the Nigerian Stock Exchange (NSE), also emerged the biggest quoted company in West Africa in April in a report released by African Business magazine. Only last month, Dangote Cement was listed among Forbes Global 2000 Companies. This is the first time that a Nigerian company would appear on the prestigious list of top companies in the world.
Commenting on the rating, Mr. Baffour Ankomah, Editor of New African said: 'Our continent has produced, and continues to produce some impressive individuals from all walks of life who are having a profound impact not only on Africa but on the international community.
'The names on the list I am sure will be discussed the length and breadth of the continent. And the list in itself is not necessarily an endorsement as such, but what it does show is the diversity of skills, talents and personalities amongst Northern and Sub-Saharan Africans in contemporary times, and who are driving change across the continent and beyond.'