Men that sell movies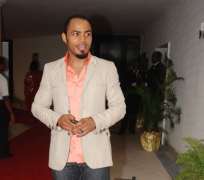 The big debate between different groups of home video lovers has always been who the sexiest Nollywood actor is. In an industry that is known to thrive on scandal, some men have been able to stand themselves as heavyweights when it comes to getting roles in movies and scandals on and off the set.
It is practically impossible to chronicle all the men who haunt movie lovers with their performance but some stand head and shoulders above others when it comes to separating the men from the boys.
Founder, initiator and driving force behind Jim lyke Foundation for Children with Special Disabilities, Jim lyke is one of Nigerian's most popular actors.
Born Jim Esomugha in Gabon, Jim Iyke has over 100 movies in his file. He is renowned for deft his manner in interpreting roles and for his acting skills.
He is also a martial arts specialist and is celebrated for pioneering a lot of first in the home video industry. Jim is the first actor to produce a mainstream big budget movie abroad. As a businessman, Jim has considerable interest in real estate and resource management. He is an alumnus of the University of Jos with a degree in philosophy.
Though he has had his fair share of controversy, the actor is consistent in throwing his female fans off balance with his looks. The Nollywood bad boy, as he is also known, is paraded in movies as a bundle of talent who has sheer hard work, humility and unprecedented perseverance on his flip side.
Jim Iyke has presently produced two international movies namely Ebony and Good Evening with internationally renowned actress Judy Shekoni and Tangerine Martins.
With consistence in movies working for him, Mike Ezuruonye is one Nigerian actor that people yearn to see in movies. His presence in posters speaks volumes especially as regards sales. He received two nominations for Best Actor in a Supporting Role and Best Actor in a Leading Role at the African Movie Academy Awards in 2008 and 2009.
Born in Lagos, Nigeria, the recently married star is the eldest of four siblings. Right from primary school, Mike showed a keen interest in the world of television. He worked behind the camera writing scripts for Clapperboard Television.
A good friend of movie producer Jetta Amata, Mike has always been involved in some capacity in the world of arts and theater despite having studied accounting.
Perhaps, this has worked well for him as upon delving into the industry, the handsome actor quickly proved his talent and capabilities to convince some of the most influential decision makers in Nollywood, namely director Aquilla Njamah and producer Emem Isong to give him a chance. Dickson Iroegbu gave him his big break in the movie, Broken Marriage.
Since he made his entry into the movie industry in 2005, Wesley Snipes' look-alike, Yemi Blaq, has proved it takes more than great looks to be a lead man. With a diction that is captivating, his roles in movies like Sting, Control and Coded are outstanding.
Blaq, who grew up in a home of seven children studied theatre arts in the university because of his unbelievable love for acting. He parades himself as an ultra-casual guy whose flair for the arts speaks volumes for him.
Nonso Diobi is one of the top rated actors in Nollywood and has featured in a number of movies since he arrive on the scene. Since stepping into the limelight, Nonso has put his foot down as one actor that holds sway among his peers, especially in an industry where stars make big money because they can sell movies,
Upon stepping into the industry, Nonso has never looked back, as Nollywood keeps beckoning on this young, handsome, dynamic, and multi-talented star with over 20 movies to his credits. He is the first Nigerian actor to be signed unto Jton Productions in New York.
Nonso was born to the Diobi family of Enugu but grew up in Anambra State. He grew up with a family of two daughters and three sons. He featured in his first movie, Borderline, which was shot by top director, Adim William. His breakthrough movie, Hatred came right after he did Borderline, since then, it has been an upward climb for the artiste.
Like it or not, Ramsey Nouah is one of the most loved actors in Nollywood. Born in Edo, Nigeria, Ramsey is of Nigerian and Israeli parentage. His father is of Israeli and Lebanese descent, while his mother is Yoruba from Owo in Ondo State. Before gaining popularity as a Nollywood actor, Nouah had been a hip-hop artiste with fellow actor Pat Attah and the pair starred in the Nigerian soap opera Megafortunes.
For his numerous roles in romantic movies, the star and darling of movie lovers has been dubbed 'Lover Boy'.
Ramsey is married to Emilia and the couple has two lovely children together.

Jim Iyke

Mike Ezuruonye

Yemi Blaq

Nonso Diobi