JOHN'S EPISTLE ON CLIMATE CHANGE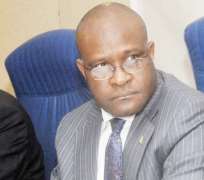 John Odey was until May 29th 2011 the minister of the Federal Republic of Nigeria in the ministry of Environment.
He spent a little less than fifteen months as the helmsman because of the major cabinet change which led to his redeployment by President Goodluck Jonathan to the strategic but often over looked Federal Ministry of Environment. As Information and Communications minister under the then Yaradua/Jonathan Federal administration, Odey discharged his duties creditably.
John Odey undoubtedly a foundation member of the ruling Peoples Democratic Party [PDP] has over the past couple of years built a formidable credential as a technocrat but a party loyalist committed to the pragmatic implementation of the Peoples Democratic Party's blue print for the radical transformation of Nigeria. His performance has put a lie to the widely held perception that his political party does not have the solution to the myriads of developmental challenges confronting Nigeria of the twenty first century.
Before I am taking to task for praise singing, let me make it abundantly clear that I do not belong to the Peoples Democratic Party nor to any other registered political platform and in fact most of my critics have blamed me in the past for what they called "my phenomenal hatred" for the ruling Peoples Democratic Party which I also think is a misconception.
But as Igbo people usually say that "warriors are not scared by the prospects of death or casualties during war", I am going to treat this topic as best as I know because of the fact that climate change which is one of the most disturbing phenomena in the field of Environmental studies constitute a grave human rights violation if not checked and indeed Nigeria stands at the risk of suffering the deadly consequences if nothing is done at the level of policy making to address holistically this dangerous trend.
One thing that is clear is that Odey's one year spell in the ministry of Environment has made remarkable impacts in sensitizing Nigerians on the consequences of climate change. About six months ago or so, I treated similar theme in this column and encouraged John Odey to intensify his resolve to ensure that his epistle on climate change receives the needed attention because it is a multi -sectoral and multidimensional matter.
Last week, an international scientific study came up with a report that Nigeria and other African nations stand the risk of food scarcity if pragmatic steps are not adopted to mitigate the adverse consequences of climate change.
In that report quoted by the British Broadcasting Corporation [BBC], areas where food supplies could be worst hit by climate change have been identified and sub-Saharan Africa featured prominently.
Some areas in the tropics face famine because of failing food production, an international research group says.
The Climate Change, Agriculture and Food Security (CCAFS) predicts large parts of South Asia and sub-Saharan Africa will be worst affected.
Its report points out that hundreds of millions of people in these regions are already experiencing a food crisis.
"We are starting to see much more clearly where the effects of climate change on agriculture could intensify hunger and poverty," said Patti Kristijanson, an agricultural economist with the CCAFS initiative that produced the report.
A leading climatologist told BBC News that agriculturalist had been slow to use global climate models to pinpoint regions most affected by rising temperatures.
This report is the first foray into the field by the CCAFS initiative. To assess how climate change will affect the world's ability to feed itself, CCAFS set about finding hotspots of climate change and food insecurity.
Focusing their search on the tropics, the researchers identified regions where populations are chronically malnourished and highly dependent on local food supplies.
Then, basing their analysis on the climate data amassed by the United Nations Intergovernmental Panel on Climate Change (IPCC), the team predicted which of these foods insecure regions are likely to experience the greatest shifts in temperature and precipitation over the next 40 years.
With many areas in Africa predicted to become drier, countries such as South Africa which predominantly farm maize have the option to shift to more drought resistant crops.
But for countries such as Niger, in western Africa, which already supports itself on very drought resistant crop varieties, like sorghum and millet, there is little room for maneuver, explains Bruce Campbell, the director of CCAFS.
"West Africa really stands out as problematic. Burkina Faso, Niger, Mali, They are already dependent on sorghum and millet.
"In many places in Africa you are really going to need (a) revolution in farming systems, "he says.
Governments are aiming to limit the average increase in temperature to 2C by the end of the century, he explained. But if temperatures continue to follow their current trajectories "we are on for a 3-4C increase", Sir Gordon explained.
If this was correct "things get very alarming", the professor said.
In the last one year, John Odey is reported to have ensured the admission of Nigeria into UN-REDD and ensured effective take-off of the agencies in charge of environmental laws monitoring and implementation. These are the National Environmental Standard and Regulations Enforcement Agency (NESREA) and the National Oil Spill Detection and Response Agency (NOSDRA).
The Environment ministry under Odey has reportedly reformed National Environmental Governance in Nigeria through the proactive and efficient manner he mobilized officials of the Federal Ministry of Environment on the mandates of the ministry.
Odey and his team initiated and ensured effective take-off of the National afforestation Program, which is Nigeria's multi-purpose response to reducing Carbon in the atmosphere thereby combating the effect of Climate Change as well as checking the expanding Sahara Desert. The program also aims at rejuvenating agro-based industry and jobs for Nigerian youths.
Odey's ministry of Environment however failed to tackle the widespread menace of erosion in the South Eastern states of Anambra, Imo, Enugu and Ebonyi State even though he took time to visit those areas worst hit by these disaster. Some analysts say his short stay in the Environment beat may account for the lack of adequate attention to the problems of erosion menace in the South East which made some people to advocate the declaration of the South East as a disaster area by the federal government.
By and large, John's epistle on climate change is an unfinished agenda which should be effectively tackled to a logical conclusion and it is hoped that John Odey would be reassigned to complete this noble and nationalistic agenda.
Emmanuel Onwubiko heads Human Rights Writers' Association of Nigeria.
Disclaimer:

"The views/contents expressed in this article are the sole responsibility of

thewillnigeria.com

and do not necessarily reflect those of The Nigerian Voice. The Nigerian Voice will not be responsible or liable for any inaccurate or incorrect statements contained in this article."
Articles by thewillnigeria.com