I WASN'T DECLARED WANTED,ACTRESS PATIENCE OZONKWOR. A.K.A MAMA G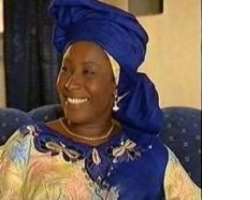 Some weeks back, news broke out that veteran,actress,Patience Ozonkwor has been declare wanted by the police authorities in Enugu State over #500,000 naira debt she is allegedly owning Abraham Nwodo,another Nollywood actor.
Mama G as she's popularly known denied the allegation in a phone chat; she stated that the rumor was the handiwork of idle people. If I have been declared wanted by the police I won't be working freely says patience.
Ozonkwor was said to have had a misunderstanding with Abraham Nwodo over N500, 000 she owed the latter.
In 2009, Nwodo was said to have featured Patience, who also doubles as a singer in a song. She was said to have been paid the amount for the recording, but few weeks later, she called Nwodo and told him that her son, Uche, was travelling abroad and would need one of her audio jobs for sale and promotion, which Nwodo obliged.
But he insisted that the actress, in return, will pay the sum of N220, 000 as the bill he had already spent on the music project.
It was reported that when Nwodo's wait for Patience to refund the money seemed to be endless, he contacted the actress, but was shunned, while he reported the case to the Enugu Police Command, which was rumored to have declared Mama G as Patience is fondly called, wanted.