I'm Quiting.......Ruggedman,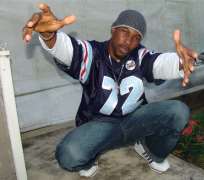 Stephen Ugochukwu a.k.a. Ruggedman, spoke with http://nollywoodgists.com about his new album entitled Banging, his clothing line and other issues
Q: Ruggedy Baba, what's up?
A: I am alright, my brother.
Q: You put a single on air recently, why not a complete album?
A: Ruggedy Baba has been out since March last year and doing things for me. I thank God, it gave me awards and shows, although there is Twist your waist stuff, people pay more attention to Ruggedy Baba because it is a good song. Well, anything I do now is with calculation because there will be a star track, star mega jam and few other shows like that. So, if you have to sing the old songs you have since last year, some of them may not call you. So, you have to add something new so that they will know that you have stuffs and the reason I release a new song entitled Banging.
Q: What informed the song?
A: Because it is a Banging track. The chorus is O n banging si mi leti, meaning it is banging in my ears, not the banging you are thinking of. Just three weeks after it got on air, it is already in pirates' compilations.
Q: How did the pirates get the stuff?
A: I don't know how they got it, maybe through recordings from radio because after I put the song on air, I travelled to the UK and it was from there and the internet that I started promoting the song. As I am talking to you now, I can assure you that it was through the internet that I was able to send the songs to 2,500 DJs all over the world.
Q: Can you compare the Stephen of the UNILAG and Ruggedy Baba of nowadays?
A: Well, I thank God because each year, I am a year older and things are working fine.
Q: And the money rolling in?
A: Yes, the money is rolling in the same way I am working because since the day I started, it has been only me and my God and I have been working. I hate when some people stop me and say you have been chopping your money alone. I used to feel bad but when they say it now, I say yes, because I am working for it alone.
Q: What was on your mind when you started during your undergraduate days at UNILAG?
A: I like music and when I started watching MTV raps and Raps City then, I got seriously interested in rap music. All of a sudden, it became a hobby. Later, I started miming and from there, I realised that I could go into the studio and make my own music. I found out that I could shoot my own video and then made a decision not to let it die as a hobby but take it as a profession.
Q: Did Kurtis Blow kind of rap music influence you?
A: Kurtis Blow? No, but mostly I started listening to NBA, Public Energy, Heavy J, Back in the day, LL Cool J, now I listened to everybody but 50 Cents influenced me most, not only his music but also his business. I mean his business sense. He is into music, business, movie and other things.
Q: You look cool and very unlike a rap artiste, do you take alcohol?
A: Yes, but occasionally. I take spirit and beer at times.
Q: Does that give you energy on stage?
A: No, but the will to succeed and I know that I play good music and I actually want to entertain people.
Q: What informed the 'Eeh' which you beef some people in?
A: Like I said earlier, when I wanted to start, I discovered that a lot of mediocrity was being celebrated in Nigeria and for me coming into music, I had to do something about the menace. So, it was like who will bell the cat? I knew there will be lots of negativity about the things I did, going to them but I have no regret. It was when I dropped 'Eehen' that the whole Nigerian music industry changed for the better.
Q: Were you afraid then that you could be shot like Tupac and others?
A: The American culture is different from Nigeria's. In America, they are more into gun and knives, but Nigerians are not like that, they can only use broken bottle and planks.
Q: Did you belong to any of the cult groups when you were in school?
A: Eh, my guy, I went to school, grew up I am a man today. I am a tout, a cultist or trouble maker. Some bad belle people were spreading some rumour about that. But I did not need it. Those who were doing it were not better than I do.
Q: You came out on your own without a recording label, how then has it been?
A: When I came out, I found out that there were no good recording labels, that is why I floated my own. What we have in Nigeria are record labels.
Q: In the next five years, where do you hope to see yourself?
A: I have Rugged Records and I have a few other artistes who I am going to unveil soon. Like I said, this will be my last album, because I want to concentrate 125 per cent of my time on the recording company and the clothing line, 20 September Wears.
Q: Does that mean you don't have stuffs again?
A: No, I want to develop talents through Rugged Records and clothing line. It does not mean I will not write for them.
Q: What of your fans who may want you to perform?
A: Let's wait and see, but I want to concentrate on the record company and the clothing line in the next five years. I want to be one of the biggest recording companies in town and also want my clothing line to do in Nigeria what Nike did in America.
Q: So, you want to do business like an Igbo man?
A: Not as an Igbo man, but as a businessman. Don't we have Yoruba and Hausa who are into business? Let me put it this way, in Yoruba, ona kan o w'oja, meaning so many roads lead to the market. I will not sing or perform for ever, but people will forever wear clothes. I used to tell people that some artistes who were big in those days are either taxi drivers or bus conductors somewhere now. So, it is not how good but how smart you are.