Why Aigbojie Aig-Imokuede,Access Bank MD, is after Huhuonline publisher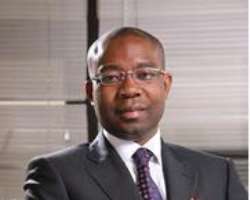 Anyone familiar with the shenanigans of journalism and news reporting must be wondering what is happening with Access Bank and its embattled MD/CEO, Aig-Imokuede. And if you are a starry-eyed student of Journalism 101, you must be beating  yourself hollow about the prevarication of the media hoodlums in Bravo magazine and other news outlets that have been hired by Access bank to emasculate and silence Huhuonline.com and its Publisher/Editor, Emmanuel Asiwe.  
 
  Our attention has been drawn to a recent report published by the inconsequential obscure weekly, Bravo, amongst the gang of media goons hired by Aig Imokuede to wage a campaign of calumny and blackmail against Huhuonline.com and its venerated Publisher/Editor, Emmanuel Emeka Asiwe. Among other things, Bravo accuses Huhuonline.com of 'jarring and biased reporting' of the money-laundering scandal involving Access Bank and fugitive, James Ibori and public looters like Lucky Igbinedion and Emmanuel Uduaghan. Another mercenary publication, with a sonorous esoteric title 'High Society' is on Aig-Imokuede's payroll for the same sinister mission.  
 
  The mercenaries at Bravo, like their High Society and Daily Independent counterparts are amongst the media hoodlums hired to do the hatchet job on Huhuonline.com and its Publisher, for the series of investigative reporting on the endless scandals involving the politically exposed, lecherous, vampire scandal sheet; the self-declared 'God's Banker' Aig-Imokuede. Besides casting banal vituperative aspersions on the person of Emmanuel Asiwe, the Bravo publication also made incendiary and defamatory comments about Huhuonline.com and proffered an unsolicited lecture on professional ethics.  
 
  Huhuonline.com understands that Aig-Imokuede`s agents held a secret meeting with Bravo magazine and some gossip-peddling scandal sheets, bribing them not to run stories on the money-laundering scandal involving Access bank and its beleaguered MD/CEO, Aig-Imokuede. The pens-for-hire also agreed not to report on how Ibori converted V-mobile shares with the connivance of Access Bank. Part of the sinister plot was the current misguided campaign to subject Emmanuel Asiwe to press harassment and ridicule in order to discredit Huhuonline.com, known for its fearless and investigative reporting.  
 
  Since then, we have witnessed so many write-ups attacking Huhuonline.com with the intention of undermining its credibility. Much of what was written in the latest attack by Bravo magazine (Why Huhuonline is after Access Bank) and High Society (Real reasons internet newspaper boss Emmanuel Asiwe is after Access Bank: The Femi Otedola connection) is no more than blatant lies, gross misrepresentation and baseless slander. Bravo claims in the article that the money laundry (read laundering) case involving Access Bank and James Ibori: 'is presently receiving the attention of appropriate authorities, but Huhuonline's jarring and biased reporting of the matter is disrupting the investigation process as the media platform's stance on the matter is not unconnected with the bank's squabble with Mr Femi Otedola who is Emmanuel Asiwe's childhood friend and benefactor, over his indebtedness.' If anyone needed evidence that Bravo and High Society magazines merely published a script written for them by Aig-Imokuede and Access bank, the word verbatim similarities of expressions in the reports published are there to prove it.       With such halting grammar and rambling syntax, we would respectfully decline Journalism lessons from Bravo magazine. It is like the Catechist trying to preach the gospel to the Pope! If Aig-Imokuede and his knee-jerks had taken the time to do their homework, they would have realized that Mr Asiwe is a man of integrity who has been living in the USA since 2002, not 2008 as stated in their report. Secondly, Mr Asiwe unlike those embarrassing carbuncles at Bravo magazine is not even a social drinker, let alone an alcoholic. And unlike the maniacal skirt-chasing gigolo, Aig-Imokuede, Mr Asiwe is happily married with children.  
 
  It is therefore important that the records be set straight and Huhuonline.com's position at this point, explained to the public. We will like to put on record that despite their garrulous banter and public posturing, Bravo continues to publish stories culled from Huhuonline.com with neither permission nor acknowledgement. The latest story published in Bravo's recent edition is captioned, "Sex on the Pulpit: Pastor Adeboye Sacks Senior Pastor". This is not only professionally dishonest, but it is plagiarism and we reserve our rights with regard to our legal options.  
 
  We also see it as our duty to bring to the attention of Access Bank shareholders and clients, the degree of travesty which Aig-Imokuede is prepared to descend to burnish his tattered image as a lascivious, corrupt banker, which, to say the least is amazing. We consider such feeble-minded resort to blackmail by Aig-Imokuede condescending. We find the animus put forth by Access bank against Mr Asiwe astounding. We are disappointed that a business institution like Access Bank would try to undermine the credibility and even encourage steps to destroy an online news medium, with which it had had business transactions in the past.  
 
  No matter who you are, you cannot fail to ask the prime question: why Huhuonline.com that has been running Access Bank adverts on its portal since 2009 should be at the vanguard of exposing the goings-on in the bank. The reason is simple: we remain committed to the truth. If Access Bank and Aig-Imokuede thought that because Huhuonline.com ran their adverts, and so we should not be biting the proverbial finger that fed us, then they better think again. We report facts as we see them no matter whose ox is gored. It is up to the readers to judge us from the quality of our reporting.  
 
  No sooner had we broken the story: ' Aigbojie Aig-Imokuede… A politically Exposed Dirty   Banker' than we received a phone call from Mr. Ayodele Aminu, former Business Editor of Thisday newspaper and one the bank`s numerous consultants, whom Mr. Asiwe had worked with at Thisday. Mr. Aminu said he was calling on behalf of Aig-Imokuede, MD/CEO of Access Bank. He politely requested that that Mr. Asiwe 'reasons' with him. Mr. Aminu disclosed that Aig-Imokuede was ready to bankroll huhuonline.com; on condition that we stop writing about him (Access Bank), and remove the said story from our portal. Mr. Asiwe listened to Mr. Aminu and politely told him that 'we are not interested'.  
 
  Hours later, it was Mr. Asiwe`s former boss, Nduka Obaigbena who called in connection with the story. He pleaded that we should give his friend Aig-Imokuede a soft landing and asked that we remove the story from our site. Again, we politely turned down the request and refused to remove the story. The next week, we published another story on the embattled Imokuede, titled, 'Aigbogun Aig-Imokuede: Vistas of a Lecherous Vampire Banker'.  
 
  With all the entreaties made by Aig-Imokuede to engage Huhuonline.com, it stretches credulity, and it is rather scandalous for Bravo magazine not to see who has indeed refused to 'play ball'? (to borrow their clumsy expression). Blaming Huhuonline.com for the self-inflicted disasters of Aig-Imokuede and Access bank is too simplistic. We would very much like to avoid the damaging negative publicity and embarrassment which Access Bank has suffered as a result of Aig-Imokuede's misguided campaign to malign Huhuonline.com and its publisher. We shall therefore refrain from referencing e-mails with Access Bank staff who have tried to 'negotiate a win-win solution' out of the mess, the bank and its beleaguered MD/CEO now find themselves.  
 
  However, we remain unapologetic and make no bones about the fact that we hold Aig-Imokuede in very low esteem because of his greed, lack of enlightenment and character flaws, especially his predilection towards profligacy, and his questionable emphasis on sexual aggrandizement. Aig-Imokuede, in our view, does not meet the exacting professional and moral standards to head a bank, let alone Access Bank. We owe no apologies to Aig-Imokuede and other Huhuonline.com detractors. We will neither cower nor cringe in the face of cheap blackmail against our Publisher. Huhuonline.com has no dealings with Aig-Imokuede and we have no intention of meeting with him or anyone acting on his behalf either in public or private. We consider any further attempt to engage our Publisher/Editor, Mr Emmanuel Asiwe as harassment and intimidation that will not detract public attention from his corrupt self-indulgent eccentricities.  
 
  The Editorial Board has reaffirmed its commitment to the Publisher/Editor's vision and objectives and we challenge Aig-Imokuede to go to court if he thinks he has a case against Huhuonline.com. As for the pompous windbags in Bravo magazine and other mercenaries hired by Aig-Imokuede to smear Mr Asiwe, we would like to remind them of a famous Ndigbo proverb which says; if you have nothing to insult a handsome man, you say: 'look at his head.' But by asking people to look at his head, you are instead asking them to admire the handsome man. Huhuonline.com is capable, willing and ready to defend itself in any court of law or public opinion and we shall never waver in our commitment and determination to continue kicking the dead horse called Aig-Imokuede and Access bank.