Yoruba Movie Stars Endorse Yorubalove Channel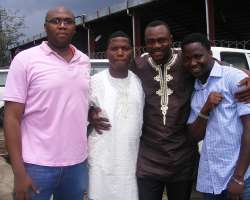 YorubaLoving. The Documentary
Recently launched YouTube channel Yorubalove [http://www.youtube.com/yorubalove] (an IROKO Partners company) have taken a big step towards reducing Internet Piracy, with the launch of the first legal place to watch Yoruba movies online. Starting with 60 movies with the aim to reach 200 fully licensed movies within 3months it is aimed as at legally connecting the millions of Yoruba viewers globally with their home and culture.
YorubaLove and IROKO Partners have created relationships with the biggest Yoruba movie studios such as Olasco Films, Alawaye Productions, Corporate Pictures, Highwaves Video Mart, Time Pictures, Wastayo and many many more.
YorubaLove is bringing out a documentary explaining the damage that viewers are unknowingly doing to the Yoruba movie industry when they upload and share their content on sites like YouTube withour permission; YorubaLoving will feature industry stalwarts Funke Akindele, Jide Kosoko, Odunlade Adekola, Mercy Aigbe, Murphy Afolabi, Mide Funmi Martins, Olasco Films honcho Akeem Olatunji Balogun
The Yoruba movie makers, both the Producers and directors, actors and actresses have therefore pledged their devout support to YorubaLove Channel and have also recognized and endorsed its Legality and Authenticity in distributing the Yoruba movies online. The has been something which has been rigourously questioned by viewers who were upset about the removal of previous channels from YouTube
YorubaLoving Clips.
Mercy Aigbe Supports YorubaLove - http://www.youtube.com/watch?v=Zk6jWn9mcpA
Odunlade Adekola Supports YorubaLove - http://www.youtube.com/watch?v=PEvCQp1QdWY
Murphy Afolabi Speaks on YorubaLoving - http://www.youtube.com/watch?v=3MrivEq0mL0
Mide Funmi Martins + Niyi Speaks on YorubaLove - http://www.youtube.com/watch?v=ymDiS-qw194
For more information on please email [email protected]