'MY PASSION IS TO BUILD WOMEN'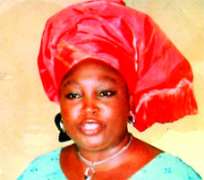 • Omoike
For Pastor (Mrs.) Elizabeth Omonivie Omoike, President, Women of Vision International Ministry (WOVIM), nurturing women is her calling. The amiable teacher and prophetess recently rolled out drums to celebrate her 50th birthday. Not only that, she equally celebrated the 25th anniversary of her salvation. The grand reception held recently at Hetty's Garden, beside RCCG, Dominion Cathedral, Gowon Estate, Ipaja, Lagos.
The Edo State-born author of Woman: The Crown of His Glory and Contending With the Spirit of Haman, is passionate about building women and their homes.
Since knowing Christ, she discovered that God has a specific assignment for her among women. 'Right from the time I gave my life to Christ, I have this opportunity of being in the midst of women in different capacities. I was in the house fellowship of only women in Deeper Life Bible Church, Kano. I took interest in visiting the women and seeing to their problems. Even though I was very young and many of them were older than me in the Lord, by the grace of God, I was just doing that and it gave me joy. Later, I became the coordinator of women. Eventually, when we relocated to the South in 1993, I joined the Redeemed Christian Church of God (RCCG) and I was also one of the executive members of the Good Women,' she said.
Everywhere Omoike went, there was passion for women in her heart. She was concerned about their situations, which aroused some strength from her. She was provoked to asked God many questions and God told her that that was why many women could not concentrate to receive His blessings. So, God called her to bring women together so that they would be built in the knowledge of His word.
According to Omoike, God did not create women to suffer but to be help mate for their husbands. God, therefore, gave Omoike assignment to nurture women with His words and principles to be able to build their homes and enjoy them better than what they are doing today.
The ministry started like a play with women going to her for prayers. Before she knew it, it became a group. 'We organize seminars and invite women. Right now, the ministry has branches in the country and many other parts of the world. I thank God because I now know that one cannot escape from the purpose of God for one's life as long as one surrenders his or her life to Jesus. I am glad that God is actually raising great women. Homes that were broken have been restored and peace is reigning.'
Omoike, who is also a publisher of a quarterly magazine entitled, Home Makers' Voice, explained: 'Marriage is more than a school. You enter without passing out. A woman is given a certificate before she enters. Why? Maybe if she is not given a certificate, she may back out because of many challenges at home. Many have backed out even with certificates in their hands. A couple needs adjustment because they came from different backgrounds.'
She explained further that although, marriage institution is perhaps one of the most important institutions founded by God, the success of it depends largely on the understanding of the place of man and woman in the home. To her, since home revolves round the woman, it is important for all in the family to understand the uniqueness of the woman and how this could be channelled to the advantage of all in the home.
The virtuous woman, who is married to Pastor Omoike and blessed with four children, is bent on seeing women fulfill their God-given ability to have children. Many women have become mothers under her ministrations. One thing about Omoike is her total belief in the jubilee of mankind through the word of God. She said: 'Every declaration of God is backed up by His power for the accomplishment. If God says it's your year of jubilee, so it is. All it takes is for you to jubilate and the events that will lead to your celebration and jubilation had been pre-arranged by God even before the declaration came. Also, all you need is to key into what God has said by faith and watch Him bring to pass what He has declared. You need to believe that it is possible, announce it to everyone who cares to hear in spite of all odds and demonstrate your faith at every available opportunity.'
Born into the family of Pa Isaiah and Mrs. Alice Awere, Mrs. Omoike said they were not pastors and were not even born again Christians. 'Coming from a polygamous home has taught me a lot of things. I came from an idolatrous background where we worship idols. Although, we were going to church quite alright, we still sought diviners. My parents were not all that religious. We were just church goers, but today, the story is different. Before my father died, he gave his life to Christ. My mother and every member of my family are born again now. My eldest brother and his wife were the first to get born again in the family. I joined them in 1986 when I gave my life to Christ and then others followed. Today, we have many pastors in the family.
On the recent violence in the land, Omoike hinted that God revealed to her about the chaos but that only the counsel of God would stand. 'God showed me a lot of running helter-skelter, but the solution is for us to pray. God declared last December 29 to gather women to pray concerning the nation. He would intervene, He would step in. A lot of things were determined concerning the general elections but God said only His counsel would prevail.'
On women in politics, she said they can go into politics as long as they know exactly what they are going in there for. Some see it as an opportunity to make money and become famous. Let them go in there as God's tool to turn around things for the better for the people.