UNITED, CHELSEA IN OLD TRAFFORD SHOWDOWN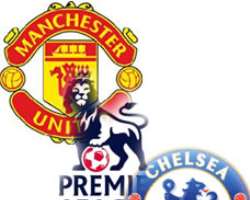 Exactly 26 days after Manchester United knocked out its eternal rival, Chelsea, 2-1 in the quarterfinal round of the ongoing UEFA Champions League, both sides are set to rumble yet again tomorrow in the English equivalent of the El Clasico – a match its result will prove the game clincher as the Premiership heads for its crunchy end.
There will be everything to play for, as the winner of the Old Trafford showdown, kicking off early in the evening, might go all the way to win the two remaining games and grab the season's title. United leads Chelsea on the table by three points, if the former losses the cracker, Chelsea will be in front on goal aggregate. If both sides win their two remaining games, the Blues will coast home to sweet victory.
Chelsea has had the upper hand in their recent Premiership games in recent times, the latest being the 2-1 defeat it inflicted on the Red Devils in the first stanza of the season.
For now, Chelsea is playing a game of its life after waking up from its afternoon slumber. The team's attack line has returned to its former devastating form and pumping in goals with lots of gust. Florent Malouda, Didier Drogba, Salomon Kalou and Frank Lampard are right now deep in the swing of things. And the talk about their team is that it has rediscovered all it takes to win the season if it can strike the winning chord against United tomorrow.
United, on its part, is in rich vein; the team is in the right gear having been competing lately in a series of high pressure games at the UEFA Champions League, although the outings, according to analysts, might prove counter productive.
Striker Javier Hermandez has proved himself a force Chelsea and the whole of Europe cannot neglect. Wayne Rooney, Dimitar Berbetov, Nani and even Park Ji-Sung's inspirational play now make the Devils truly awesome. Even as United was demolishing Schalke 04 on Wednesday, Alex Ferguson had his full sight fixed on the Sunday's match. To show how important it meant to him, he rested key players, leaving a second stringed Red Devils to bury Schalke.
This season, United has not lost any game at Old Trafford. There alone, it has won a record 16 games and drawn just one. That makes Old Trafford a slaughter slab of note and casts some doubt on Chelsea's ability to survive there.
However, that myth comes under threat from Chelsea, the team that has won seven games at away, the second best record this season.
Perhaps, the factors that will count for the winner will be focus, determination and some luck too. This is anybody's game everyone is waiting to see in whose hands the pie will fall.