I was slapped first day on set – Foluke Daramola .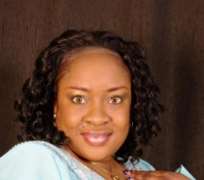 Foluke Daramola is a household name when it comes to Nollywood. She started her acting career in the 90's and her first appearance on the screen was in the movie entitled: Palace. She has, no doubt, carved a niche for herself in the industry. An actress who has a strong belief in the Yoruba culture and hard work, she recently released a new movie, entitled: Wakati Eda. In this interview with TAYO SALAMI, she explain why she has of recent reduced her appearances in movie. Excerpts.
How did you find yourself in the movie industry?
I started in the 90's before I got admitted into the university. I started with talk shows on DBN and AIT and eventually, I got a role in Palace and while I was acting, I was studying with it.
Where did you study?
I went to Maryland Convent, Anthony Model Primary School and I went to different secondary schools. I was at Ikeja High School, Ifako International School and LAFOGRAMS. I studied International Relations at the Obafemi Awolowo University, Ile-Ife and for my Masters degree, I studied International law and Diplomacy at the University of Lagos. Also, I do some professional courses once in a while. I did some in directing and I did a leadership course at Daystar Church.
Since you started acting before gaining admission into the university, why didn't you study Theatre Arts instead of International Relations?
My first love has always been to be a diplomat. I discovered acting along the line as a hobby. I don't have to go to the school of acting before acting well. I actually got admitted into the Obafemi Awolowo University to study Accounting but I just wanted to be a diplomat so I changed my course to International Relations. I already have acting as a talent, so I don't need to study Theatre Arts.
Who are your mentors in the movie industry?
In acting, they are Olu and Joke Jacobs, Richard Mofe-Damijo and in directing, my mentors are Amaka Igwe, Lola Fani-Kayode, Tade Ogidan, Tunde Kelani and a whole lot of them.
What is your relationship with your colleagues in the movie industry?
It is cordial but I'm a private person. I don't keep friends apart from the younger ones that I have. It doesn't mean that I have people as my enemies. I still maintain a very cordial relationship with my colleagues when we are off set and I know I can get in touch with them when we have one or two things to do together. I love privacy so I like to keep myself to myself.
The first time you were on set, how did you feel?
I was excited but scared. I was excited because I was acting with big names: Liz Benson, Yomi Obileye and a whole lot of them but I was really scared. Although, I had to get a slap because my director, Uncle Tunji Bamishigbin, was asking: 'what's wrong with you?' Because I was not just getting my line so I had to be slapped to get back on my feet and after that, I've been wonderful. It's like a part of me already.
It's been very long you were seen in a movie. What really happened?
I do more of directing now. Even the directing, I pick the ones I do after reading the script. I'm working on my own job. I'm working on the Yoruba first reality show for upcoming movie actors and actresses, "Irawo Otun", I'm working on a network show, "fulfilling desires". It's a non governmental organisation enhanced network show and I am also working on my television serial, "Tactics". So I have a lot of things on my hands. Acting along with it might be too tedious for me. Those are the major things I'm working on for now.
Your new film "wakati eda", why didn't you give it to marketer to distribute it for you?
I gave it to a marketer and I'm even having issues with the marketer because right now, I've not seen the marketer and the marketer has five million naira with him, I've not heard anything from him. He just ran away with my money. Anybody that sees him should tell him to bring my money because he is creating problem for me. I got people who believed in me, they believed in the project that I did and they invested in it. At the end of the day, I'm turning to be a bad person because I am not paying back. I have not collected the money for the copies of the movie that was sold since February. Now, I'm in a fix, which is why I am not so encouraged to think of producing any movie again because how can I work so hard and at the end of the day, my marketer will just hold on to the money?
But at first you did the film single handed?
I did everything single -handed, I went to the DVD company myself, I did the advert myself, the only thing I just gave out was the distributing part only for him to distribute in Idumota and other places because they have a distributing network. Even with the distributing network, he has not been able to give me a dime.
Is it all marketers that do that?
I don't believe all marketers do that but majorly the bad eggs among them are the ones spoiling the names of the good ones. But the good ones are not many, because I am the type who likes to take my time in writing scripts. I shot "wakati eda" three years ago. I took my time on it because I believe I would get my money on it but this guy is just trying to bring everything down. Any producer that goes through what I went through, produces creativity. If you spend so much money on a job and you don't get your money back, you will not be encouraged and you will be left in penury. It's really something that pains my heart.
What is the Association of Nigeria Theatre Practitioners doing to curb this?
I don't know. For me the system is really lagging behind. The National Film and Video Censors Board is not censoring what they ought to censor. Apart from censoring a movie, what about the artistes who are trying to invest money by trying to put sanity in the industry? If I don't have any backbone, by now, I would have gone bankrupt. When I did a job and at the end of the day, I can't get my money back, if not for the fact that I am strong and I invest in other things, if I hadn't invested money in other things, how would I be able to survive? The National Film and Video Censors Board should look at things like this, they should have people that would correct the marketers, they should monitor the marketers so that when a movie comes out, they should monitor it to the stage that this person has to collect his or her money. That would be reasonable so that at the end of the day, we would be encouraged to do more. I won't want to do a wishy-washy movie of about one million or eight hundred thousand naira that at the end of the day, I would make one or two hundred thousand profit on it. We should do something that would be worth our while, then find ways to make our money back. This is a form of business. This is what we do for a living.
What is the motive of the talk-show you are about to start?
The talk-show is called Fulfilling Desires. The thing is actually for me as a celebrity to link people who are comfortable with those that are not comfortable, have a meeting point with them and try to solve a need or an issue for somebody. Gone are the days when you had to talk and talk. I believe that people have to show love in whatever way they can to the people who need it. With a platform like Fulfilling Desires, all we want to do is to help the needy. For example, the need of someone is to get a job and the need of another person is to employ people. They meet and resolve issues with themselves. The talk show is to solve a need, we are solving a problem. I'm not talking about money. It mustn't have to do with money, it can be anything.
Who are your sponsors?
So far, I've been talking to individuals, I've spoken with the First Lady of Ondo State, Mrs. Mimiko. She's been very supportive of anything I do. I've spoken with Tokunbo Modupe, and I've spoken with the key people that I am close to. So far, they are like when you start the programme, whatever assistance we can render, we will do. Fulfilling Desires will go on air in the next quarter on Silverbird Television. Tactics is already on TV Continental and the reality show will be later in the year because Yoruba language is what we cannot take away from Nollywood, we don't have a platform to bring out new celebrities that can chant and do a lot of African stuffs. So, what we are doing is: We are trying to go original with the Yoruba reality show "Irawo Otun" by bringing out people who have interest in acting because there is no way we can take away Yoruba language from Nigeria so we want to test run the reality show.
Don't you think Yoruba culture is derailing?
Because the culture is derailing, that was brought the idea for the reality show. We are going to have etiquette and how a true Yoruba celebrity should be represented, how the person should relate to the public. When you say you are a celebrity, it's not just about having a public face. It is an embodiment of everything. The way you carry yourself, the way you relate with people, the way people see you outside. People know we are not perfect but then we can strive to perfection. A lot of times, just because you are a celebrity, when you see an elderly person, you kneel or prostrate, it doesn't take anything from you. I'm an original person. Even if you are a celebrity and you are married, it doesn't take away the fact that you must be humble to your husband, it doesn't take away the fact that you have to cook for your man. Those are the kinds of things I would like to inculcate in upcoming artistes. So, this was what brought about the Yoruba reality TV show. Let's bring upcoming youths together and inculcate the Nigerian culture into them.
Have you ever been embarrassed by your fans before?
Several times. A lot of times you get a lot of embarrassments. People would ask you this or that about your personal life. But if you are a person that you know you have to relate with your fans, no matter what, you will diplomatically know how to handle them. I've been in the industry for many years and I have made up my mind that I would never take away the real Foluke Daramola from Foluke Daramola, the showbiz person. I relate with people the way I am relating with you. If I am in a hurry to do something, I can go to the bus stop and pick a bike and go, not that I don't see myself as a celebrity. Being a celebrity does not make me different from the next person so I should be able to relate with everybody on the platform that you will be able to know that this person is an original person. I'm an original person and that is what I have trained my children to be. No matter what situation you find yourself in, you should be able to adapt to it. I tell people that there is hardly any situation that I cannot adapt to and I have inculcated that into my kids. I see myself as Foluke Daramola and I see you as my sister. If a pepper seller wants to talk to me, I would relate to her on that level and if a meat seller wants to talk with me, I would relate with him on that level. I don't want to have airs around me. In fact, I don't allow it because if you allow that, that means your environment is ruling you. And once the environment is ruling you, the environment will eventually ruin you because the environment will be dictating your pace of life. If you cannot maintain that status, the standard you have set for yourself, it becomes a big problem.
But there is this general belief that you are arrogant…
There is this Yoruba proverb that says, "oori o ki n ri ara e" (meaning: the mirror cannot behold itself". I see you like my sister doing your job and I am doing mine, if you don't interview me, there are one thousand and one people you can interview. And when it comes to pride, I am not a fanatic but I am very close to God, I pray, I talk to God and I believe I am a sinner and God will forgive me. But the Bible says he that brings himself down, God will raise him up and he that raises himself up, God will bring him down. Pride is something that I don't believe in. I know lots of people but if I see an iota of pride in you, I would never relate with you. As I said, I am a very original person and I can relate with both down-trodden and influential people. That is what is called true celebrity, being able to adapt to any situation but being proud is not in my dictionary. Sometimes when you are in an environment and you are not comfortable in that environment, you can tend to look and "bone" your face but if you greet me, I would never bring you down. My godfather, Uncle Yomi Obileye, once told me that as a true celebrity, in your worst of moods, when your fans greet you, always force a smile. When he said that thing, I thought it was something easy for me to do but overtime, I realised it is the most difficult thing to do. Because I might have a misunderstanding with my partner in the car and someone will just shout: "Foluke Daramola!" Of course, it won't be easy for me to force a smile but then I discover that if you can do it, it goes a long way because a Yoruba proverb says ibi ti enu de, ese o le debe (where the mouth can get to, the legs cannot get there) I always try to give a good impression to people, no matter what.
Are you separated or divorced?
I'm naturally divorced because it's been over four years I left him. But the paper work is not yet done. I don't want complications really, complications in the sense that I don't want my children involved in that mess and moreover, I'm not getting married tomorrow or anytime soon.
Are you in a relationship?
Of course, I am in a relationship.
Don't your children miss their father?
Whenever they are talking about their father, I always tell them that when they are old enough to use a phone, I will buy it for them and they can communicate with him but when he says he wants to communicate with them, I allow him to do so. I never stopped him from communicating with them.
Is it true that you love wearing revealing clothes?
I used to wear them but the Bible says when I was a child, I acted like a child, when I became a man I stopped being childish. When I was younger, I used to wear revealing clothes. When I was in OAU, I was myself, I clubbed, I partied, I had fun, I had relationships and I had heartbreaks. Now, I am much older, I no longer believe in wearing revealing clothes because I am more mature and I see things differently. Even sometimes, when I see people wear it, I say with time they would stop it, it is not something you can tell people to do or not to do. Then, I used to believe that if you didn't wear anything skimpy or revealing, you were not in vogue but now if you tell me to wear it, I would just look at it like this and say no.
What advice do you have for upcoming artistes?
First, they should be educated because for me education is very important. I'm an ambassador for education. Many of our young children look at celebrities as role models and because they look at us as role models we don't want to produce miscreants who are half baked as celebrities. Even when we don't have people that are educated, at the end of the day, our country will become a sham because we won't have technocrats, we won't have true citizens who can make impact on our generation as celebrities.
Also, they should put God first. They should be hardworking, focused and enduring. True success doesn't come from being lazy or cutting corners. If you cut corners, you will still come back to pick it up from where you stopped it. The people who cut corners to stardom, it's either their stardom doesn't last or they don't enjoy the stardom. True value of whatever you do comes through hard work and the sky will be your limit.
Do you have any plans to go into politics?
International politics more but Nigeria politics, I don't know. I never can tell, if it is something I know I can impact through I can but if it is something I can't impact through, I'm sorry I can't because I don't want to amass all the wealth Nigeria has. I'm comfortable. I don't want to go into that dirty politics that I would be amassing wealth. I always say something that if I get there and would be amassing wealth, God should not allow me to get there because I don't want to leave that kind of legacy for my children.
Why do you like to go for international politics?
I am someone who wants to be aware of happenings around the globe. What happens around the globe makes me understand the depth of where I am going and it makes me build myself up to the international system and not to restrict myself to Nigeria or Africa. That's why I have more interest in international politics.
How fulfilled are you?
I am content but it's not that I'm not working very hard. I work hard and I have kids to take care of and I want to live a good life. I'm still working towards getting a good picture of my life. But so far, I am okay.
How has it been, being a single parent?
Well, it's okay. As I earlier said, if you enjoy what you are doing, you won't complain. I enjoy my time taking care of my kids, "gisting" with them, listening to them talk. Sometimes, they say rubbish but there is a lot of sense in that rubbish they are saying and then putting smiles on their faces and when they tell me mummy thank you, it brings so much fulfilment in my heart. They have their spirit that comes with them and when you make your children happy, automatically, you are making yourself happy, you are making God happy. But that does not take away the fact that when I need to discipline them very well, I don't instil that discipline in them. My children speak Yoruba language fluently and when they see an elderly person, my daughter kneels down and my son prostrates. That was how I was taught and I have to pass it to them. My daughter has started washing her plate herself. She's just five and I don't have a maid because I don't want my children to have the wrong vibes that the maid will do everything for them.
Any word for your fans?
To my fans, I would say thank you. Without them, there won't be me. But sometimes when we make mistakes, celebrities generally, it's not that we want to make mistakes. That is just what makes us human and nobody is perfect.