Ernest Azuzu In Fresh Romance With Club Girl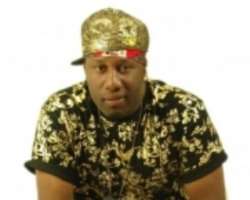 ...fights waitress publicly to redeem price of chapman!

Down on his luck actor, Ernest Azuzu now has a new passion.

He wants to kick start a romance with a new found friend.
The individual at the receiving end of Azuzu's affection is identified as Blessing.
The fair skinned individual of average height is the public relations officer of newly opened fun spot, Ice Bar.
The place of leisure owned by friend of many Raymond Ossai is located opposite Oshopey Plaza on Allen Avenue,Lagos State.
Ernest and Blessing came into first contact at the opening of Ice Bar.
The event held on Thursday April 21 2011. It was overnight affair.
According to eye witness account 'immediately he arrived around 9.30p.m and spotted Blessing, Azuzu was all over her. He just kept going after the lady till she agreed to his demands'
Separate sources corroborated the information that Azuzu eventually got the lady to come and while away time with him outside, and after about thirty minutes, got to peck fixed a meeting for future date.
The two new found friends are believed to have become closer since then-with Ernest taking time to come see her once in a while at her work place.
However on Tuesday April 26 2011 an incident that further punctured his stature as an ex rave came to be.
He was guest at reputable place of entertainment on Victoria Island Lagos, Aura.
Sources divulged that after loitering about with nothing to sip for a while- club owner Akeem Shodehinde requested a glass of Chapman for him ( based on Azuzu's preference).
But rather that take the drink the actor was seen publicly battling with the waitress in charge of the order to give him the money for the drink instead.
The price for a glass of Chapman at the place is One thousand naira.
Sources further informed that other entertainment figures at the place led by celebrated musician Innocent Idibia- Tu Face- gave him a wide berth before and after the incident.