What ex-beauty queen, Adaeze Yobo and her mum have in common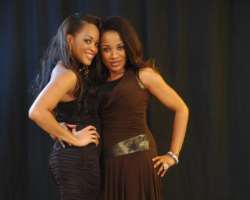 Unknown to many, ex-beauty queen, Adaeze Igwe-Yobo shares a lot of things in common with her mother.
First is their love for early marriage and secondly their passion for footballers. Just like her mother, Adaeze got married to her husband, Joseph Yobo on the new year eve, 2010 at the age of 19. Adaeze marriage to Joseph Yobo, a football player is blessed with a boy, Joey who recently celebrated his first birthday in Turkey amidst friends and family.
Soon after settling down in marriage, it dawned on observers that she was following her mum's footstep who also got married quite early to Adaeze's father, though the marriage has since packed up.
Recently, the news broke of Adaeze's mum's engagement to celebrated ex- Nigerian soccer star, John Fashanu who recently took her as new wife. She has since adapted his name and is now being addressed as Abigail Fashanu.
The question now is, what's with Adaeze and her mum with footballers. And from the look of things, they seem to have found great happiness with these two great footballers.