I act for free because I don't need the money –Basorge Tariah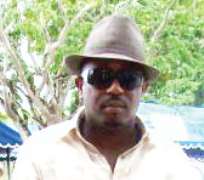 You are an actor, comedian, and compere. Why the sudden interest in music?
It is not a sudden interest; it is just a timely decision to start investing in something I have a craving for. A lot of people try to find out what I really do. Some say I am an actor, some say I am a comedian but the truth is that I am first and foremost a choreographer. I have a degree in choreography and 30 years of dancing experience at the highest level. Over the years, I have been involved in all the facet of entertainment so what you are seeing now is a mixture of all the interests and investments in all these areas.
Are you implying that your foray into music is not occasioned by the present boom in that sector?
No. I am just here to satisfy my own passion and then because it is my mature age, I intend to do it properly because the funds I am going to inject are not mine but that of my children. So if I must make any investment, I should get returns. As the owner of Solid Star Records, I am going to be involved in songwriting, recording, production, promotion and management. My involvement with the artistes will be all encompassing. I have helped a few artistes like Stonecold in Port Harcourt
Did you write his songs?
Yes and I helped to produce and promote them. On that table there [pointing to his dining table], I worked with Timaya on three songs. I booked sessions with my money, slept on the floor with him.
You are not discouraged by an already saturated market?
That is why I am working with my artistes on their songs. When you hear my artistes, you will know they will break even. When I listened to Timaya and I started working with him, I knew he was going to make it. The truth is I have never failed anyone I nurtured in any business.
There are speculations that all is not well between you and Timaya
Who said so?
The talk is common knowledge.
I have not heard it from him so I will not believe Timaya will say such. I do not have any problem with him. I would have had a problem if I had signed him on or asked him to refund the money I invested on him. I met Timaya at Street 2 Star Project by Karo Mrakpor [Hilda Dokubo's husband]. I was a facilitator on the programme and my job was to teach dance and choreography. I guess because of the inspiring way I spoke about how to discover and nurture your talent, Timaya decided he wanted to work with me. I told him it would take time. Eventually I invited him over to Lagos. You know musicians are very impatient people but he was patient. We moved together and wrote the songs on that table. I worked on three songs and booked a free session at Daniel Wilson's studio. I paid K Solo who was the engineer and co producer. All that was not my primary business, and I had other things to do so I was taking the Timaya business too slow. Anyway, I believe he just wanted to be released. He asked me to give him the data which I obliged him.
Are you not hurt that he moved on after all you had done?
I was not hurt but frankly I will say his distance sort of told me that he did not learn from the morals that I taught him. I call him, he calls me. He is humble anytime I call him but I don't need to tell him that he can always come and visit the kids here again, the same kids that sang his songs.
Do you deem Timaya ungrateful?
I am not a judge of people but I will forever tell him the truth about carrying on with humility and being simple.
As at the time you met Timaya did you have plans of floating a label?
Yes and we spoke about it. I thought of signing him on.
So, what happened?
I was not ready.
Which of your several professions pays your bills more?
Presently, it is being a compere. What I do mostly is compere for corporate bodies and multinationals.
In what order did you discover each of these talents?
I started out as a footballer; I was such a brilliant footballer. I played in the Governor's Cup Competition where I was the smallest chap in the competition. Later on, I went off with some socialites and started dancing. At that time I was the best dancer in all the secondary schools in Rivers State and from there I moved to music. I became a member of a group that performed mostly in universities in the South-South. Comedy came to me next. I was introduced by Bob-Manuel Udokwu who was my senior at University of Port Harcourt. I did comedy alongside dance for a while and then went on to become a promoter. I remember the first money I got paid as a performer was N170.
So how much do you earn now?
I am humble enough to say I do not have a particular range. To be fair, N500,000 is the least I will accept, that is if I am not doing it for free. I get paid a million sometimes and we are hoping we will start to collect 5 million someday.
Why did you pull out of comedy?
Is it because you do not see me at shows? I am getting older. I can't leave my business of earning money to come and look at your own job of making money. I am busy that is the truth. I am always there to support if need be. Look at me; I have done everything including my own show – Unleash the Comedy – which became a pacesetter on how comedy shows should be packaged. Being a compere puts all the food I want on my table. Imagine if I have two or three jobs in a week, you know what that translates into naira and kobo. Only a few weeks ago, I was at the Etisalat launch, you saw me at Zain; a few days ago I did the MTN Who Wants to Be a Millionaire Season 5. Gone are the days when I was young and I told incongruous jokes. When I say I am old, I mean some of my friends are now governors, members of the House of Representatives and you expect to stand in front of a crowd and tell lewd jokes? No way, my approach to the business has changed.
It is not that the present set of comedians caused you to beat a retreat?
If you are talking about competition, as far as I am concerned it is non existent. Look at my mates in this business. Ali Baba, Yibo Koko and Okey Bakassi. Any day you put us on stage, we are hot. You can even see I don't have all that time for acting. Do you know that I act for free because I don't even need the money?
What has kept you relevant over the years?
My astute understanding of all the genres plus my intelligent approach to all. I am the only entertainment practitioner who has excelled in all the facets of entertainment.
You had a near death experience, was it a life changing one?
Every experience in our lives helps to reshape our thinking. Undoubtedly that helped reshape my thoughts about life. It made me realise that one could be all alone not because people don't like you but because they have their own issues to deal with. Anything could have happened just like it did. I almost did not see anybody from the industry. Only a few showed that they are mature. Thank God I had worked hard enough and did not have to go begging to treat myself.
In the midst of all your engagements, how much time do you have left for the family?
When I am not working, I spend quality time with my family. I rarely hang out or do any of those night crawling. Ask my friends, they will tell you it's my style to tell them I want to go take a pee and then I disappear. My family is very dear to me. They were paramount on my mind when I had the health crisis. I have a tradition of taking my wife out on Sundays. As I am speaking with you, she is getting dressed. Soon as we are done with this interview, we will hit the road.
How did you meet your wife?
We met at my sister's place and it just dawned on me that she is the one for me
Are you expecting any more children?
No, we have three already. Doris is not a baby-making factory. She has to get her life back. She has been a housewife for all of the eight years we have been married because I believe there is no need for her to get paid employment since my income can go round comfortably. I feel now is the time to expose her more and she has set in motions plans to float an interior décor outfit plus an events management company.