NIGERIAN DEVELOPS SOFTWARE FOR WAREHOUSE MANAGEMENT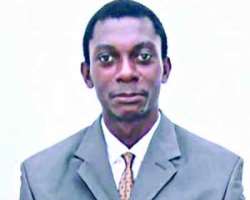 A young Nigerian, Kenneth Okpeki says he has designed a programme which warehouse managers and storekeepers can use to monitor and keep accurate records of their inventory.
Mr Kenneth Okpeki
According to him, the programme was basically designed for warehouse as it would enable those in charge detect when items are taken away from the stock. ' The programme I am designing is basically for warehouse. It is like an inventory program that will help the supervisor, the manager and others directly involved in the warehouse business to make quick assessment of what is in the warehouse.'
He said without a program like his, a supervisor will have to go round and count what they have in their stock. But with my program, he could tell from the computer what they have and what they don't have in the stock without going round to count them. 'So it makes inventory stock-taking faster for the supervisor'.
Speaking on how the software works, Okpeki who graduated from the London School of Management, United Kingdom, explained that the software is a three-tier programme where you have data base, user interface and middle layer which does the actual manipulation of data.
The data base part of the programme, according to him, stores all the information concerning the stock while the user interface helps to enter information of what goes in and out of the warehouse. 'So with this, you can upgrade information about what you have in your stock with your user inter-face, while your middle layer basically does the manipulation of data.'
He however added that his programme would not detect theft, that is, it can not tell who took an item away or how the item was taken. 'The software won't detect that because that is theft. It can't detect theft. What it can detect is a missing item like if what is in the computer and what is in the warehouse do not match, or if you suddenly notice goods being finished in the warehouse and you still have them in the computer, that means there is something wrong in the warehouse', he explained.
The software developer disclosed that some of the challenges he was facing is how to make people buy into the program. 'My main challenge in developing the software is that people and places for which I'm designing the program are not readily available', he said while remarking that Nigeria's ICT market is quite profitable.
'The ICT market in Nigeria is quite profitable. For example, a brand new Microsoft office sells for about N50,000, for one CD. So it's very profitable market but people are not very interested in getting these materials and it will be as if you are not making progress in that area.'
Mr Okpeki however, called on the government to make Nigeria an investment attractive country so that people like him would find doing business in Nigeria easy and bearable, and to invest in the education system, stressing that it is only way we can witness changes in our own environment concerning information technology.