PROJECT FAME ALUMNI REUNITE IN GHANA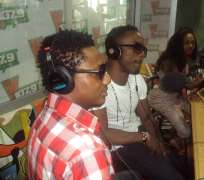 What many thought will be a ceremonious outing for all three MTN Project Fame West Africa winners turned out to be a reunion of some sort
"It was so much fun seeing Kesse and Christian again, it felt like we were back at the studio, I was really excited" Chidinma Project Fame 2010 winner disclosed after she returned from Ghana with fellow champions Iyanya and Mike on Sunday April 10, 2011.
Chidinma Ekile, Iyanya Mbuk and Mike Anyasodo stormed Ghana in the company of their managers, publicists and MTN officials for the Ghana Music Awards, and did not only receive warm welcomes on the yellow carpet, but were also invited to Y FM
"The highest point of the trip for me was visiting 107.9 Y FM; we met with a lot of radio presenters. And I didn't know we had loads of fans in Ghana, it was so much fun"
Iyanya on the other hand says "I really had fun, we all hooked up with Damilola, this is someone I met during the competition in 2008, and I haven't seen her since then. It's also good to see that the music industry is booming in West Africa" They also met with Kesse, and Christian at MJ Grand Hotel where they posed for pictures and played catch up.
Other notable faces from Nigeria present at the Ghana Music awards include 2face, Sam Onyemelukwe, Emem Ema, Ice Prince, Keke, D1 and Sunday Aare.
Up next? Sources say the trio of Iyanya, Chidinma and Mike are warming up to attending MTN South Africa Music Awards holding in a matter of weeks...

Chidinma On Air at YFM Ghana

Iyanya and Mike

Iyanya at the GMA.

Iyanya with publisher of FAB magazine.

Iyanya,Dorcas,Chidinma,Damilola and Mike

Kesse,Chidinma,Mike,iyanya,Christian and damilola

Mike,Chidinma and iyanya at the Ghana Music Awards.

From left Emem Ema,Tunji jaji,Chidinma,Iyanya and staff of YFM Ghana during a visit.