PDP DELIVERS OGUN TO JONATHAN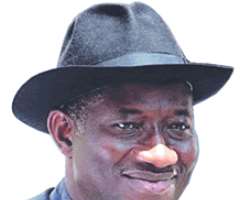 The gladiators in the Peoples Democratic Party (PDP) in Ogun State put their differences aside to deliver the state to President Goodluck Jonathan . He scored 309, 177 of the total votes of 570,985 which represents 56.9 percent of the entire votes cast.
The ACN came second with 199,555 votes, representing 36.7 percent of the total votes recorded in the state.
The commercial hub of the state, Ado Odo Ota Local Government recorded the highest number of votes with 37,318 with Ifo Council Area trailing with 25,808. Abeokuta South Local Government, the Council Area of the out-going Speaker of the House of Representatives, Dimeji Bankole had 25,321 votes and Ipokia Local Government recorded 21,411 to clinch the third and fourth positions respectively.
Sagamu Local Government , the council area of Governor Gbenga Daniel recorded 19, 746 votes to rank among the council areas that produced the highest votes for the winning political party. Interestingly, ACN's highest votes in the state came from Abeokuta South Local Government with 21,200 votes and Abeokuta North Local Government and Ipokia Local Government came second and third respectively with 16,495 and 15,727 votes. Of all the 20 Local Government Areas in the state, the PDP lost in Imeko-Afon Local Government with 5,933 against the ACN's 6865. The total number of votes rejected during the Presidential was 27, 270. Of this, Ipokia Local Government recorded 2,892, trailed by Ado Odo-Ota with 2,806. Egbado North and Abeokuta South came third and fourth respectively with 2,418 and 2,211 rejected votes.