My Relationship with IBB—Christy Essien-Igbokwe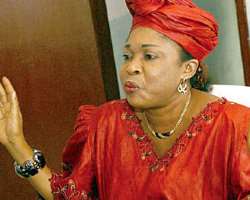 For decades, cerebral singer and former President of the Performing Musicians Association of Nigeria (PMAN), beautiful and ageless, Chief Mrs. Christy Essien-Igbokwe (MON), has serenaded the Nigerian music industry like a colossus churning out great classics like Omo mi o se un rere, and Kwunie nu n' ura. In this interview with the trio of NNAMDI ONYEUMA, AJAH CYPRIAN and GEORGE ONYEJIUWA, Lady of Songs, as she is popularly called, explains her relationship with former Head of State, General Ibrahim Babangida. Frank, straight-talking and passionate, she also bares her mind on developments in Akwa Ibom State, her pet project, marriage, son's music career, among others. Excerpts:
With musicians like Chief Mrs. Onyeka Onwenu and Dr Victor Uwaifo taking to politics, one would have expected you to join a political party and point the way to good leadership, which is in short supply in our polity today?
I have been in politics for years though not in the form you had expected. I am not interested in vying for an elective office, but interested in ensuring that we have a process that would throw up the right people at all levels. I am a member of Elect the Right Person (ETRP). It is not a political party, but by my activities and those of others who share in the belief that politics is not about looting of public funds or self-enrichment we act as a check on greedy, corrupt and selfish politicians. In the western world, governments cater for the people, unlike in this part of the world. Here, winning election confers on the person a license to fleece tax payers.
Could that be taken to mean that democracy is failing in Nigeria?
It is not failing; but when the wrong people are in politics for the wrong reasons, you can readily predict the end of such a system. The meaning that people ascribe to politics in Nigeria is not what politics is in its true sense. The truth is that what we are practicing in this country is not democracy. It is demoncrazy and that is why people are heartless and can do anything to remain in public office whether or not he or she is the people's choice. It is this same reason that we have the rot going on in Akwa Ibom State, today.
What rot?
Akwa Ibom, today, is another name for rot. There is the face of rot everywhere. You will not understand until you take a walk on the streets. This is not about propaganda; newspaper advertisements do not translate to development that the eyes can see. In Akwa Ibom State, leadership means that the winner takes all. So, what do you find? Subversion of justice; people twist the truth to gain advantage over another. But things were not this bad some years back. Former Governor Obong Victor Attah had set out to make everyone belong and contribute in the development of the state. He accommodated dissenting views, but in today's Akwa Ibom, it is risky to tread a different path. Funny enough, some people forget that only the truth can set us free. We often forget too, that there is always a payback time for everything we do in life.
For instance, when Governor Godswill Akpabio was a commissioner under former Governor Attah, I told Attah that trouble was brewing slowly, but steadily. God had revealed it to me that Godswill Akpabio was nursing the ambition to be the next governor of the state. So, I enquired from God why it must be Akpabio and God said he would allow Akpabio to be governor so that those who hate peace can see the other side of life. This is why when I hear and read about the increasing cases of kidnapping, raping and restiveness in Akwa Ibom under Akpabio's government, I simply console myself.
But it pains me, because I am among those who worked tirelessly and tapped into my contacts leading to the creation of Akwa Ibom State and some states in the Niger Delta. I should have asked for a personal favour, but I was more concerned with the wellbeing of the generality of the people. I had written a letter to Akwa Ibom people alerting them about the impending danger in the state and today, they are congratulating me for seeing ahead and telling them the truth. It is unfortunate that the present government is messing up the state. No government should kill for the purpose of holding on to power. Leadership is about solving people's problems, not killing for selfish reasons. In Akwa Ibom, we have the spirit of 'me alone' by the ruling party and it is not the essence of democracy. I urge the warring factions to sheathe their swords and embrace peace for the good of the state. If the killing continues, revolution is imminent and it will start from Akwa Ibom. Leadership is not by force. If the people have rejected you, you should pack your load and go. But like I said, there is always a payback time for everything we do in life. The embattled Senator Udoedehe was the man that introduced Akpabio to Andy Uba and then, to former President Olusegun Obasanjo. Both joined hands to ensure the successful emergence of Akpabio as the governor of Akwa Ibom. Therefore, they should share in the blame for the mayhem visited on the peace loving Akwa Ibom people. But again, I am not surprised at what is happening to Senator Udoedehe. What you sow is what you reap.
You sound angry, maybe because the state government has not appropriately recognized you on your efforts leading to the creation of the state?
No, no, no. I am pained because the state is not making appreciable progress. It is not about me. How can I be happy when other states are moving steadily forward while my state is marching two steps backward? Just a few years ago, Akwa Ibom was on track, and now every good work done by past governments is either messed up or rubbished in the name of wanting to remain in power. Everything has the colour of propaganda. And, to think of it, no man can reward the other except God says it is time. When the right time comes, it's not only in Akwa Ibom, but also across Nigeria. My reward is with God.
Tell us more about your relationship with former Head of State, General Ibrahim Babangida?
It is cordial and I tell you, he is one of the few good men in Nigeria, today. Unfortunately, he is one of the most misunderstood Nigerians. He is a humble man who genuinely has the human milk flowing in him. Through him, God used me to meet the needs of my people. Over the years, I have kept a good relationship with some great men who the Lord used to take Nigeria on a walk to where we are today. They are leaders who have the fear of God and did everything knowing that there is God who watches and gives unto every man according to his deeds. They are not greedy leaders. People like Alhaji Shehu Shagari, former heads of state, Mohammadu Buhari, Ibrahim Babangida and the late Sani Abacha. The circumstances of their emergence or any person's opinion, notwithstanding, we have seen today, how these men, except for Abacha who died in office, have comported themselves after leaving office. Some have proved that though they were in military, they still have a sense of decorum. So, back to your question, my relationship with IBB remains cordial. I see him as very sincere person. He has a listening ear so much so that he did not allow the lure of office to becloud his sense of judgment.
One of your tracks, "Kwunie nu n' ura," was a call to Ndigbo to wake up from their slumber. In your mind, have the Igbo answered your call?
Great question, but you, too, can answer the question. How are things with the Igbo in Nigeria today? What is the place of the Igbo in Nigeria today? The Igbo have not woken up. They are in deep sleep. They have allowed the unfortunate civil war to continue to dampen their moral. The Igbo are a great people; enormously blessed in everything, but still have a long way to go. A few years ago, an Igbo professor and member of Ohanaeze had asked my permission for the track to be used as a payoff song. He had also wanted to know how much it would cost, but I told him they should use it for free, as long as Ndigbo will wake up from their slumber. I am a vessel of God; my songs come from Him. Sadly, in the whole of Nigeria and the world at large, it is only the Igbo that can deny his identity. The Hausa and Yoruba would never do that. In fact, a director of Hausa or Yoruba extraction would prefer to speak their native language, but not the Igbo. Even when you speak Igbo language to him, having noticed his name tag, he would respond in English. It is really sad and I think it is high time the Igbo changed this attitude, because soon, God will remember the Igbo for good.
Not much is heard about your Essential Child Foundation nowadays?
We are doing our best to put smiles on people's faces. Essential Child Foundation is a Non-Governmental Organization aimed at advancing the course of the Nigerian Child and also the poor. It was established during the administration of General Ibrahim Babangida. We are working. I am a mother and lover of little children. I have invested a lot in the project and will not stop as yet. For what we have done so far, we give God the glory.
Many people see your son's foray into music as a subtle way of passing over the baton. Do you share the same feeling?
I do not share this line of reasoning, because I did not choose music for him. He studied Geology, which in all ramifications has nothing to do with music. I am as much shocked as many people out there, but if he has chosen to do music what can I do? We do not choose careers for our children. It is a free world and whatever makes any one of them happy, we concur. After all, we did not choose his career for him. As a mother and musician I can only back him up.
You have a press-shy husband but you are always in the news. How do you manage this gap?
We try, but of course, you know that there is nothing that will ever work without God's hand in it. Over the years that we have been together, God has continued to prove himself in everything we do. In our businesses and marriage, God yoked us together. Sometimes, there is very little or nothing that we contribute, because God is always working things out for us. So, it is all by His grace.
It has been a long time since your fans heard from you. Is anything cooking?
Yes. There is something great on the way. I am waiting for the elections to be over.