NIKE DAVIS OKUNDAYE: EVANGELIST OF NIGERIA'S CULTURAL AESTHETICS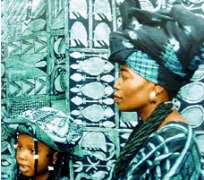 Artist and designer, Nike Davies Okundaye, loves Nigeria, her country. She describes the country as one with an ancient culture that thrives in modern cities, a world that swings with ease between talking drums and the Internet.
For more than 20 years, Nike has given workshops on traditional Nigerian textiles to audiences in America and Europe. She is known for her colourful batik and paintings that offer modernist gloss on traditional themes. Brought up amidst the traditional weaving and dying vocation, Nike is widely practiced in her native village of Ogidi Kogi State, North Central Nigeria.
Her fame as an artist and teacher has taken her all over the globe. Not one to pass up an opportunity, she used her international success to launch a cultural revival, building art centers where young Nigerians master traditional arts and crafts. Whether a specialist in the arts, an enthusiast of African arts or merely interested in a brief immersion in a new culture, Nike offers the opportunity to see Nigeria through fresh eyes.
The Beginning
Mrs. Davis-Okundaye discovered art when she was seven years old. While staying with her great grandmother, she learnt the craft of traditional weaving and dying. Therefore, art comes naturally to her.
Interestingly, Nike ended her formal education at Primary 6 in her village at Ogidi-Ijumu. She didn't even study art, the medium through which she has achieved global fame. However, she went ahead to teach herself English at home while her great grandmother, late madam Ibitola, an accomplished adire textile maker and a dyer of fabric in her days, passed down the training in art to her.
Watching her great grandmother in the art of adire textile processing and helping her out, Nike walked up the line to become an expert in the adire art, dyeing, weaving, painting and embroidery.
Her early life was full of the twists and turns; of dangerous adventures. At 13, she ran away from home and joined a travelling theatre before settling down to stay with her aunt in Osogbo. It was there that she met the late renowned artist, Suzanne Wenger.
Watching Suzanne work became an inspiration for her and before long, she also started carving, weaving and painting textiles.
She started her first gallery in 1983, in Osogbo. After drinking from the rich fountain of Suzanne Wenger's spring, she relocated home and branched out on her own, selling her art works as well as holding workshops for people to create or sell their own art pieces.
Her Art Galleries
In 1996, Nike established an Aso-Oke (textile) weaving center at Ogidi-Ijumu for the women of the village. The centre's impact was felt in the town, employing and empowering more than 200 women. Six years later, she established another art centre, this time the Art and Culture Research Center at Piwoyi village, FCT Abuja. The centre had an art gallery and a textile museum, the first of its kind in Nigeria to provide functional platform for research into Nigerian traditional textile industry in the Federal Capital Territory area of Abuja.
In furtherance of these noble endeavors, Nike is currently the managing director and founder of the following organisations in Nigeria; Nike Art Productions Limited, which she incorporated in 1994, Nike Art Gallery Limited, which she incorporated in 2007 and the Nike Research Centre for Art and Culture Limited, incorporated in 2007. Also in 2007, she founded the Nike Art and Culture Foundation with some eminent Nigerians as trustees, with the aims and objectives of fostering Nigerian cultural heritage.
Mrs. Davis-Okundaye says the purpose of her setting up Art Galleries in Oshogbo, Lagos, Abuja is to promote Nigerian culture and leave a legacy for coming artists. In the building are arts in form of painting, tie and dye, adire, batik, carvings, sculpture and the likes. These are expressions of individuals' minds or perceptions. It also serves as a tourist centre for visitors while artists hold exhibition there.
What Next for Her?
She says her next move is to present Nigerian art to the world 'in a way that people can just admire the beauty of our art'. In this vein, she advises artistes to get more involved in marketing Nigerian arts to the world. 'Once our art is marketed to the world, people can value the art more and come to appreciate it better,' she said.