HOW WE'LL FIX NIGERIA, BY BAKARE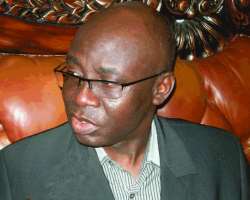 •Bakare
Vice presidential candidate of the Congress for Progressive Change(CPC), speaks on the man, Muhammadu Buhari, his experiences, their chances in Saturday's presidential polls, and how they'll fix Nigeria. Excerpts:
I hope I could talk about the challenges. In my interaction with him, during the Save Nigeria Group Campaigns ,we exercised our rights. But the information I was getting is that Buhari is a person to avoid , he is extreme this, extreme that, and from the blues , the man called me to come and run with him , when I got so close , I saw the man totally different from the way he was presented in the press , or by people. First it was a shocker to me , because I saw that the man is very humane, and he is simple.
During the presentation of our party manifestoe, people saw me when I carried his ipad. He was actually resisting me from carrying his ipad, and that is the person you think is locked in analogue age.
I felt, how do I alongside others know the real Mohammed Buhari , so that people can see him as a leader you can trust , and the person that is reserved and preserved by God, for this time, and this season of Nigeria's history , and for the challenges , every political party has its own hurdle to cross.
Ours probably will be that we don't have money bags in this party , but we managed the resources we have it might look little , but we have put in minimal seed for maximum harvest,because we need to get result , and we are getting result .
How do you assess the performance of the CPC in the Southwest?
We cannot talk about performance yet until after the election.
I mean the acceptance of the party at the rallies you have organized so far ?
Okay , if you say how our message has gained ground , and how the people respond to us, it is tremendous , I can mention cities that we have been and states that we have been Ondo, Ekiti, Oyo , Ogun and Lagos. The only state we have not visited in terms of rally is Osun. But others we have done tremendous work there. That does not mean we left Osun unattended, because we have been to the Ooni of Ife , Oba Okunade Sijuade who brought all the surrounding monarchs and Chiefs to meet with us , like the Awujale of Ijebu -Ode did. He brought all the monarchs to meet with us, to receive our manisfestoe .
Politics is not just the art of the possible , it is looking at the core needs of the people. The purpose of government is the Welfare of the people , what is dear to the people of the South-West is issue of True Federalism in Nigeria. It is very very crucial to them. Education is key in the South West , because to kill the educational sector is to kill an average South Westerner. If I can use that word , like it is said in my home town , if you see a man with a rag and torn clothes on his back , his children are in school. But since the military intervention in our system , our educational system has been almost totally destroyed ,the federalism is gone , and what our people value are no longer in the front burner of governance, from generation to generation, from one government to another government .
These are the key things we want to see the CPC government do. We will initiate constitution amendment to ensure that we embrace true federalism in Nigeria one more time. We will invest in the existing educational institutions , and in addition to that create 136 science and Technology universities , that will have satellite campuses in all the different zones , we will invest in teachers training .We once made a survey of the quality of teachers grooming students. We observed that the quality was low , and if that is the standard of education that is available , then we are already preparing for disaster in the future. One can now compare that with the problem of the Almajiris in the North , who were not treated with dignity, respect, and care that they truly deserve. So, when one begins to take the message of change , one is looking at the content of change that is considered progressive, that CPC is bringing to the whole of Nigeria .
Specifically to answer your question , in the South West , because we are not going to be President of North West or South West , or Vice President of North West or South West , we are going to be president and Vice President of Nigeria. That is what will touch the lives of our people , for General Muhammadu Buhari, his great concern is the need to secure this nation first .
The way at which we are going, things like kidnapping has become cottage industry. We need to secure this country first and then manage it effectively. And when we sit down to begin we begin to put up promising management, to look at the issues, we are not going to make promises we can't fulfill. Let's look at the issues and really address them. And when you take our manifestoe, I pray the work load will soon be out for public consumption .
We also sat and looked at the timelines; that this thing you promise how visible? How can you get this done? When can you get it done? who can we trust to get it done. Then we have to think of the change team; that we assemble each North and South of the country and some from the Diaspora, men who have integrity and track record of being good, and able to handle the issues that face us today , If I may tell you, from the students to the youths , to the stake holders , Obas , Obis , Emirs may not only receive our message, without any bias , I will also tell you the manifestoe of other parties , and as I can say , we got what it takes to fix Nigeria , and we have the language, the vocabulary not to deceive , but to present it to Nigerians in such a way that they can connect us .
How can an average party help, they will say infrastructural development. Tell them how , they will say we will build roads. We will give electricity , and everything is in piece meal format. But we present holistic approach to the whole thing , and it took us months to arrive at it. If you put the Nigeria map there , I can show you where we are going to have the national corridor , that will impact on the next state alongside the five major things that will come along with it , so that Nigerian roads will not be when you construct a new road ,and three months after, PHCN staff come to dig it in order to lay cable , then water co-operation , latter NITEL people , in the corridors, there will be service chunks, and everything will come along with it , and we need to develop all the existing roads. With the attendant thing that will come with it, we are also certain about where we are going to get resources to do all these things; that we are not going to borrow, we have studied the master plan in America , we have studied what happened to Europe after the Second World war , we have studied what is happening now in Japan , what is happening in Iraq that is under construction , when we say we have more than required resources required to fix this nation .
There are many things that Nigerians say about General Muhammadu Buhari , that they know him as former head of state and chairman of Petroleum Task Force PTF , and that when he was chairman of PTF citing of projects were keyed towards a particular side of the country , that the South-West was disadvantaged over him , also that as military head of state, he operated with draconian rule , and it will be difficult for him to function under a civilian rule ?
Lets me start with the draconian or the issue of the military background. Number one people change, on my way from Ibadan, I was privileged reading a book of Nelson Mandela, that he was imprisoned when he was young at 44 years old, and he came out of prison when he was 71 years old. And he said he came out more mature, balanced, and looked at the same issues when I was 44 years differently; people change .
As a Christian and a preacher, I know that every saint has a past, every sinner has a future. Moses who murdered became a deliverer, Saul who persecuted the church became a foremost apostle, people change. I am not justifying anybody. But when Buhari /Idiagbon came to power , I was already in the legal practice then , I qualified from the University in 1980 and called to the bar in 1981 , and they came in 1983. There is nothing you say about the regime that I didn't have first hand information on. Let's take them one by one .
Let's take long term sentences given to politicians, Decree 4 that sent journalist to prison, Tunde Thompson and Irabor, the cancellation of the electoral Acts, the execution of drug pushers. Let me start from your constituency, the press . I was there at the Sheraton Hotel , at the Book Launch of Femi Ogunsanwo , who was my client when I was practising , and I was invited to be among those who will present the Book , and Tunde Thomspson was there. I heard him telling Yinka Odumakin , (who is now spokesperson for Buhari campaign organization ) that when you see General thank him for us, that at least he didn't do two things: he did not shut down the Guardian newspapers, and he did not send us parcel bomb. He said he sent them to jail compared to other things that Dele Giwa suffered, and other Newspaper organizations that were shut down by Babangida that wrecked those organizations. He did well .
I had the opportunity of asking him these questions. You see, like when you want to send a word to a man who is deaf , you send it through his child , who can relate well with him. Because I relate and interact with him , I wanted to know what led to that decision. That was the Decree passed deliberately to target the two people and their organization. He said no , the law was in existence and they broke that law .He said what they do , are things that Nigerians don't look into. That , they were preparing Ambassadorial list to send to other nations. And it was such a sensitive thing. But what they did, got to America. Guardian had a scoop, and published it America was embarrassed and they fired the military administration of Buhari; that how come that the list they considered became public knowledge. Nigeria was embarrassed America was embarrassed , and the government decided that , these group of people, there is a law that will take care of you. I remember there was a Tribunal, and I remember my former boss Chief Rotimi Williams stood in for Guardian , and for these two people .
Every time we say Buhari sent these two people to jail. We have forgotten a Tribunal was set up to looked at all the records , but you never heard of that. But the man under whose regime this thing happened, we hold that responsible .
Let's go from here to the drug pushers. Funke Aboyade asked a question. As a lawyer, would you allow retroactive laws or laws with extro passive powers to be passed? She said everything has be in accordance with the principle of rule of law , if same is not a law, at a point in time, you don't need to back date it , in order to target or punish people. I have said the circumstances of that time is already different .
My understanding of extro passive laws is not totally connected to the word evil, as terrible as looks. The ten words of the ten commandment to Moses , every legal system in the world is traceable to that ten commandment. And here God was telling Moses , I am a jealous God. I will visit the iniquity of the fathers on their children , to the first and the third generation , that the father did it , the first and fourth generation were going to pay for it. That was an extro facto power in the old testament and God reversed that law , to the king he said what is this proverb that you use in Israel that , the fathers have eating sour grapes and the children's teeth were set on edge , and I will make this proverb to rest. The soul of the father is mine , the soul of the son is mine , it is the soul that sinned that shall die , so he reverted himself .
This thing under civilian administration can never happen .
When the drug traffickers were executed , drug trafficking dropped drastically , people feel it is serious crime ,you can't do it and get away with it. Like Singapore as you are landing there drug trafficking you are picked. The only thing was making the law extro facto. Drug trafficking itself is bad , and all those things cannot be done under a civilian administration .
Let us come to Metro line , I have seen General Muhammadu Buhari on it , and he said 'the decision was not what was done to target Lagos or the Yorubas , or to disrupt their infrastructural development. He said, when we came to power , we didn't even know how much Nigeria was owing , that the debt burden was so huge , that involved external creditors , internal creditors , and we set up Chase Marhatan Bank that will help us find out , how much Nigeria was owing. We set up a similar body in Canada to check internal debt. The amount of money that would be borrowed for Metro line would be additional burden of what they were trying to get rid , so we stopped it .'
They didn't do that just to hurt the South West or Lagos alone , but they stopped borrowing completely everywhere, it was not when one project was stopped here other projects continued elsewhere. It was not done to stop the Yoruba from progressing or they sat down and took a decision to stop Lagos from having Metro line project .
Look at it from other angles , that administration lasted two years , and there have been succeeding administration. Why did they not fix metro line project? The person who pioneered it served under General Sanni Abacha. Why didn't he bring it back? Even now that Governor Babatunde Fashola is doing light rail, why not return to metro line? It is service they could not catch. Nigeria's economy was totally battered by Shagari's administration. And it was in trying to stop the mess that they decided to stop anything that had to do with external borrowing. And when they did it, naira became stronger .
What we are saying is that Nigeria should have a federal system of government. It was Aguiyi Ironsi said that Nigeria ceased to be a federal nation. It was the military regime that cancelled federalism in Nigeria to be truthful and honest. It was not difficult to get things done. If we sit on the brotherhood, CPC is not asking for sovereign constitutional conference; CPC is not asking for another constitutional conference. No. All what we say is let's start from where we stopped. Number one, we are going to enforce and maintain the non religious status of the Nigerian nation, that Nigeria remains a secular state where people can practise their religion , without fear of molestation.
Number two , we will ensure that, in our country, we will remove things like state of origin, and it becomes state of residence, so that every Nigerian must be free to reside in any part of the country. We will go beyond that. We will initiate constitution amendment to reduce power at the centre from exclusive legislative list , we are going to look at issues that states can handle. For goodness sake, what is federal government doing with secondary education? Why do we have a Ministry of Agriculture at the federal level?