Fans Have Seen Part Of My Chest, What Else Do They Want To See? -Monalisa Chinda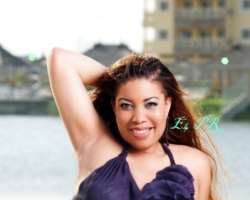 Fondly admired for her unique interpretation of scripts, Monalisa Chinda acts her roles with professionalism. The Theatre Arts graduate of the University of Port-Harcourt and mother of one spoke with Adunola Fasuyi. Excerpts:
HAS becoming an actress affected your life, either positively or negatively?
It has thrown up a lot of goodies really and surely, more than the bad ones.
Becoming a celebrity, by the grace of God, has opened lots of doors for me.
It has made me to be aware of myself. A lot of people might not say this, but I know that I have discovered a lot about myself; some hidden abilities that I have, which are coming out now.
It amazes me when you find out that some movies in which you have acted, in the past, have somehow touched sombody's life and have changed the person's life completely.
It is exciting and you want to do more. It has really opened doors, people call me from abroad and want me to do some endorsements for them, people want you to grace their events.
Again, you find out that children also want to associate with you. It's true, nobody wants to associate with a failure, so, kids want to be with me.
What it has taken away from me, which is the price I have to pay for becoming a celebrity, is the fact that people have refused to separate the actress from the real person. They just feel that what you are on the television is what you are in real life. It is quite disturbing. And they throw it in your face. It is worrisome, but as you grow older in the business, you just take it with a pinch of salt and move on.
Can you tell us how the journey started?
I didn't set out to be an actress. Acting wasn't what I wanted to do. My parents wanted me to become a lawyer, and as of that time, I wasn't sure what I wanted for a career, which made matters worse. But I later decided to study Theatre Arts.
And it just happened like that. Maybe I would say it is divine, because no one influenced me.
I just don't know now what the motivational force behind it was. I mean, I just got into the University of Port Harcourt and I went for it. Honestly, I don't know what pushed me into studying Theatre Arts, but I just enrolled and that was it.
Also, as a student, I did a couple of movies. In 1996, I did Pregnant Virgin, that was my first major movie and subsequently, when I finished school in 2000, I did Above the Law and a couple of others.
What were your parents' reaction when you opted for acting?
My parents objected completely. They didn't find it funny, but they later got used to it. My father didn't understand why I would want to be an entertainer for the rest of my life. He didn't really come to terms with the profession back then, but not anymore. Right now, they have accepted the profession and are proud of me.
Despite your fair skin, you don't seem to expose your body in movies. Why is this so, is it due morals?
I am a professional actress. The truth is that my person has nothing to do with my profession. For my person, I am morally grounded. I do not like to reveal too much or show too much skin.
I even try to show part of my legs. I can really be a bad girl in a movie without revealing too much. I can do a lot of romantic scenes and kisses without really kissing or touching. I just create that atmosphere of romance without really feeling it because it is a business, it is a profession.
Not showing my skin, what else do they want to see, they have seen my legs. They have seen part of my chest and my back. I cannot go out there and put my tits on the screen for everyone to see. Again, we are Africans and Nigerians, there are certain things that work abroad that won't work here.
How do you cope with the stress of motherhood and the rigours of the job?
Coping with motherhood has been fun and extremely exciting. I blend the two perfectly well, such that none suffers for the other. My daughter is the most interesting thing that has ever happened to me.
I am happy to be a mother and I have been coping with motherhood and my career brilliantly. I make sure I give her all she wants and aside this, I have a personal assistant who ensures the safety and well-being of my child while I am on set. And as soon as I am through, I take control of my duties as the mother. It has been quite interesting and nothing too stressful about it.
Being a single parent, has it been difficult?
Yes and no. It's difficult in the sense that I have to do a lot of things by myself. Yes, I absolutely enjoy the freedom, that's it.I don't want to go further.
So, you would not want to talk about your ex-husband's new marriage?
No, this is my interview; I don't want to talk about someone else.
Are you in any relationship at the moment?
Why won't I want to be in a relationship, am I not a human being? Naturally, I would want to be in a relationship but I don't need to rush into any. Just taking my time.
Who are your role models in the industry?
Joke Silva, Taiwo Ajayi Lycet, Liz Benson, among others.
How do you manage advances from your male admirers or they don't come?
Well, if I tell you no, I will be lying. I try to be nice, knowing that I know what I am looking for. I am always polite to my fans and I love them as much as they love me, but whenever anyone of them wants to go beyond that or whenever the obsessed ones showed up, I'm always quick to show off my wedding ring. I draw the line and take my stand as a married woman.
How do you maintain your fair complexion and beauty despite the climatic conditions in this part of the world?
I keep fit all the time. I drink lots of water, sleep when I have to, wake up, take care of my daughter, eat vegetables and moisturise my body a lot. Moisturising my body is something I do a lot. I sincerely do not have a registered beauty routine, but I guess I try to always look my best at all times.
Image is everything. As a celebrity, you don't need to look bulky. I don't like it when people just try to make excuses, like I have a baby and all that, but the baby is growing up and what are you doing to yourself? I am done having babies for now, so why the fatness?
A lot of people did not like me being big, that is just the truth. So, I needed to please my fans and I needed to look good and I had to lose weight. I am not there yet, I am still working on the weight.
It must have starved you of your favourite food?
Yes, in a way. It has made me more disciplined. Beauty is pain, you know? It robbed me of a lot of things because I am a sweet tooth person. I love pastries. I love cakes, biscuits and all that.
I exercise like four hours daily now. Two hours in the morning, two hours in the evening. Its really stressful to maintain beauty and for this industry of ours, you need to also maintain your beauty and shape asides having the professionalism.
Tell us about the soap opera that you are working on right now?
Cat Walq is the title of the soap opera that I shot five months ago, but it is going through editing right now. We shot it for about 45 days. It is the biggest thing Nollywood has ever done. It is going to give a lot of TV programmes a run for their money. I am not boasting, it is a brilliant work. I am one of the actresses in the soap. There are a lot of up coming acts as well.
We decided not to use too many Nollywood faces because we wanted to project new faces into the industry. It's just like Tinsel. We wanted to bring new acts into the picture and give them room to develop their skill and thank God, we got good hands.
So far, so good, but what we are about to launch into the market is the first movie flick I did with my producer, Emem Isong. It is called, 'It Takes Two; we are about to premiere it, but the date has not been fixed yet.
Can you throw more light on what the movie is all about?
It is just basically a contemporary story of young, talented women, who are working and probably have issues with relationships. I am not a very good story teller, but the movie is about three friends; I acted the very stiff one.
I had a terrible past with men and decided not to go into any kind of relationship, but my other two friends are trying to hook me up in a kind of blind date. It's a very interesting story line, I am not a good story teller, so let us just leave it like that.
What other projects are you working on this year?
This year has brought about a drink, which I am to become the brand face. The drink is called Vita 500. We have just finished shooting for the energy drink and it will hit the market soon.
There are other things here and there, majorly, I am trying to build up my charity home for the orphans. I don't really want to talk about that yet because I have been on that for long, but now I really want to concentrate on doing that and it is almost ready.
Why an orphanage, is it that you have soft spot for children?
I was brought up that way. I want to just give and give until I can give no more. I want to reach out to people who do not have and I am praying to God to give me the resources to be able to reach out to people. People are suffering.
I don't know why Nigerians are so hypocritical. We keep talking about other countries suffering from ravages of war and poverty and we are dying here. Stop saying you want to go and donate things to Haiti, what about Nigerians who are suffering? It's a way of giving back to the society.
What is your take on this trend in Nollywood where one person is the producer, director and actor at the same time?
In every work, In everything that you do, you do not want to remain there, you will want to explore other areas, you want to do other things especially in entertainment. If you are an actor or an actress, you will like to diversify. What I do not like and which hasn't really work is if you are not a musician from the start and then all of a sudden you become an actor turned musician, I get worried.
It is always easier for the musician to become an actor or an actress. It is easier that way if you check through the track record of people who are swinging both ways. Their first love is usually music then they will come into acting, not an actor or actress suddenly going into music. I did not plan to become a producer but as I grow older, as I begin to mature in the business, I cannot continue to act these sassy roles anymore. Come on, I am getting older, its either I do other things or I go behind the scene or I do very few of the acting roles and let the young ones to grow and not to compete with them.
What is your take on the industry in terms of growth?
Nollywood is going places. Things are good but it could be better. But generally, we are not doing badly and I see us breaking new grounds very soon. For now, I would just want to keep mum about Nollywood. It's been good, but I would just say we are in it and we are seriously hoping and praying things get better.
Were you refered to as 'yellow pawpaw' while growing up? Tell us about your childhood?
Of course, you know how kiddies are, they made jest with their skin colours, head shapes and so on. So, they joked and we all laugh over my fair skin. I can do same as a child, so no big deal. Another thing was that some thought I was half-cast because of my colour but the fact is that I am a full blooded Nigerian. So, for me, childhood was fantastic really.
We were not extremely rich but we were provided for. Everything that we really needed was provided for us. My dad spoilt us but my mother was the strong one, so I had everything going on. But as I grew older, a lot of those privileges were taken away from me because I am the first child and I have to show examples to my younger ones. I was brought up in a very strict way compared to my siblings. So, growing up was good.
So, are you doing same for your daughter?
Yes. I am trying so hard as a single parent, it's not easy but I am trying so hard. Then again, you have to know that times have change. It is not like before that we were brought up. Even if you try to curtail the things your child does at home, when she goes to school what does she do? So, you just keep teaching and talking to her until she grows older. I talk to my daughter a lot, I don't force her.
So, how has life been with you?
It has been beautiful and okay. The road has been really smooth. I must confess that it has not been too rough.There could be ups and downs, vicissitudes, yes, but it has been something I have been able to handle and manage properly. The journey so far has been fantastic thanks to God though.