Don't compare me with Lara or TY as I've my own way of expressing my creativity - Emem Ema, ex-KUSH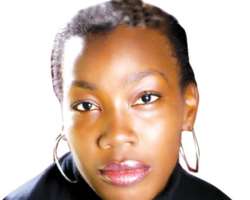 Emem Ema used to be a member of Kush, an all-female music group, which came to limelight some years ago and disappeared almost immediately. The group broke up with the members going solo. Ema, in this interview, tells 'Nonye Ben-Nwankwo what she has been up to since the group broke up You used to be one of the Kush girls, but just as quickly as your group came on board, it disappeared. Was it by choice or by design?
It is by both. I delved from the show part of show business to the business aspect of it. Basically, I'm in to creative arts management and media and marketing consulting. I also assist in policy-making in the creative industry in Nigeria.
How come you went into music in the first place?
It happened by chance. At a point in our life, Kush, as a group, had to ask what next we had to do in our lives. I had studied our then manager closely and I realised that one of the things that was missing in the Nigerian entertainment industry was that creative talents weren't allowed to focus on their creativity because you had people who were artistes, producers, managers, promoters and even booking agents. If you allow the creative talent to be as creative as they ought to be, you will get more from them than when they had to do 100 things at the same time. For me, it was something that was lacking in the industry at that point. That need had to be met and that was how I got into management.
So, you went from being an artiste to an artiste manager?
So, it appears. For me, it has been a great learning experience. Initially, we started with music, but we have moved to acting talents and also a few producers, directors and writers are under our belt as well. It works for us as we have to constantly be on top of our game to find out what the trends are and ensure that our clients know what is going on. They are either the trend setters or part of the trend.
But don't you feel somehow knowing that your former band mates (TY Bello and Lara George) are still in the spotlight, while you are in the background?
I don't feel anyhow. I'm very content where I am. If I need to step into the shoes of an artiste, when the time comes, it will be something I will be able to do. Right now, I'm okay with being behind the scenes; encouraging and helping other people grow in their own careers as well.
Is there any chance of going back to the studios?
I've been in the studios. I did some stuff with Lara (George) when she was working on her first album. I was in TY's video as well. I did a collabo with Sammie Okposo and another one with Kefee.
Have you considered going solo?
When the time comes for me to act in that capacity, I'll do that. Right now, I'm just happy managing the careers of other people. Never say never. There is a possibility that something like that will happen. But I can't say when. I would have to consult with my support system to find out if I have the time to do that now. I would have sorted out my clients to ensure they are okay.
Is it really easy to manage artistes?
Nothing is ever really easy. The fundamental thing between the artiste and their manager is trust. Your client has to trust you and you have to trust your client as well. If both of you agree on a plan, I don't think you will have issues. It is like a marriage. As long as both of you understand each other, I think you can weather the storm and celebrate both the good and the bad times.
Abroad, managers usually call the shots in the lives of an artiste but it is not like that in this clime. Why?
We have clients who rely on us to come up with a blueprint for their careers depending on where they are. They trust us enough to be able to take them to the 'Promised Land.' It is a collective responsibility. We sit down with the client and think of where we want to get to. It is not only in managing their careers; we also deal with whatever risk factor that is there.
Do you manage the scandals that are usually associated with actors and artistes?
We handle crisis management very well. That is what I will say. Honestly, I have not had a client that had a major scandal that we had to deal with.
Have you ever felt like dumping an artiste you are managing?
We have a period called probationary period where we work with clients to see if we're compatible. It is that period we decide if we will work with the person. Before we get into business proper, we deal with the situation. We don't try to control a client; we just try to enhance what the person already has. If a client refuses to listen to our advice, then he really doesn't need a manager. That is how we manage the situation. But all our clients have been respectful enough to listen to us. It has been very amicable.
Are you not missing life in the spotlight?
I'm not bothered. I think I like my privacy now. Granted, I go to some places and people still recognise me, I appreciate that. But more than anything, I appreciate my privacy now and the ability to be as creative as I wanted without any public scrutiny. I don't miss the spotlight. I am as good as good can be.
Why did Kush break up?
The funny thing is that people call it a break up, but I don't see it as a break up. One thing a lot of people don't realise is the fact that we were together for more than six years before anybody knew anything about Kush. When you wake up and you still see the same face you have been seeing for more than six years, you will begin to ask yourself questions. There should be more to life than this. At the time we realised that shift was coming was probably the time we became popular. For us, we wanted to find out what our proficiency were. Lara found the craft, TY found photography and I kept doing what I am doing now.
Are you guys still friends?
We're still friends. We still get together. I was with Lara a few days ago. Never say never, anything can happen. We have worked on each other's projects. We have each other's back. TY is out with a new single. My company is involved in that. We're constantly involved in each other's lives one way or the other.
Some people think you are the only one in the group that is not doing well…
I think those people should quantify the meaning of 'not doing well.' The best thing to do is to look at my antecedent in my industry and then you can quantify or measure what I'm doing. I'm not Lara. I'm not TY. I've my own way of expressing my own creativity. You should look at my client and then you decide if I'm doing well or not.
How was Kush formed?
It wasn't by chance. The passion that we had for music at that point in time brought us together. This was in 1997. I had known TY earlier, before then. I met Lara through TY. At times, we go to hang out with TY and she is playing tapes. To be honest, TY was the reason I took rap music seriously. I was used to singing and writing poetry. While I was with Kush, the other members inspired my creativity. I was always trying to bring my best foot forward.
Would you have wished Kush got bigger than it did?
Kush had the ability to get bigger than it did. What I'm grateful for is that Kush opened the door for most of the contemporary Nigerian musicians that you see now. I don't think you can talk about the history of the Nigerian music industry and you won't mention Kush.
It is widely believed that most rappers can't sing…
I started out as a singer. Rap came as a plus. I was able to express myself through the medium of rap. I guess that is what I am well known for than anything else.
Why are you a Tomboy?
I have dresses in case you don't know. I went to Law School and I was mandated to dress feminine. I tell people, most of my early days in life, I was wearing dresses and skirts. I still do wear them when the occasion calls for them. But I'm very comfortable in my denim and T-shirts because of the nature of my job. I don't want to feel too restricted. I go to an event and I'm minding my business and somebody comes to whisper in my ears that they need me backstage, am I going to work backstage with my six-inch heels? It is more about comfort that anything else.
When are you getting married like your former band mates?
What makes you think I'm not married? Well, to answer your question, I'll get married soon.
Are you in a relationship?
I like to keep my private life private. The honest truth is that is what I really want. I don't talk about my private life.