Idris Elba criticizes Nigerian movies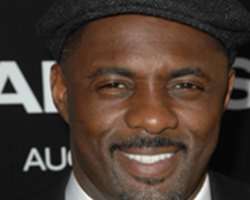 British film actor, Idris Elba has criticized the Nigerian movie industry saying their films are full of mistakes.
Elba, whose mother is a Ghanaian told the UK publication the Guardian that he only watches Nollywood (name for Nigeria's film industry) movies when he is under duress even though his parents love Nigerian movies.
"My parents love those films, they relate to them… But for me… the mistakes in continuity, the music playing over the dialogue the whole time and there is always a central character who is an African woman screaming! Always!" Elba, 38, says.
"He says his parents have OBE, the West African TV channel on all the time. But the offerings of "Nollywood"-Nigeria's answer to Bollywood – are something Elba clearly only watches under duress", the Guardian cites him as saying.
Elba started his career as a performer in sitcoms in the 1990s and early 2000s before doing Hollywood movies in 2005.
He is reported to be chosen to play a lead role in an upcoming Bob Marley documentary titled "Marley". Ghana's Cape Coast Castle is said to be one of the locations.