CAUGHT IN A BAR OF COMEDY AND BEER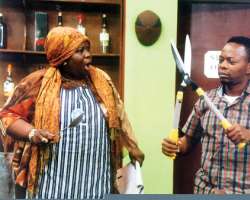 On set of Sitcom
In partnership with Flykite Productions, some leading stand-up comedians inaugurate a new TV series called SitCom, writes AKEEM LASISI
Next time you see big framed comedian, Lepacious Bose, in a TV comedy, she is likely to be dishing boiled rice to some hungry folks. Her rice and stew will be delicious, but her customers must be prepared to cope with the hydra-headed cracks that define the life of a street-bred woman like her.
Such customers will also drink beer and humour to their satisfaction in a bar operated by Koffi Idowu and Owen G, who are hustling neighbours of Lepacious. The wags are at the centre of a new production expected to hit the screen anytime from now. Titled SitCom, the drama directed by Bunmi Davies, producer of Stand Up Nigeria, is a joint initiative of the laughter merchants and Flykite Productions, whose Studio 21, located in Ojota, Lagos is providing an inspiring base for the characters to give expressions to their ideas.
When the comedy breaks, viewers are bound to reap abundant laughter, as our correspondent's visit to one of its recordings revealed. But beyond humour, the bar set up by a graduate with money he saved during his National Youth Service Corps programme also provides a basis to expose home truths about the socio-economic situation in the country. According to Davies, who is being assisted by Sege Adeniji, SitCom provides a hilarious setting where socio issues come to life.
Besides, each of the 13 episodes of SitCom will reveal what the cast and crew describe as the other sides of celebrities. It will host popular players in the entertainment industry and their counterparts in various other sectors. The idea is to interview each of such acts, but one can only imagine what happens when such is being done between Koffi's bar and Lepacious' buka. Already, big names such as Tuface, Tee A, Victor Osuagwu, Zebudaya, Teju Babyface, Funke Akindele, Stella Damascus, Gbenga Adeyinka and Madam Kofo have visited Studio 21 to be part of the recording.
'The kind of things we are doing at SitCom has not been done anywhere,' says Davies. 'On the platform of comedy we are dealing with social issues. We are dealing with real people who have careers and a following. The bar is located near social facilities that include a photo studio, mechanic workshop and markets. In this environment, a character such as Andrew is a bit of everything, while representing modernity in the metropolis.'
He further notes that in terms of stand up shows, comedy has really grown in Nigeria. There is, therefore, the need to explore other forms within the sub-genre.
The ample womb of Studio 21, where TV programmes such as Youth.Com and Sports Talk are produced, provides the producers an opportunity to build a largely impressive set. Because the production is based on partnership, Davies and his co-humorists have all the equipment and time they need, with the director saying that they have really taken their time to get it right.
Also speaking on the initiative, Flykite's General Manager, Grace Kalu, explains that the comedians felt confident to relate with the company because of the relationship it had established with them and the availability of the facilities and equipment therein.
'We are also eager to provide more contents for television houses in the country,' Kalu says. 'There is too little to see, really. We need to add to the stock of programmes on air for people to have proper relaxation.'