NASS Election: Another Postponement Likely In Some Areas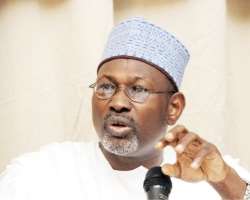 SAN FRANCISCO, April 04, (THEWILL) - Reports from Abuja indicate that the Independent National Electoral Commission (INEC) would postpone the rescheduled National Assembly elections in various Senatorial districts in about than seven states where voting had taken place on Saturday before the election was called off countrywide.
The postponement would enable make arrangements to print new sets of voting materials for the areas affected and would allow the commission rectify mistakes noticed on some ballot papers where party logos and names were either mixed up or omitted completely.
The states likely to be affected include Lagos, Gombe, katsina, Ogun, Jigawa, Rivers and Imo state.
INEC had said voting materials used on Saturday in some areas had been voided so as to block any plots to use them to rig elections.
Confirming talks about a possible postponement of the poll in some districts, the Chief Press Secretary to the INEC Chairman, Mr. Kayode Idowu said the commission would shift voting in 'isolated areas' where there are shortages.
"The chairman said that by Thursday, places where elections will not be able to take place will be known. Voting took place in less than two per cent of the polling units in the country. If the quantum of ballot papers that were used is such that there would not be enough for fresh elections, the polls will be postponed in such areas. So, obviously, there are some areas where elections will not take place on Saturday," he stated.
Meantime, THEWILL can report that fresh voting materials were flown into the country by the contractors awarded the contract.
Two jumbo cargo aircrafts belonging to Saudi Airlines and Cargolux Airlines were spotted at the Murtala Muhammed International Airport Lagos weekend with tons of electoral materials as INEC moves to fulfill its promise to conduct the NASS election on Saturday, April 09, 2011.
In a related development, THEWILL has gathered that INEC Chairman, Professor Attahiru Jega did offer to resign his appointment as head of the commission during the emergency security meeting called by President Goodluck Jonathan on Saturday after the embarrassing postponement of the poll.
Sources privy to the meeting told THEWILL that during the expected heated deliberations over the failure of INEC to deliver, Jega had offered to resign but President Jonathan rejected his resignation.