I was outraged when told I need N7m for my sister's bone cancer - Ronke Oshodi Oke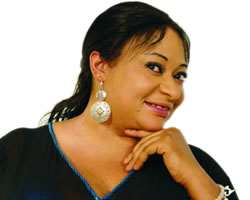 Ronke Ojo, popularly known as Oshodi Oke needs no further introduction when it comes to movie in the country. The mother of one speaks with SEGUN ADEBAYO about her ailing adopted sister who needs N7 million naira for a bone cancer operation and why she wants to go back to school among other issues. Excerpts:
Looking back, how have you managed to stay on top till now?
I joined the movie industry at a very young age because of the love and passion I have for the profession. The industry then was not as rewarding as it is today, but then, I enjoyed the trend the whole thing took back then. I attended rehearsals, had fun and headed back home. I did not expect anything spectacular to come around in the long run. In fact, I never knew I could attain the height I have attained today.
Now that the unexpected has happened, would you say your success just happened?
Initially I was timid, but after doing a couple of movies, I grew out of it with the help of people around me. I have been able to manage the fame, I haven't allowed it to get into my head for a minute. To be famous is one thing, to manage fame is another thing that I have always been very conscious of. My success is not accidental, I had made up my mind that I was not going to do anything else except acting. So, my accomplishment is not a fluke, it is something I deserve because I have really paid my dues.
Did you just start out by walking up to producers for scripts?
I was not influenced by anybody, I just walked up to them and I never gave them any reason to doubt my ability.
Who did you walk up to?
Mufutau Oladokun, popularly known as 'Baba Alaran'. He was very influential in how things have turned out to be for me. He asked me if I really wanted to be in the profession and I replied in the affirmation.
So after the demise of your mentor, how were you able to hold your end?
It was not easy for me when Baba Alaran died, he was one man that never discriminated against anybody. He was very jovial and gave everybody a sense of belonging, no matter how small you were. I was personally touched by his demise, but things have been fine and I have never regretted meeting him.
Why do people see Yoruba actors and actresses as never do well , particularly when it comes to managing fame and marriage?
I don't think they still have that mentality, but even if they do, they must have reasons for that. Despite all these, we are still doing fine. Our homes and profession have continued to grow even stronger. We communicate with these same people you are talking about everyday and people should know that actors and actresses are not angels, we make mistakes too. Sometimes I marvel at the way some people think. Because we act does not mean we are not humans, we have blood in our veins and it runs like every other being. We have bankers, doctors and even lawyers in the industry who are doing well. The world itself is moving and changing everyday, you don't expect us to remain where we were yesterday.
You appear to have a sense of humour, did you pick this from Baba Alaran?
I didn't come into the industry because I wanted to be a star, I came because of the passion and zeal in me. Whatever you have genuine passion for, you will definitely want to improve and be very good at it. With all due respect, this is what I have been doing consistently. I dream theatre, I eat it and dwell on it a lot because I know that a lot of people are coming behind you and for you to be there, you have to move with the trend. Another fact is that maybe because I passed through Baba Alaran, but even at that, the man is no more today and I am still doing my thing, that tells you that this is me, Some people do tell me that I don't see myself as a star, yes, and that's because I have never seen myself as one.
What about Fuji musicians that get you attached to them?
I am doing it for the fun of it. Some people will say I am a comedian, others will say I am not a serious actress. I didn't even know I could do all those things you have seen me do in movies or shows before. I see all those things as fun. I go there to do what I get paid for, I don't know how that has any bearing with what you are talking about. As a matter of fact, I will be going into music very soon and even as I plan to delve into music, it has nothing to do with fuji or fuji artists.
Are Fuji musicians bad?
I am not saying they are bad, but I want to do my own thing with a touch of distinct. You can't continue to do something the same way and expect a different result.
You were said to be having a secret affair with Pasuma.
Pasuma is my friend. We have been friends for almost ten years and we have never dated for once. Even his friend, Osupa, is my friend. I could not have dated any of them, not then, not now. Not even in years to come.
Are you saying this because you are married?
No, it's not because of that. There are some friends that something of such can never come up between them, no matter how close you may be. Well, may be people are saying this because I move with guys a lot, you can hardly see me with girls, even when I was young. As a matter of fact, I came here to see a male friend who was sick, whom I have known for a long time. So I don't see any crime in moving with guys.
You have been married for two years, how has it been?
It has been fun. Though it was not easy initially, things have changed and I am enjoying it like any other woman is. I have been together with my husband for the last ten years, he knows what makes me happy.
Despite your closeness to Pasuma and Osupa?
He understands that I am professional and my home is my main priority. Any other thing comes after. I love my husband and I won't do such a thing to hurt him.
It was in the news recently that your sister was down with cancer of the bone. What is her state of health now?
Well, she is my adopted sister and she has been with me for the past seven years. She is also in the movie industry. It's sad that this thing happened at the peak of her career. She woke up one day to complain about a pain in her right hand. The pain just came up and after two months, she couldn't bear it any more, so she went to the hospital where she was diagnosed of bone cancer. She was operated upon and went back home. After a month, the problem resurfaced and we took her back to the hospital from where she was referred to LUTH where we were told that she had to go to India. We met an Indian doctor who said it would cost at least #7million for the operation. I was outraged because there was nowhere I could get such an amount of money from.
Are you saying you can't raise #7million for her with all your achievements in the movie industry?
I am worth over 7mil, but if you are worth over 100 million, does that mean you have #100 million in cash? I am worth over that amount, but I can not afford the cash. We have been going to churches and places where we hope to raise the money, but we have not been able to raise enough.We have raised # 1 million so far. You can't imagine what she is going through everyday, the pain is unbearable and I can't continue to see her in that condition, it saddens my heart seeing Bunmi like that.
What has been the response of Nigerians?
Nigerians have been trying, but we have not been able to raise half of the money needed. We are trusting God for a miracle. I am optimistic and I know that very soon she will be flown abroad and she will get better again.
How has her present condition affected your work?
The truth is that I can't sit at home everyday looking at her, I have to move out to raise the money. Her condition is not encouraging. Sitting at home will not help her in any way. I am a professional actress and I know how to interpret my lines without any hiccup. What is happening to her is a challenge that we all have to rise against and conquer with the help of God. Even if I stay at home, money will not fall from heaven. I have tried everything I can to get her out of that condition and I won't stop until she gets better.
How much does it costs to feature you in a movie?
I wouldn't want to blow that on the pages of the newspaper, but believe me, it depends on the producer who wants to invite me to his or her movie, and also the days I am going to spend on location.
Do you believe that disparity in fees paid Yoruba and English stars has forced some of your colleagues out of the industry?
It depends on an individual. It is not compulsory that I appear in your movie if you can't pay me what I want, nobody can force me out of the industry because this is what I love to do. If you know what you want, and you are good at it, nobody will force you out of the way, no matter how hard the situation may be.
How do you manage to switch roles easily since you get roles frequently?
Apart from what the script says, I get inspired whenever I see a camera. Sometimes I say things that are not in my scripts. There are things I say when on set that make me wonder if this is me. Once I am in the front of cameras, my lines get more interesting.
How do you treat your scripts?
The kind of scripts that I take is dependent on who directs the movie. I have to choose the movie I want to feature in before even reading the scripts so that I can contribute.
Some say your boobs are not natural, what's your take on this?
You know people are just funny. My boobs are natural and I love them like that. As you can see, I can move them with ease. Anybody who is saying that should be conscious of what they say and be more factual.
You have been saying that you want to go back to school, what has been stopping you from achieving this?
I have been saying it that I want to go back to school for the completion of my education, it has been one aspect of my life that makes me feel unfulfilled. But it will not be long because I'm going back to study