Flaunting a bit of my upper region is cool – Uche Benjamin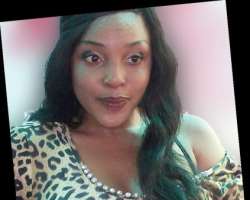 Uche Benjamin is a fast rising actress who has been in the Nollywood industry for close to two years. A graduate of Biochemistry who also went to an acting school to fulfill her dreams, this Imo State-born actress reveals her style to Angela Davies.
What is style to you?
It is simple, classy and something you are very comfortable in - something that really suits you. You know what suits your skin colour and if you have something nice, you flaunt it.
What is your own kind of style?
I like something unique that is not everywhere and something that really suits me.
Your best colour?
I like brown and bronze.
Have you encountered any scandal in the industry?
Not really.
You are less than two years in acting and your face is everywhere. How come?
It is hard work, a lot of hard work. I guess it has to do with appearing on the screen and doing what I love to do most well.
Some people believe a lot of hardworking actors and actresses find it difficult to make it. Why?
Yes you are right. But I believe that when it is your time, it is your time.
Which part of your body can you flaunt?
I love my legs. I can flaunt my legs very well and then a little bit of my upper region. I love to wear short things.
Could you tell us about your first job?
'Pains from the heart' by Chico Ejiro was my first job, and that actually gave me a little breakthrough.
How many movies have you featured in?
I have done over 11 movies and some series running on television too.
Lesbianism in the industry, what do you have to say?
I have never experienced it. I have never seen it, and never been part of it.
How do you relax?
I go to the cinema to see movies. I love to shop. I am a fashion freak so I love to go shopping to see what is new.
What motivated you into the movie industry?
The fact that I see people entertaining others and people relaxing to watch the TV motivated me to join the industry. I learnt a lot about acting; I did not just go there to act. I went to learn a lot about it.
What is your greatest fear in life?
I hate very big scandals
How do you get movie roles?
When I am invited for audition I go or sometimes my other works speak for me. They say I look like Liz Benson, that I have a little resemblance to her.
What fashion item can't you do without?
Perfumes. I have a lot of perfumes. Coco Chanel is my best perfume.
Make-up
I do not wear heavy make-up because I am light skinned so I try to avoid very heavy make-up.
Describe yourself in three words
Unpredictable, social, and sympathetic
Your view on sexual harassment in the industry
It is everywhere, not just in the industry.
Have you ever been a victim?
No, I've never been.