I won't comment on my relationship with Saidi –Funke Adesiyan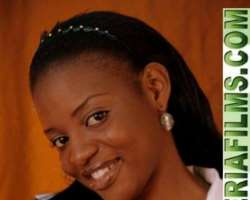 The nature of the relationship between Saidi Balogun and Funke Adesiyan keeps changing. One minute, they are the best of friends and the next, they are at war.
It was reported sometime ago that Balogun battered Adesiyan. The babe, in a telephone interview, debunked the story, saying that she and her man were still together.
However, not too long ago, another story filtered into the entertainment circuit that the love birds had broken up.
But Adesiyan told Life and Beat.
"There are better things to talk about. My relationship with Saidi (Balogun) is not one of the things we should talk about. I'm not saying anything on that matter. To me, it is 'old school.' I'm doing better things now," she said.
When asked what the 'better things' were, Adesiyan said she was currently the entertainment director of All Nigeria Peoples Party presidential candidate, Mallam Ibrahim Shekarau.
"I believe in him and I believe he can push the nation forward. I'm not doing this for money. I don't do anything for money. I always follow my conscience. That is why I'm for (Ibrahim) Shekarau," Adesiyan said.
Apart from this current job with the politician, Adesiyan said she had some things in the pipeline that she was not ready to state yet.
"My show is coming up soon. But apart from that, I'm cooking up something. I don't want to let anything out of the bag yet," she said.