ACTING IS MY LIFE - ROSEMARY INGBI, ACTRESS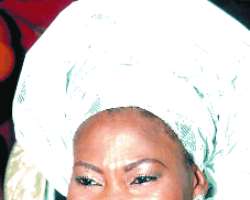 Rosemary
Long before many other actresses, known for their action roles in movie began to ply their trade, Rosemary Ingbi was a household in such roles. In fact, she gave Nigerians cause to get glued to their television sets in other soap operas and movies she featured in after blockbuster soap, Ripples.
Now, Mrs. Rosemary Ononiwu, the no-nonsense actress, however, took the back seat immediately she got married. She literally disappeared from the screen but was busy producing hit movies and occasionally featuring in them.
Saturday Sun ran into the leggy Bayelsa woman who said that apart from producing movies, she has kept herself busy with organising awards in her home state and Abuja.
However, the second of seven children of her parents who recently gave her dear mother a befitting burial in Agbere, Bayelsa State on March 19, promised to return full time to the screen this month.
Among the over 40 soap operas and movies she has featured in include, Village Headmaster, Cradles, Ripples, Main Girls, Stolen Child, Connected Firm, Bridgestone, Married Women Why, Red Hot, Market Women, My Sister, Drug Pusher 1 and 2 and Hairdresser 1 and 2.
The seasoned actress, whose best friend is Liz Benson, spoke about her passion for the industry, why she left, her relationship with President Googluck Jonathan whom she described as perfect, among other issues.
Absence
I shouldn't say I disappeared but I should say I stepped aside for awhile becauase I wasn't too comfortable any more with the acting world. So, I decided to do other things like award shows. I have done severals in Bayelsa State and trying to do another one called Moving Nigeria Forward Peace Concert Award. I was also involved in movie production. When I produce my movies, I don't appear in most of them. The last time I produced was 2008 and 2009, and the last two movies I did were Bridgestone and Connected Firm. Bridgestone featured Liz Benson, Richard Mofe-Damijo, Zack Orji and others. Connected Firm has myself, Rita Dominic, Shan George, Zack Orji, among others.
I wasn't getting what I wanted. There are things we don't say as actors but are best known to me. I am sure a lot of people would be wondering. Secondly, when I got married, my husband didn't want me to come out too much. He wanted me to stay and experience the taste of marriage instead of the usual running up and down going to locations. Those who are married in the industry know how they do it; everybody with their own. My husband is a very different person. He likes me to always be around him.
View of Nollywood, then and now
Before I left Nollywood, things were really okay, but after sometime I saw that a lot of people were not too comfortable anymore in the sense that there was a lot of money, but not too comfortable about the story lines and all that. Sometimes, they want to be in the movies and sometimes, not.
I don't really go out but from what people say, at a time Nollywood was at the top, but nowadays, they are saying that Nollywood had slowed down a little bit. They are going to pick up again. We are putting things together. Sometimes, when you go to the market, things are high and sometimes, they come down. I think that was what happened. It is natural. I don't want to blame anybody for what happened. It was meant to be the way it was at that time, and now it is picking up and that is the truth.
God created the world and He has reasons for creating it and so that is the way things are. It cannot be rosy at all times. At a time we were selling movies in millions.
There are ups and downs sometimes in life, so you have to take it the way it is. If things are not working well for you, take it like that, pray over it. That is my belief. I take things the way they come. Life is unique. You don't have to kill yourself because at a time they were paying me this and at a time the movie industry was like this. Everything has phase. It will come back again. That is how I see it.
People don't see reasons with things the way they come. I'm a very natural person. Money or no money, forget it. When people were enjoying it, nobody complained. But we don't need to complain, it would come back to normal, it is coming to normal already.
AGN crisis
Sometimes, before the president came into the picture about the funds and all that, there has been one stress or the other among everybody. I come down again to the fact that we must quarrel. You might be my friend today, what about tomorrow. It is natural that we may have problems and when we do, we settle it and come back again. Without these things, we won't have a story to tell. The president has come to help everybody- the actors, producers, directors, musicians, everybody. The guy is too much. We should be dancing and rejoicing. That is how it is supposed to be. I cannot say it is the intervention fund that is causing the crisis. Like what they said, if you are a good producer and you have something to show that you are capable of taking the money, go ahead and do it. You won't just come and they give you money. You must have something to show.
With this gesture, I just feel God has brought President Goodluck Jonathan to come and help us. I call him the Joshua of the nation. I just shot an advert and a movie for him called The Joshua of the Nation. The advert is currently playing in Bayelsa. The guy is God-sent as far as I am concerned. As you can see, everybody is calm now. We are happy about it but it depends on how the money is going to be spent.
Begining
I am naturally in love with the arts. I started acting when I was a child. It is inborn. I act, talk and eat acting. It is in everything I do. I started acting from nursery and continued till primary, secondary and high school. I didn't study Theatre Arts. I read History at the University of Science and Technology, Port Harcourt. I just found myself acting. When I go for auditions, it just comes naturally. They would say, you are playing the main role and I would be surprised. It was like that when the Nigerian Television Authority and others approached me to play lead roles and all that. In short, it is God. I have been acting for over 20 years.
Cantankerous role
I just fit into any character. When I did Ripples with Zeb Ejiro, a lot of women were auditioned. They tried me and one other woman repeatedly until they finally settled for me and when I did it, they felt I did it well. The same thing of some other roles. Then they started giving me such roles. At a point I started rejecting that kind of roles because wherever I go, people are always saying that I am tough on television, but I usually reply them that I am not. I am an easy-going person. it is just that I do the role very well.
To be acting only gra-gra role is not good. It does not show that you are a good actor, you have to also act other roles. I tell them to try people in other roles. A woman saw me in the market one day and observed me for a while, she walked up to me and said, Rosemary you are a very quiet person, and I said yes. I don't talk. It is only when I have to that I talk. She pointed out that nobody has been playing the cantankerous roles I play anymore, said but I said no. I told her that
Patience Ozokwonko is there. She agreed but said, yes she is doing it but you know what you used to do. I said look, that is what I don't want. Don't even thank me at all.
Combining family life, movies and award shows
There is time for everything. In my house I do all the house work. I don't like people helping me to do anything. Even when they clean the house I would still do it, so they got tired of me and left me alone. I am very comfortable with everything I do. When I want to work in the house I work. When I want to cook, I cook. When I want to do my award shows, my husband is always there by me. He is very supportive. He is one husband in a million. It is God.
Bayelsa Show
That one is called Izon Oto Excellence National Red Carpet Award. It is for the Ijaw people of Nigeria. We are doing it because we want the Ijaw people to empower the youths and help them grow. They don't have to depend on the government alone, thinking the government would give them money, but individually we can try. You can pick somebody and positively affect his or her life. We give awards to those affecting lives so that we can have more people to affect lives.
The other one is the Moving Nigeria Forward Peace Concert Awards in Abuja.
Documentary on President Jonathan
I saw that Jonathan would be the President. I am not surprised because the traces were there, you could see through him. If you have somebody that is close to you that you know very well, you can see through the person. I am not surprised. I know he is going to be the President. He is the President because God has said that.
I have known him before now. He is a very humble person. As far as I am concerned, he is the most humble man on earth after my husband. He is a wonderful person. He is somebody that you would go to and he would talk to you as a friend. When he was governor, the first time I met him, he was too normal and natural. I was surprised that a governor can be like this. He is a true child of God. He is a perfect human being. It is a documentary drama, but it is also a movie. We talk about everything- the way he started and all the good things he's been doing for Nigeria. Before he left Bayelsa, he turned the state into something else. We are still working on the movie but it would soon be done. The truth of the matter is that President Goodluck Jonathan is actually my godfather and the whole world knows that.
Fond memories of her mother
My mother is the most precious mother on earth. My mother was a wonderful person. She had a very good heart. She forgives easily even when you do not apologize. When I'm shooting movies, my mother takes care of everybody. She was 74.