Celebrated showbiz singles….Will they marry this year?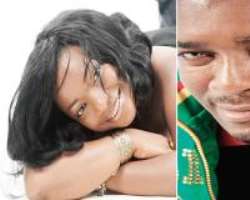 Despite all the controversies which most of them have seen as inevitable prizes they need to pay for fame, it is always interesting whenever a re-cap is done on various romance tales that trails some of the fine and famous faces of the Nigerian entertainment industry. While few of these screen gods and goddesses have eventually quit the singles circuit, many are still battling the numerous admirers who flock around them for mostly platonic relationships. Few others are single parents, hoping that as they grow older, they will accomplish the feat of holy matrimony. Some of them indeed have all the qualities needed in a life partner, but the wedding bells just simply refuse to ring. SS dug out the first set of celebrated showbiz singles.
Bimbo Akintola- This beautiful star actress has never been ashamed to tell it to whoever cares to listen that she has not found 'Mr. Right'. And why the talented actress has not made it to the altar with her previous lovers, such as Yemi Solade and Dede Mabiaku, is a mystery yet to be unravelled. Some people think her weird and wild roles in movies is a true reflection of who she is in real life and probably why she has not found a suitor. Bimbo was once quoted as saying "My taste is not high; it's just that I haven't found Mr. Right. I like very plain, easy, nice people. Men with integrity, intellectuals, and I don't think I am asking for too much."
Chidi Mokeme- The former presenter of the popular TV Reality show, Gulder Ultimate Search, tops the list of Nigerian actors with a love child. GQ, as he is fondly called, seems to have a complicated love life. The list of star actresses whom he has dated is endless, as he was once linked to Stella Damassus, Stephanie Okereke, and Eucharia Anunobi among others. Why has Chidi taken to selling sex toys? This is the question on the lips of those who think the Nollywood finest is ripe for marriage.
Benita Nzeribe- This sexy screen siren is one of the Nollywood superstar actresses who learnt their lesson from men in a hard way. The highly emotional Benita is said to have suffered a broken heart at a very tender age. And ever since then, she has decided to build a strong fence around her fragile heart. So, if you think marriage is to Benita what it is to other ladies out there, you've missed it.
Pat Attah- This gifted actor is a ladies' man any day. Although Pat was scooped to have tied the nuptial knots with a German lover, it is still a fairy tale to those who know Pat like the back of their palms. He has been linked severally with the likes of Empress Njama, Genevieve Nnaji among other star actresses. While the naggers thought Pat had found a wife in Lillian Bach, the once celebrated 'love wantin-tin' crashed like a badly arranged pack of cards. And ever since, there has been a question mark on his marital status.
for too much."
AKI AND PAWPAW–The duo of Chinedu Ikedieze and Osita Iheme popularly known as Aki and Pawpaw could be mistaken for young children due to their pint sizes. This attribute of the popular 'Nollywood Siamese twins' has evidently earned them fame and fortune from different roles which they have played in home videos. Some people still see them as kid actors but the movie stars who are in their early thirties are in the league of men in desperate search of missing ribs. Aki was duped and dumped by a lover a couple of years ago after a make- belief engagement party.
Pawpaw has not been linked with any lady, though. The brothers from different mothers have girl friends. Their sizes, which some people believe is a reflection of what's below their belts, have become one of the reasons girls love to satisfy their curiosity over their sex lives rather than exchanging marital vows with them. This is one of the reasons Aki and Pawpaw don't see marriage as a big deal, and why they keep searching for those who will love them for who they are.
Genevieve Nnaji- Just as she was blessed with a daughter while in secondary school, the former face of Lux soap found fame very early in the Nigerian movie industry. Although, speculations are still running rife about Genevieve's closeness to 'Koko Master, D'banj, it is doubtful if marriage exists in the dictionary of the easy going screen siren for now.
Hanks Anuku- 'Gangster of Nollywood' would probably be the right phrase to describe Hanks Anuku. But those who know him one-onone swear he is meek, friendly and, perhaps, care-free. A party freak, Anuku, in his mid 40s, has not been linked with any belle.
Funke Akindele: The famous Sulia ken Ayetoro ken is no doubt on top of her game. Although, the romance tale that trailed Funke and Femi Adebayo actually shadowed her quiet love life, it is not yet in the open if Jenifer, as she is now fondly called, is dating anybody at the moment. While Funke's numerous fans are expectant of the time she will say 'I do,' her bubbling career seems to be her priority for now.
Jim Iyke- Although, there is an unconfirmed report that the talented actor would be settling down with his Jamaican model girl friend, Keturah Hamilton any moment from now, the movie sex symbol, who once dated actress Steph-Nora Okere and severally denied ever dating Rita Dominic, is still very much in bachelor's league. Would Jim marry this year?
Uche Jombo- This Abiriba-born star actress is unarguably among the hottest spinsters rocking Nollywood. Surprisingly, the sweet, sexy and fun loving actress, producer and script writer has came out on several occasions that marriage is not a do or die affair to her. As Uche's fans and friends are patiently waiting for her wedding invitation cards, she does not seem to see it as a sin if she decides to maintain her single status for now.