BENT ARROW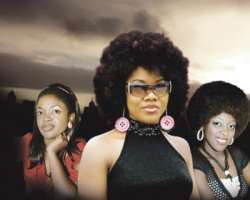 With endorsement and support by UACN Plc, Rainbow Workstation Services, Vitabiotics Nigeria Limited among other notable brands, it will be a gathering of Nollywood biggest names as Isang Ubong-Awah's Bent Arrow premieres on April 14th 2011.
The premiere, scheduled to take place at Silverbird Galleria in Lagos, will be another meeting point for celebrities, as the star studded movie that parades the likes of Olu Jacobs, Joke Silva, Omoni Oboli, Stella Damassus, Enebeli Elebuwa, Desmond Elliot, Sylvia Oluchi and others, will play host to all these stars.. The storylines of the movie, directed by Lancelot Imasuen, are woven together to explore many themes such as sexual abuse, undue parental control, betrayal, revenge and many more.
Bent Arrow tells the story of three innocent young girls: Idara, Lola and Ngozi. Idara (Sylvia Oluchy) is a young girl sent to live with her maternal uncle in Abuja, where she is brutally raped. When she gets pregnant, she is forced to sleep with a doctor as payment for an abortion. Repeatedly abused by men, Idara becomes hardened and proceeds to use her sexuality to get the finer things of life.
On the other hand, Lola (Omoni Oboli), who was almost being smothered by her parents (Olu Jacobs and Joke Silva), was being cheated on by her fiancée, Seyi (David Nnaji). She decides to become a bad girl. Ngozi (Stella Damasus) goes into prostitution as a means of fending for her sick mother and younger sisters. Bitter and vengeful, Ngozi is on a mission to revenge the wrong done to her mother several years earlier.