UCHECHI CANVASSES CONTINUITY IN NATIONAL TEAM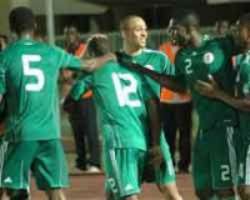 Savours partnering Aiyegbeni at Leicester
TO ensure formidable national teams, axing all players after a woeful outing may be counter-productive, while continuity remains the key.
This was the view of Leicester City of England's star, Chima Uchechi, who returned to the national team after playing for the Flying Eagles, which exited the 2009 FIFA U-20 World Cup in Egypt in the second round.
Uchechi told The Guardian that he was happy getting a call-up to the Olympics Eagles, adding that this would afford some of them the opportunity to right the wrong of Egypt 2009. He said: 'The basic secret of Premiership is continuity and the style of management. I think that is what we need to inculcate in our game in Africa.
'Continuity is very important. It is not just axing the whole team for bad performance because it takes time to build a team. You don't just dismantle a team and build a new one just because of one failure. We have to give people time to come through because players come from different clubs and they have little time to train together before any match.
'(It is) unlike a club where the players train together regularly and this helps them to understand themselves as a team. So in the national team you don't expect the players to play like a club side because they have few days to train before major games. You don't expect to bring such performance to the national team because players come in with different styles and management.'
He described the 2009 FIFA U-20 World Cup in Egypt as the worst moment of his career, stating that he would use his return to the national team to right the wrong of Egypt. Uchechi, who in January joined Super Eagles' former striker, Yakubu Aiyegbeni, at Leicester City in the English Championship, said he was looking forward to partnering his compatriot in the club.
'After joining Leicester City, it has been mixed feelings because Aiyegbeni joined the team before me and his arrival has brought life into the team. Aiyegbeni is one of the best finishers in England and his record book attests to this,' he added.
'I have not been able to play with him because I had to start with the reserve team before making the first team. I hope with time I can play more games with Aiyegbeni and also help him to score more goals for the club.'
He further expressed confidence in the technical crew and players in the Olympics Eagles team, saying that the team has the potential to qualify for the 2012 London Olympic Games.