Fire Scare At Jonathan, Northern Traditional Rulers Parley In Kaduna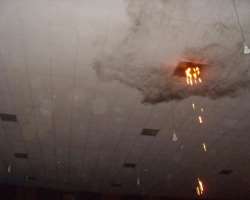 SPARKS OF FIRE FROM THE CEILING OF THE HALL AT THE JAMA'ATUL NASR ISLAM IN KADUNA, TODAY, MARCH 27, 2011.
SAN FRANCISCO, March 27, (THEWILL) – The venue of today's meeting between President Goodluck Jonathan and Northern traditional rulers and clerics was struck by a strange fire which started from the ceiling of the main hall of the secretariat of the Jama'atul Nasr Islam in Kaduna just before Jonathan arrived the venue for the meeting.
THEWILL gathered from sources at the meeting that fire started at about 3.pm after all the participants including the Sultan of Sokoto, Alhaji Sa'ad Abubakar III; had all taken their seats.
Others seated included the the Emir of Kano, Alhaji Ado Bayero; the Emir of Zazzau, Dr. Shehu Idris and the Secretary General of the Supreme Council for Islamic Affairs, Dr. Lateef Adegbite.
Pandemonium however broke out when the JNI Secretary General, Dr. Khalid Abubakar, raised the fire alarm screaming, " There is fire in the hall, somebody call the fire brigade."
The fire call saw traditional rulers and clerics scampering to the exit for safety. Security men were however on hand to move them to a safe area in the compound.
Dr. Abubakar later said the fire was caused by a power surge from the power generator in use.
The meeting however held after the fire was extinguished a few minutes later.
President Jonathan in his address urged the leaders to support his presidential bid and regreted not meeting them earlier before his campaign. He abhored the politics of violence and destruction of lives and properties.
The President also hailed tradional rulers for their roles in today's Nigeria.
"Religious leaders play a key role in the corporate existence of the nation. We listen more to religious leaders than political leaders. All of us believe in your leadership," the President told the leaders.