PURPLE HIBISCUS GOES OUT OF HIS MIND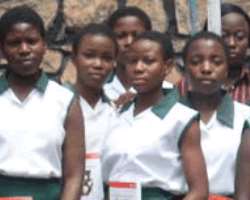 • UBA officials with the students
Book, the good old book, is taking the back seat among the fancies of contemporary youths. The latest craze and attraction for the youngsters is the internet, which, of course, is also an otherwise alternative highway of information.
'But many of us when we say we go to browse, either spend time playing games or visiting chatting sites such as Facebook, or even watch pornography', says Farouk Alesinloye, a Senior Secondary School (SSS) pupil at the Government College, Ibadan (GCI).
That collective self-indictment from the lad depicts the worrisome scenario of waning reading culture among the present generation of primary and secondary school pupils in Nigeria.
Although in their prime and at a point where they should cultivate reading habit as basis for more serious academic pursuit at the tertiary level, or for general knowledge to advance personal and national development, many school pupils have simply turned their backs on books. As GCI principal, Mr. Ayodele Bolarinwa, told Daily Sun: 'It is a major problem. Even the notes you give them in class, they don't read. In our days, we go to the library to consult books and jot additional points in order to pass. But these days, they (pupils) want short-cut to passing. There are books in the library, but they won't just go there, so how do they pass, or pass very well?'
Concerned about the sad situation, United Bank for Africa (UBA) through a novel project, Read Africa, is championing efforts at re-awakening the interest of school children in reading. The bank recently distributed free copies of two sets of books - Out of His Mind, by Bayo Adebowale and Purple Hibiscus, a prescribed West African School Certificate Examination (WASC) text, written by the winner of the Commonwealth Writers' Prize, Chimamanda Ngozi Adichie, to selected schools in 33 states.
GCI and St Louis Grammar School, Mokola, Ibadan were the beneficiaries of the gesture in Oyo State, with each getting 300 copies of each of the donated books.
UBA's South-West Regional Director, Mr. Niran Olayinka, who made the presentations to the schools at separate ceremonies, said the donation was taking place simultaneously in 17 African countries.
He said the gesture was the bank's way of rekindling the passion for reading which is dying among youths. Olayinka, who was represented at the GCI by the Dugbe Branch Manager of the bank, Biola Balogun, said the choice of the two schools was symbolic and strategic.
'We all know the history of GCI as one of the oldest and best secondary schools in the south west. It has produced leading lights such as Africa's first Nobel Literature Laureate, Prof. Wole Soyinka, the former governor and Attorney-General of the Federation, the late Chief Bola Ige and numerous others who have contributed their quota to the development of this nation. And, of course, so has St. Louis Grammar School, which significantly is celebrating its 50th anniversary.'
The UBA boss told an audience of selected pupils in the school's amphitheatre that: 'Knowledge and light are hidden in books. To find your way through life, you must read'.
There was a short reading session in which five volunteers among the pupils read passages from the donated books to the applause of their mates, tutors and principal.
The principal, Mr. Bolarinwa, thanked the bank for the gesture which he hoped other corporate bodies would emulate. He urged the pupils to 'pick up a book and read. Don't go into the bush and play away your life, advise your colleagues, when you read, you pass, but when you don't read, you don't remember and so, you don't know what to write in your exams. Reading improves you.'
Daily Sun conducted a survey on the reading habits of the assembled pupils. Adimi Oluwaseun, an SSS 3 science pupil said besides his school texts, he reads regularly for leisure, finishing a novel in two days, but regrets: 'I don't have money to buy novels and so, I often borrow from friends.'
For Omole Temitayo, reading is a matter of personal interest and how much parents care to encourage their children. 'We have a resource centre here in GCI, still many won't go there. I think it is the personal interest one develops that matters,' the boy who said he loved Soyinka's writings, said.