I hate myself for being stubborn – Cynthia Agholor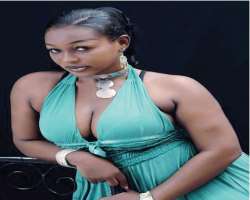 Cynthia Agholor Nollywood actress, Cynthia Agholor talks about her acting career. Interestingly, she admits her weakness of inflexibility, but insists Nigerians don't accept celebrities in this interview with Olumide Segun-Oduntan
Are you working on any movie project right now?
Yes. The production I'm doing right now is a Catholic Actors and Entertainers Association movie. It's an association of Catholic Nollywood actors. I'm part of the executive and we're shooting a movie right now. I'm acting in it and I'm also part of the production crew. 90 percent of the Nollywood A-list actors are Catholics so we're all working together on this movie. Actually, it's a big production and we've started shooting.
What challenges have you encountered so far?
It's a bit stressful but it's okay being able to combine it with my own job. We just did a soap opera, Tears For Tomorrow and I'm the associate producer. The cast is more than 500. It's currently running on NTA10 every Monday. It's also on My TV. We shot it for three months.
There are lots of foreign soap operas out there on our streets that have arrested the interest of Nigerians. Do you think Tears For Tomorrow can compete with such series?
I won't say it can compete. I will say it will beat the foreign soaps. This is our thing. This is who we are. Tears For Tomorrow shows who we are, what we are and how we are with a clear picture of what Africa in general is. As regard technicality, we went to the extreme in this soap. We used the best camera and audio to make sure that the standard is as good as what we see from abroad.
But it seems that our film makers really do soaps.
We did a lot of research for this soap. That is why we had to spend a lot of money to make it look like what soap is suppose to look like. That was why we had many cast. We didn't compromise anything because we wanted to achieve a proper soap. We have shot 52 episodes of it already. Some soaps would use computer to boost their extras but we didn't do that. We actually employed many people because we wanted to do a good soap.
What do you consider to be the challenges to movie production in Nollywood?
I started as an actress and I just became a producer not quite long. And I've always said to myself as an actress that I'm not going to produce. If I have to produce, I need to do it well. If I compromised and it came out bad, I won't feel good because I watch foreign movies, especially the Indian movies. So when I decided I was going to come into producing movies, I did a lot of research to be able to come out with the best. The problem we have in Nollywood is that we do things alone. But one person can't finance a movie alone. So we lack funds. Then some of our producers don't do research. If they want to do a movie about you now, they won't come to you and ask questions about your personality. They would just do what they feel without research. And they don't use good equipment because they want to mice money. Then the government is also not supportive. But thank God for cinemas today that have decided that if your film is not up to standard, they won't show it. Nollywood producers are now meeting up with good standard with their movies.
What is it about acting that you like most?
Acting is my life. I don't know which aspect to say I like most. It's inborn. It's something that I can't explain. For me acting is spiritual. It's not ordinary. I've always loved acting right from when I was small. That was why I started acting in NTA's Tales By Moonlight and Kiddies Vision when I was six.
Maybe you fell in love with the glamour and celebrity aspects of it.
No, no, no. The celebrity thing is one part I don't really like. You walk on the street and people will embarrass you. This country is not matured to handle celebrities. Nigerians don't know how to accept celebrities. They would rather embarrass you. And the press is not helping matters. Sorry o. But some of you just look at somebody from the outskirt and they just go and write some negative stuff that would make people just hate one. They don't confirm or ask anything. They just write that this person is like this, meanwhile, the person is not like that.
Has there been any negative story written about you that is not true?
Yes. There was a time somebody wrote about me fighting Cossy Ojiako over a man. That we fought we were naked. And I never did that. Cossy is my friend. Why would I fight her over a man? I can't do that. It was terrible.
Maybe there is an element of truth in that story.
There is no element of truth in it. Lots of people on Facebook wrote to ask me about it. How would I be telling everyone that it's wrong, it's not true? How many people would I explain to that it's a lie? I'm sure somebody would look at me and say 'that fighter that gets naked whenever she fights.' I just hope that people will understand that these things are not true.
Tell me one character trait you have that is not nice.
I'm very stubborn. I could argue a lot. It could be very bad. When I tell you I'm not doing something, I'm not doing it. I hope I change from that because sometimes I hate myself for being stubborn.