Writers, Film-makers Defy Censors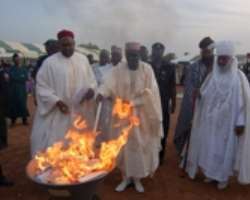 Credit: Ado Ahmad Gidan Dabino/IPSKano State government officials have burned books they say promote immorality
"I don't sell cocaine," says the video vendor in Kano's Rimi market when I ask for Adam Zango's music video CD Bahaushiya. He is not referring to the white powder, but instead a new illegal substance — Hausa films that have not passed through the Kano State Censors Board.
The video CD I'm asking for is an especially hot drug: a series of six music videos satirising corrupt old men, lamenting fickle girlfriends, and featuring dancing Hausa girls. The musician, Adam Zango, also an actor and director in the Hausa film industry, was arrested and jailed for three months for releasing the collection during a ban on Hausa filmmaking in Kano.
The censors board in Nigeria's northern Kano State was instituted in 2001 after the controversial implementation of Islamic shari'a law in Kano State. Film-making was at first banned outright, but the filmmakers' association of Northern Nigeria (MOPPAN) suggested a "review" board as a compromise measure, which allowed the industry to continue, though with certain restrictions on language, dress and "close dancing between men and women." (Five of the ten laws were specifically related to women's clothing or interaction with men.)
The censors board and the film industry underwent an even more dramatic transformation in August 2007, when a private mobile phone video of a popular Hausa actress and her lover having sex was leaked to the public. The actress, Maryam "Hiyana", and the man who had surreptitiously recorded the video immediately went into hiding.
Within days, hundreds of black market entrepreneurs in Kano, the centre of the Hausa-language film industry, were charging thousands of naira to see what was being called "the first Hausa blue film". Outraged religious and political leaders called for an indefinite suspension of the Kano film industry and the mass expulsion of other performers suspected of "improper" behavior.
By late September, the Kano State Censorship Board, under the leadership of its new Director General, Abubakar Rabo Abdulkarim, had issued new, stricter guidelines to both filmmakers and writers in the state. Article 97 of the censorship regulations states that "Any person who… publicly exhibits any indecent stage show or performance, play or any show or performance tending to corrupt public morals, is guilty of an offence and is liable to imprisonment for 3 months or to a fine or to both such imprisonment and fine."
The imprisonment clause has been put into effect several times. Besides Adam Zango, who was imprisoned in September 2007, pioneering Hausa director and former Kano State gubernatorial candidate Hamisu Lamido Iyan Tama was jailed after copies of his film Tsintsiya were impounded from a video shop in Kano in May 2008. He was accused of not registering his company Iyan Tama Multimedia with the censorship board.
(A court case reveals that the company had, in fact, registered and paid the required fees.) Ironically, the director was arrested the day of his return from the Zuma Film Festival in Abuja where Tsintsiya had won an award for Best Film on Social Issue.
The new censorship regime has had the effect of suppressing Hausa filmmaking in Kano, Northern Nigeria's largest city. The exact size of the industry is hard to determine, but a 2002 study by the national censors board counted 133 Hausa films produced between January and August of that year, making the Hausa film industry second in size only to Yoruba.
Although filmmakers are still doing post-production in Kano, locations have been moved to neighboring states, the majority now being shot in neighbouring Kaduna State. Filmmakers bypass the Kano State Censors Board by marking "Not for sale in Kano" on their films and selling them in other states.
Following the exodus of the Hausa film-making scene from Kano State, Malam Rabo, the director general of the censors board, turned his attention to the writers in the state.
On Friday, Aug. 8, pamphlets from a mysterious "Organization for Islamic Values Protection" were distributed in the mosques around Kano claiming that writers in Kano State are agents of foreigners in a plot to destroy the Islamic upbringing of children and promote immorality. The flier specifically called for the restraint of Ibrahim Sheme, an award winning Hausa novelist to be "restrained". According to his blog, Sheme has also received anonymous death threats.
The standoff between writers and the censorship board is escalating. A letter directed to the five writers' organisations in Kano dated Aug. 12 confirmed a request first made in Jun. 5 for each writer in the state to register individually with the board before they can publish or distribute writing. The requirements included submission of a comprehensive list of association membership, bio-data and past publications of every member, and individual subject files to be created for each author.
In response, the writers' associations, under the leadership of Ado Ahmad Gidan Dabino, chairman of Kano Association of Nigerian Authors, went "on strike" for three weeks. The strike ended on Aug. 16, with the writer's associations promising, in a general communiqué, that "by next week new titles would flood the market."
In an email update to the Association of Nigerian Authors, Dr Yusuf Adamu called on members to demand Rabo's sacking. "Write in the papers please, people write… Those of you from the north should please write to your State Governors and complain about it."
After an Aug. 25 meeting with both state and national leaders of the ANA, the censorship board agreed to require registration of writers' associations rather than individuals.
Novelist Sa'adatu Baba speaks passionately against the censorship board, "I want the governor of Kano State to sack Malam Rabo from his seat. We need a reasonable person, a person who respects literature, a person who can judge us both writers and filmmakers, because I know that if we have somebody who loves literature, he cannot do this to us."
Her passion is echoed in the responses of other artists, from Kano ANA chair Ado Ahmad Gidan Dabino, who has said in a radio interview that the government should build a new wing of the prison for writers, to Nazir "Ziriums" Hausawa, a hip hop musician who recorded a song requesting God to send plagues of piles to those who keep them from producing their art. Adam. Zango has responded to his 2007 imprisonment with a new song calling Rabo a donkey.
Such songs are banned from the radio, but pass virally from handset to handset.
The suppression of creativity in Nigeria is hardly a new phenomenon. Writers have been imprisoned and even executed like novelist and activist Ken Saro-Wiwa. However, the popular imagination combined with the subversive possibilities of such new technologies point to the impossibility of the task undertaken by the Censorship Board.
Filmmakers travel out of state to film and bring the digital tapes back in to edit, taking them back out of state to market. Writers, kept from publishing articles in local newspapers, repeat sentiments on blogs and pass digital photos of correspondence with the censors via email listserves.
Bus drivers plaster the windows of their ramshackle vehicles with stickers of "porn-star" Hiyana. Young people cite watching movies as inspiration for using their phones to record conversations with corrupt lecturers and authority figures who they then expose as hypocrites.
In the Clarendon lectures given at Oxford University in 1996, formerly imprisoned Kenyan novelist Ngugi wa Thiong'o theorised that whereas the state seeks to silence alternate stories, "art tries to restore voices to the land. It tries to give voice back to the silenced". In Northern Nigeria , despite state-sponsored bans, book burnings, and imprisonments, it is becoming difficult to silence those voices in the first place.