Breaking News: Alasari Yoruba Actor Dies After Fatal Accident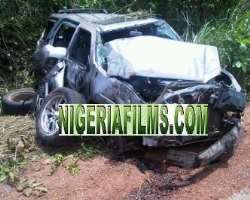 It is Another sad day for nollywood as popular Producer cum Actor Ahmed Alasari died this morning following injuries sustained in a fatal car Accident.
Investigations reveal that Alasari left home in the company of four of his Aides to participate in a live program to promote his new movie Omo night club which he co produced with Gemini films and marketing.
We Gathered the accident occured in his pathfinder which he brought in dec 29 last year and Actress Dayo Amusa who was on her way to Abeokuta to work actually rushed him to FMC Abeokuta where he eventually gave up the ghost, We will give you more details as it unfolds.