FOLUKE'S WOES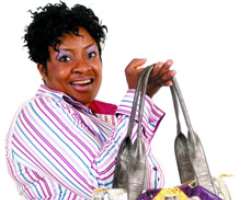 Foluke
Actress Foluke Daramola is not smiling at the moment; as a matter of fact, she is close to tears, and the source of her tears is a particular pirate who is feasting on her heavily-publicised movie, Wakati Eda.
The busty actress in company of some people caught six guys selling pirated copies of the movie, and handed them over to the police at Mushin Police Station with the expectation that the police would unravel the brain behind the pirated copies.
The six guys caught in the act were calm as they boldly told the actress that their godfather was up to the task of freeing them, and indeed, it appears they would soon be free.
The development is the source of worry for the mother of two, who had sunk so much money and efforts into making the movie. She is even more worried at the shabby manner the police was handling the matter.
According to her, 'I'm beginning to suspect the police and the so-called godfather might be working hand-in-hand.'