People Are Eager To See My Marriage Break Up - Foluke Daramola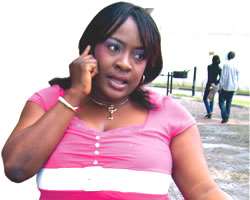 Foluke Daramola is a star of repute in the Nigerian movie industry. In this interview, she opens up to GBENGA OLUMIDE on her personal life.
Who is Foluke Daramola?
Foluke Daramola is somebody who went to Maryland Convent for her primary education; I went to Ikeja High School. I finished from Obafemi Awolowo University and I'm currently in the University of Lagos doing my Master's. I'm married to Mr.Shobowale. He is an engineer and at present a politician.
Why did you join acting?
Well, it started as a passion. That was when I was in my junior days in school. Actually, I started with talk shows. I started acting in English , but when I got admitted into the university, I had to stop somewhere along the line and when I graduated and I went for my NYSC, I picked it up again.
What do you mean by 'passion?'
Well, you know when you say something is a passion, it is like what you enjoy doing. Even if you are working in an office and you don't enjoy doing it, you can't find fulfilment in it. Actually, it is something I find fulfilment in. Fine, I do other things apart from acting, like consulting. I'm also doing my Master's degree because I intend to work with my certificate, not necessarily a white-collar job but I intend to practise my profession. I studied International Relations and I'm studying International Relations Law and Diplomacy for my master's in UNILAG. So, acting is something that I find pleasure in, it is something that gives me flexible time to be able to manipulate myself.
So how do you combine your profession and home front?
It's not easy, but if you know what you are doing, you will be able to manipulate yourself. For the fact that you are an actress, you should be able to decide. I thank God. I used to spend up to a month at location with nobody querying me, but as a married woman I have to pick my roles; if I have to do a movie, I also have to choose some quality time to spend with my family.
What is your greatest desire in your career?
My greatest desire is to have a talk show and to be a lecturer, which is why I am improving my education. Because I want to be a role model to people out there. I have a lot of role models that I look up to –people like Nelson Mandela, Miriam Makeba, my father-in-law, my mother. So there are people I look up to and I know that they have been able to combine their personal lives with their professional lives and then the public life as well.
Looking at what you have just said, that people like Nelson Mandela are your role models, are you saying that you want to become the president of this country someday?
Not necessarily a president, but you have to be a humanitarian, someone that has a passion for the masses, someone that affects lives. You do not necessarily have to be a president to be able to make impact. People like Opa Wilson, for instance, they have been able to impact into people's lives and when they die, they are someone you can always remember for one thing or the other –so not just about being a president.
How has it been getting to where you are now?
It's been tough. It has challenges, aside the fact that when you are into showbiz, it always looks somehow. People know about your personal life at every point in time. My husband is now into politics which has even made it worse because in the past few days or weeks people have just been insinuating my marriage breaking-up. I don't know why people are so eager to see my marriage break up. Unfortunately for them, I don't have any misunderstanding with my husband, that is what they are waiting for.
It is just because my husband is doing politics and for security reason I can't stay in the house because his opponents are threatening my life and my children. So, I have to stay in my mother's house. So, those are the things that I see as challenges. But basically showbiz life is fun because you go to places and you are recognised. But if you are not prepared for the negativity, it tends to break you. However, but if you prepare your mind for whatever that comes your way, both the good and the bad, you will be alright.
What change would you have loved in your life?
Change? Well, the only change I would have loved in my life is for me to still move on, and one thing about me is that I never regret whatever I do in life and I'm also a realist. I accept anything that comes my way, so I don't believe in regret(s) or that I've made a mistake. If there is anything that I can see as regret or mistake, it was the loss of my father. I would have loved to have a father but I lost my father when I was two years old. So, it is something that I had to actually grow my way into life, but my mother has been able to try and fill the vacuum relatively well.
What is your vision?
I told you I want to have a talk show, I want to be an epitome to the youth; I want to continue reading anyway. I may not stop at doctorate, I might be a professor. In short, I love reading.
You studied International Relations, why acting?
It's a passion, when I was much younger like four, five, years old, I used to talk to myself, and I find out that somehow 'mother nature' had that for me in stock and I discovered that I had a passion for it and my first love has always been to be a diplomat and I believe that in the international system which is the course I studied, there is something we call the international actor and the international actor is not restricted to just the political issues alone, he could be a showbiz actor, charitable actor. So, I want to be recognised as Foluke Showbiz combined with the humanitarian works.
How did you get into acting?
I started with a talk show, that was on DBN and from DBN to AIT; there I was invited by Tunji Bamisigbin.
Do you have it in mind to quit acting?
Not at all.
If a corporate organisation like MTN or GLO wants to employ you and offers you like N2 million per month, won't you quit?
I will really take it but it doesn't mean that I will quit acting. Acting is inborn, it is part of me. It is not something I can just say I want to quit. Once my spouse doesn't mind –that is the only person that can say "Foluke, stop acting."
Even if I'm working at MTN or Glo and my colleagues want me to come and work for them on location this weekend, I can't say 'no.' Due to the love I have for the job (acting), I will follow them.