NN24 Debate: Ribadu Suspects Sabotage In VP Debate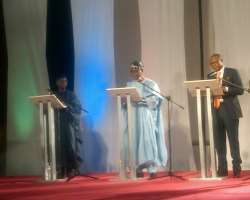 L-R: VICE PRESIDENTIAL CANDIDATES; PASTOR TUNDE BAKARE (CPC); CHIEF JOHN OYEGUN (ANPP) AND MR FOLA ADEOLA (ACN) AT THE NN24 TV VICE PRESIDENTIAL DEBATE.
SAN FRANCISCO, March 12, (THEWILL) – The Ribadu Campaign Organization has said it suspects sabotage in the NN24 Vice Presidential debate following the inability of the TV station to broadcast the debate live on television.
The campaign organization accused the ruling Peoples Democratic Party (PDP) of pressuring "the TV station (NN24) not to air the programme, because their Vice Presidential Candidate, Mohammad Namadi Sambo, refused to attend," the campaign said in a statement by campaign director, media and communications, Mallam Ibrahaim Modibbo, made available to THEWILL.
"All the major parties were invited and we all turned up, except for PDP's. They won't come because they can't defend their position to Nigerians and don't even have a plan for moving forward. That is why, we suspect, they (PDP) put tremendous pressure on NN24 so much, that they couldn't air the live debate.
"It is unfortunate that the ruling party is using state funds and institutions to intimidate the opposition and media organizations. What are they afraid of? Why won't they come on air and tell Nigerians what they have to offer apart from good luck? " Modibbo stated.
He said the campaign would be disappointed in the TV station if its excuse that it had satellite connectivity issues were ever confirmed to have been false. "Journalism is for the fearless and no organization should give in to financial or government pressure, no matter what."
"However, hope is not lost," he continued. "Since the opportunity of a live broadcast is lost, we demand that an unedited video of the debate be aired. We know that our Vice presidential candidate, Fola Adeola, outshone the others like a billion stars and it would be great injustice to deny Nigerians a chance to see their next VP in action. NN24 must correct their error by showing this debate. Nigerians must be allowed to make their choices based on antecedents, plans and strategy, not on sentiments or religious bigotry. They must see that we deserve far better than the poisoned chalice the PDP is offering them," the Ribadu campaign said in the statement.